SANDY — Javier Morales never got a chance to say a goodbye, at least not in the most appropriate way.
Real Salt Lake's midfielder, the "Maestro" during a time when "The Team is the Star" that led the club to the 2009 MLS Cup championship and subsequent run to the CONCACAF Champions League final, never got to look out to a standing room-only Rio Tinto Stadium crowd beaming down on him as it chanted his name one last time, as he sailed off into the sunset of a post-soccer playing life.
Instead, his final season came with FC Dallas, a gloomy final lap around Major League Soccer when he played in just 15 matches, scoring one goal. His ending in Salt Lake City was nothing if not disappointing.
A year later, Morales retired to spend more time with his family and coach with former RSL teammate Jason Kreis at the Inter Miami CF Academy in South Florida.
On Wednesday night, the Maestro finally got a chance to return to Rio Tinto Stadium and thank his legion of adoring fans.
And after a long overdue wait, the standing room-only crowd finally got its moment. Chants of "Ja-VI! Ja-VI! Ja-VI!" rang out during halftime of Real Salt Lake's 2-1 loss to the LA Galaxy, and a teary-eyed Morales gasped as the club where he spent 10 years of his soccer career dropped a banner that revealed one final sorpresa.
Ja-VI! Ja-VI! Ja-VI! #ElMaestro#RSLpic.twitter.com/UHk3akSZdE

— Salt City FC (@saltcityfc) September 26, 2019
"Javier Morales, 11" will forever sit on the balcony of the west side of Rio Tinto Stadium.
It's about time.
Better late than never. The ever-humble Morales won't say it, but those closest to him will say it for him.
"I think Javi was a massive player for us, not only on the field, but off the field, in the community," said RSL midfielder Kyle Beckerman, Morales' partner in the midfield and partner-in-crime on the fan-favorite "Kyle and Javi Show" early internet broadcasts. "Soccer was such a huge part of it, the consistency that he showed over the years. I'm so happy for him."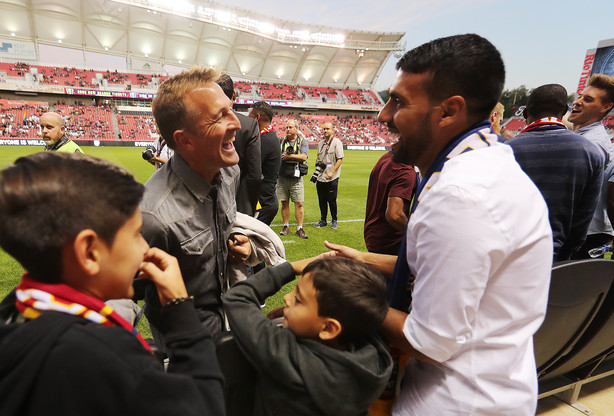 He wasn't the only one.
Because on a night when RSL honored that 2009 MLS Cup title team — the only major cup championship in club history — by bringing back Morales, Nat Borchers, Robbie Findlay, Jason Kreis, Jeff Cassar and a host of others, the Maestro finally got what he deserved.
He also got a chance to address the fans at Rio Tinto Stadium. With tears in his eyes and a slight crack in the South American-accented voice of a man who now holds a U.S. green card, Morales finally addressed RSL fans, in person and with thankful gravitas.
"I don't know how you are going to remember me," Morales practically sang into a microphone held by RSL team reporter Samantha Yarock at midfield, "but I know how I am going to remember you. RSL fans will always be in my heart. Thank you for the best 10 years of my career."
Those were days never to be forgotten, for RSL club staff members, players, coaches and fans alike. A club that finished at the bottom of the Western Conference in its earlier expansion seasons, when "soccer would never make it in Salt Lake City" save for an overly impassioned investment by former owner Dave Checketts, rose to become a league power.
Behind Kreis' patented 4-4-2 diamond formation, and a club motto of Fortis Fortuna Adiuvat — "Fortune favors the bold" — Real Salt Lake rose to the top of MLS by battling through the Eastern Conference playoffs (in an era where that was still possible) and proved that the team really was the star.
Except that team, the one in 2009, and even beginning in August of 2007, had a star. It was an attacking midfielder from Buenos Aires, the classic South American No. 10, and a player who first became known for his hairstyle as much as his on-field finesse — long may the mullet reign.
But if fortune favors the bold, then fortune definitely favored Javier Morales.
Morales' name and number will forever look down on the field where he graced local soccer fans with stunning artistry over a decade spanning the club's finest hour. No MLS club will ever do what Real Salt Lake did in winning its first league title, and no player will be Javier Morales.
Others will take up the No. 11 jersey, just as Kreis would prefer others to take up the RSL No. 9.
But those future players — perhaps stars in the own right — will also pay homage to the Maestro, as well.
The greatest tribute a future player can offer Morales is to expand on his legacy.
"We should have a No. 9 that plays on the team, and it's an honor to Jason or whoever wears that No. 9. The same with Javier," Beckerman said. "When you see somebody take the No. 11, they know it comes with big shoes to feel. But I think it's great.
"You want a player that wants to wear the No. 9, and I think it will be great if we get it back."
×
Photos
Related Stories