SALT LAKE CITY — New powers and old strongholds alike rose through an eventful decade of Utah high school athletics from 2010-2019.
As the calendar turns to 2020, let's take a look back at some of the biggest achievements in Utah high school sports over the past 10 years. For a look back on 2019, click here.
Lone Peak's mythical national championship
National championships don't really exist in high school sports, and they aren't sanctioned by the National Federation of High Schools. But Lone Peak's boys basketball team in 2012-13 was as good as any in the country, leading to a national team of the year honor by MaxPreps and No. 1 ranking in the Freeman list.
The Knights' only loss that season came to Florida power Montverde Academy, and Lone Peak finished ranked No. 4 nationally by ESPN and USA Today.
Led by Eric Mika, Nick Emery, TJ Haws and seven-time state champion coach Quincy Lewis, the Knights dominated the competition with four straight state titles from 2011-14. Of Lone Peak's nine boys basketball championships in school history, five have come in the past decade, including the Class 6A title in 2018.
The rise of Corner Canyon
Since opening its doors in 2013, Corner Canyon has skyrocketed to the top of the all-sports list in Utah. Consider the championships: back-to-back football titles in 2018-19 (in separate classifications); another state basketball title in 2019; back-to-back championships in boys cross country; a girls golf program that has opposing coaches using the word "dynasty"; and a steady stream of Division I recruits.
Eric Kjar, the current architect of the Chargers' football program who also won a state title at Jordan in 2012, has built a powerhouse in Draper — and he's not alone.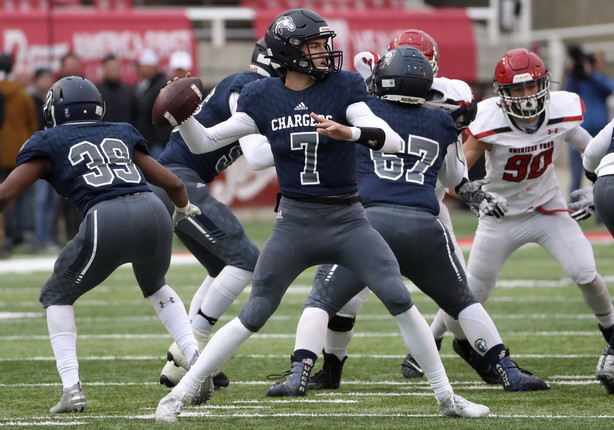 Two Nike cross country national champions
American Fork's Casey Clinger won the prestigious Nike Cross Nationals in 2016 — considered to be one of a handful of cross country national championships in the country — and Timpview's Aidan Troutner followed suit in 2018, leading both to receive Gatorade National XC Runner of the Year nods.
RPI changes everything
A lot has been written and said about the UHSAA's new Ratings Percentage Index-based playoff system. No matter if you love it or hate it, it's undeniable that the change to an RPI-based playoff has fundamentally shifted the postseason in Utah high school sports.
Jaylen Warren, indomitable rusher
East High's 2016 football season was one for the ages, with an undefeated 14-0 season and the Leopards' second straight Class 4A state title. At the heart of it was Warren, who ran for 3,099 yards to shatter the 37-year-old single-season state rushing record. Warren ran for 100 yards or more 14 times in 2016, and his 38 touchdowns are tied for the most in state history.
He's the only Utah prep running back to top 3,000 yards in a single season and finished with nearly 500 more yards than second-place Josh Davis of Alta, who ran for 2,645 yards in 2016.
Duchesne runs state-record 48-game win streak into 2014
There was a powerhouse in Utah high school football this decade, but you won't find it in Salt Lake City, Alpine or Provo. You'll find it in Duchesne County, where the Eagles rambled off a 48-game winning streak from 2010-2014 to sit alone atop the state record books.
At the time of its run, the streak was the fourth-longest in the nation. The second-longest winning streak in Utah history was Timpview's run of 36-straight from 2006-2009.
Express expansion across the state: who's new now?
Over the past decade, the population growth in Utah has led to an explosion in new schools, from the Wasatch Front (Corner Canyon, Skyridge, Cedar Valley, Mountain Ridge, Farmington) to Cache Valley (Ridgeline, Green Canyon) to Southern Utah (Crimson Cliffs) and beyond.
Ryan Cuff repeats at separate schools
Few basketball coaches in the state have had a run like Ryan Cuff, a former small-school standout scorer who has won three state titles in 18 years — all in separate classifications. The former Richfield High star who scored 1,970 career points from 1986-90 led the Flyers to a pair of title game appearances, including the Class 3A championship in 2016 before returning north to American Fork and coaching his son Tanner to the 6A title.
Cuff also won a 4A state title in 2001 while coaching at Lone Peak.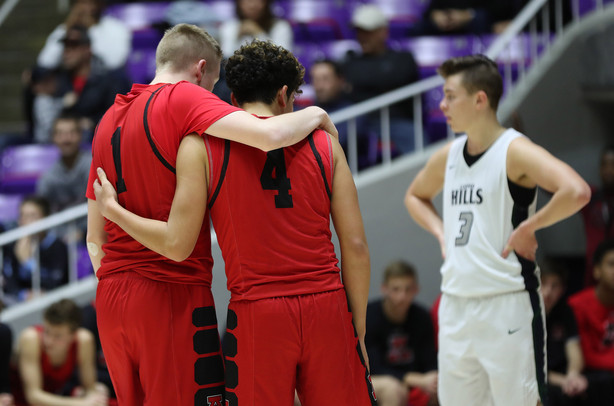 Olympus' undefeated season
Matt Barnes has become synonymous with basketball in the Salt Lake Valley, with 423 career victories at Olympus High School. He also coached the Titans to two state titles in three years, capped the 2017-18 season with a state-record 2,275 points and 27 straight victories, ended with a 76-49 win over Corner Canyon in the 5A title game, and featured current Runnin' Utes guard Rylan Jones, who poured in a state-record 748 assists and 1,933 points from 2015-19.
Bountiful drill's veritable dynasty
Four schools have combined for 57 of the state's high school drill state championships since the UHSAA began awarding trophies in 1983: Bountiful (21), Duchesne (15), Panguitch (11) and South Sevier (10). Former Bountiful coach Jan Whittaker has 18 of them — including an eye-popping seven straight from 2009-15.
The Braves won seven state titles from 2009-17, establishing a dynasty that includes the third-longest streak of consecutive titles in state history. It trails only Whittaker's previous run of 10 in a row from 1986-96 and Duchesne's Kellee Grant leading the Talons to 11 straight from 2005-15.
×
Related Stories