This archived news story is available only for your personal, non-commercial use. Information in the story may be outdated or superseded by additional information. Reading or replaying the story in its archived form does not constitute a republication of the story.
SALT LAKE CITY — Major changes are coming to the Utah high school state playoffs.
The board of trustees of the Utah High School Activities Association has formally ratified a directive by the organization's executive committee to move to a Ratings Percentage Index (RPI) based format to seed state tournaments, beginning with the 2019-21 alignment cycle, the UHSAA announced Thursday.
The RPI score will use popular preps stats website MaxPreps to determine seeding based on three factors — a team's winning percentage (40 percent), a team's opponent's winning percentage (40), and the winning percentage of a team's opponent's opponents (20). That algorithm will create an index score for all teams in the postseason, and they will then be ranked into the tournament field for each of Utah's six classifications.
"It has become a growing issue in the realignment of member schools to have the alignment process directly connected to the qualifying and seeding of state tournaments," UHSAA executive director Rob Cuff said in a statement. "This new approach in qualifying and seeding will bring added excitement to state tournaments as teams earn seeding based on overall season performance and not just region competition."
Previously, teams were seeded based on records during region play, and regions were aligned to face one another in state competition. For example, the No. 1 seed from Region 1 might face the No. 4 seed from Region 4, while the No. 1 seed from Region 4 would face the No. 4 seed from Region 1, and so on down the line in a 16-team tournament.
While region play will still be vital in qualifying for state tournaments, the new seeding philosophy will take a more wholistic approach, especially in calculating non-region competition.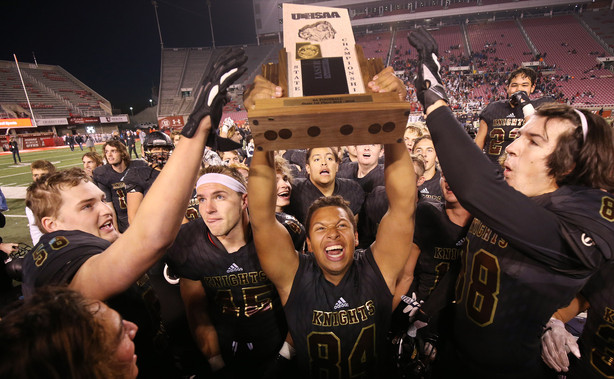 State tournaments for cross country, tennis, track and field, and wrestling will not change, using the traditional region- and sectional-qualifying processes, while golf, drill and swimming will use separate methods of qualifying for state tournaments.
Additional rounds of qualification, or play-in games, will still be used when necessary to determine tiebreakers.
The other big changes beginning with the fall of 2019 will be movement between classifications, according to the Deseret News. East High will move from Region 3 in 6A to Region 6 in 5A in all sports except for football, while West will move from Region 3 to Region 2 for football only.
Jordan will move up to Class 6A and into Region 3. 4A's Park City moves from Region 5 to Region 8 in all sports except football, while 1A's Milford will move from Region 20 to Region 21 in all sports except football, as well.
The executive committee also voted to allow competitive cheerleading and girls wrestling as sanctioned activities, but the UHSAA is still investigating the two competitions, according to a spokesman for the organization.
No formal decision about new activities has been made at this time.
×
Related Stories