This archived news story is available only for your personal, non-commercial use. Information in the story may be outdated or superseded by additional information. Reading or replaying the story in its archived form does not constitute a republication of the story.
DRAPER — Before Van Fillinger pulled off his black jacket and removed a black hat that would end with announcing his commitment to play college football, the Corner Canyon senior shared a glance with his teammate Josh Wilson, who sat next to him in the CCHS library wearing a royal blue BYU letterman's jacket.
Wilson's commitment to BYU was well known; the younger brother of BYU quarterback Zach Wilson committed back in March and formalized his intent to join the school that has turned the family of former Utah defensive lineman Mike Wilson on its head.
But this story isn't about Wilson. It's about Fillinger, and a look and a shared secret between friends that goes back to well before the two put on a Chargers uniform.
Wilson simply smiled back at Fillinger, as if urging him to go on and reveal his decision.
With that nod, Fillinger thanked his coaches, thanked his mother and pulled off the jacket to reveal a crimson red University of Utah shirt underneath. The four-star defensive end and No. 2-rated overall recruit in Utah by 247 Sports was going to be a Ute, and the standing-room-only crowd inside the school library erupted in applause.
The quick moments of surprise quickly faded away into elation. Fillinger smiled, winked at his longtime friend Wilson, and the two posed together for photos — one holding up two hands in a "U" shape, and the other flashing the one-handed "shaka sign" that has become adopted by Cougar fans and endorsed by head coach Kalani Sitake.
Just five days after his official visit to Utah, the secret was out.
"I've been on campus a good amount of times. But I think my last visit was really big to go in-depth and get to know the players," Fillinger said. "This visit was just to see how I fit in with them, and I fit in really well. I wouldn't commit if I wasn't sure, and that was a good way to feel sure."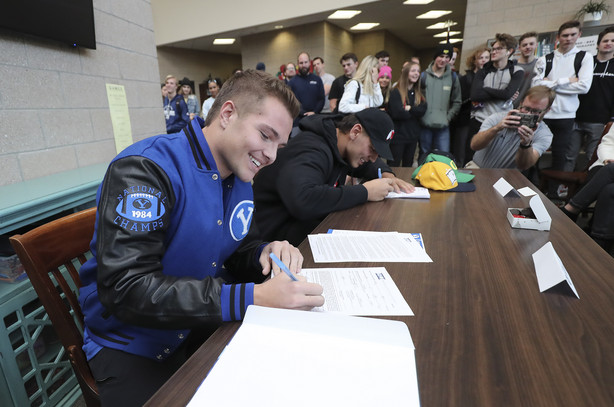 Fillinger's commitment highlights a strong local signing day for the Utes, who signed five of the top seven recruits in Utah, as determined by 247 Sports. Another — Sky View's Mason Falslev — has also signed to play basketball at Utah.
Only top-rated five-star linebacker Noah Sewell, who formalized his commitment to Oregon by signing to join his older brother Penei in Eugene next year, escaped the grasp of Kyle Whittingham in the top group. Xavier Carlton followed his father's footsteps to Utah, as did Viewmont tackle Alex Harrison and Bingham linebacker Sione Fotu. Lone Peak's Nate Ritchie made good on longtime recruitment by Utah defensive coordinator Morgan Scalley, as well, by passing on other offers to sign with the Utes.
But Fillinger's signing was special, signaling a potential change where top-rated in-state prospects can stay home and still play for a Pac-12 championship.
Back to Wilson, because it was fitting that these two standout defensive players for the two-time defending state champion Chargers should share one last secret before graduation — perhaps the biggest one of all.
Corner Canyon's Josh Wilson signs with BYU and Van Fillinger signs with Utah pic.twitter.com/gVRx0uc0l5

— KSL.com Sports (@KSLcomSports) December 18, 2019
Fillinger told a very select group of people about his decision to sign with the Utes but kept it off most radars. He told his mother and he told some of his coaches. But the more people you tell, the more chance it gets leaked and spread quickly.
But Wilson knew. He was one of the few who knew because he could be trusted. A duo that has been together since sixth grade — practically inseparable, doing things most boys do together like hanging out, sleepovers at one another's homes, and football practice — and that longtime friendship built up a trust.
"That's my best friend right there," Wilson said. "We just always pushed each other, and we're always supportive of each other.
"It will be cool to play against him. Luckily, we're on the same side of the ball, so we won't be playing too much against each other."
There was never a doubt that Wilson would be among the first to know about one of the biggest decisions Fillinger has made in the first two decades of his life.
"But we've been through absolutely everything together," Fillinger said. "Our dream was just to get one offer, and to be in the position that I am today and have the choice that I have to go to any school that I want in the country is such a blessing."
Back when they first met, Wilson and Fillinger bonded through football. The two often discussed their plans to play college football, with Wilson taking the role of Utah recruit, commit and eventual linebacker star.
Growing up a diehard Ute fan, Wilson never even considered BYU until his older brother signed there two years ago, making his pledge in a basement of the family's Draper home filled with Utah memorabilia and former trophies of their father's conquest with the Utes.
When Zach became the starting quarterback for the Cougars midway through his freshman year, Josh Wilson's recruitment really picked up steam.
It's not that the two were so inseparable that they couldn't imagine playing apart; they're brothers, of course, with typical brotherly love between the two of them. But Zach Wilson always wanted his brother to make his own decision, be his own man, and carve out his own journey — even if it meant not joining him in Provo.
Related Story
But the more Josh Wilson hung around BYU's campus, saw his brother on weekends, and got to know his friends and teammates that just happened to wear blue, the more he liked the program. It was the atmosphere — the family — and the veritable relationships forged by Sitake and his coaching staff that drew in the younger Wilson.
"It's a great place, it's really comfortable, and the coaches are very supportive," Josh Wilson said. "I just feel like it's best for me, and they have so many great opportunities that it's kind of hard to pass up."
Back to Fillinger. The 6-foot-3, 250-pound goliath had plenty of offers to play football out of state. UCLA was one of the first to approach him, and then his dream school Michigan got into the mix.
Shortly after taking an official visit to Texas, Fillinger committed to the Longhorns after falling in love with Austin and the culture bred by head coach Tom Herman.
But something didn't feel right for Fillinger. For one, he'd have to adjust to playing in a 3-4 defensive front; he could adapt and adjust, but it was just something new to the longtime 4-3 pass rusher who starred in the trenches alongside fellow lineman Steve Street.
A myriad of other issues confronted themselves, and on Dec. 1 — the same weekend that Texas defensive coordinator Todd Orlando was reportedly let go — Fillinger de-committed and reopened his recruitment.
An official visit to Utah followed two weeks later. And though Fillinger considered taking another official visit or two, and making his decision in February, he felt right about the Utes. The fit just seemed right.
It was almost easy, in fact, once he realized what his role would be.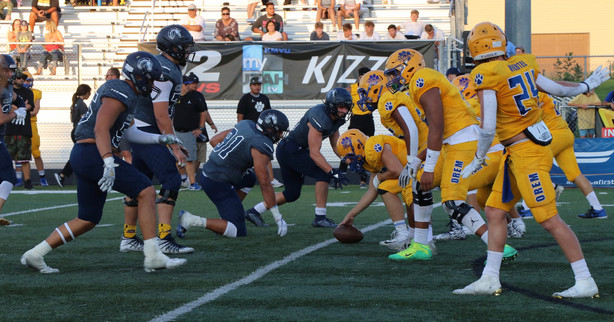 "The process was really difficult, trying to find out what was going on with every school, and trying to figure out which was the best fit for me," Fillinger said. "But once I started to really check out Utah, and I really knew what their program was about, I felt pretty confident with this decision.
"There was a lot going on behind the scenes, with both schools, that I needed to do more research on. It made me feel more uneasy on the Texas side and more confident with Utah. The more I visited Utah, the more confident I am."
It's fitting that Fillinger and Wilson signed on the same day. The two have been at the heart of the Corner Canyon defense, leading the Chargers to consecutive state titles for the first time in program history, including an undefeated 14-0 record in 2019. Plenty of credit goes to quarterback Cole Hagen — the Gatorade Utah Player of the Year who is considering offers from Ivy League schools like Harvard, Yale and Brown — and the rest of their Corner Canyon teammates over the past two seasons.
But the two standout defensive players paced a Chargers squad that allowed two touchdowns or fewer nine times, including a 49-14 win over American Fork in the Class 6A state championship. Wilson led the way with a breathtaking 130 tackles, nine tackles for loss, six sacks and four interceptions. But Fillinger was right behind with 88 tackles, 24 tackles for loss and a team-high 13.5 sacks.
That's right where the two best friends since sixth grade thought they should be: together, on the field and off it — and announcing their attentions to play at the next level.
"We've had this dream really early, in middle school, to just get one offer. It's such a blessing, being able to play against Josh," said Fillinger, before switching tones and deadpanning.
"And it's going to be fun beating him for the next four years."
×
Related Stories