LOGAN — In 2019, the Utah State University Aggies made a return to the NCAA Tournament, they had both an NFL and NBA prospect, and they even started a Heisman Trophy campaign.
The news surrounding the events was pretty memorable, too.
Here are the most memorable moments from Utah State's 2019 athletic year.
Former USU star Torrey Green sentenced to prison
In January, former Utah State linebacker Torrey Green was found guilty of five counts of rape and sexually assaulting a sixth woman during his time in Logan. The one-time NFL prospect, who had signed with the Atlanta Falcons before being released as a result of the allegations, was sentenced to at least 26 years in prison.
Three of Green's victims are suing Utah State for not responding adequately to complaints field against Green, and Green is still awaiting trial for another rape lawsuit.
USU upsets No. 12 Nevada
Fans joyously stormed the court at the Dee Glen Smith Spectrum after the Aggies upset No. 12 Nevada 81-76 to earn the program's first win over a ranked team in 12 years. Sam Merrill had 29 points to lead the Aggies to the victory — a victory that helped USU win a share of the regular-season Mountain West Conference title.
The post-Nevada scuffle
As thrilling as that upset win was, the bigger story happened after the game. The two teams were involved in a post-game incident in the tunnels of the Spectrum. Following the court storming and a heated post-game handshake line, emotions spilled over in the hallways leading to some players screaming and one Wolfpack player shattering fire extinguisher case and having to be held back.
An investigation of the incident found that the court storming was not the catalyst for the incident.
Neemias Queta's emergence
Utah State knew that Neemias Queta was going to be good, but this good?
As a freshman, Queta averaged 11.8 points and 8.9 rebounds as he won Freshman of the Year and Defensive Player of the Year. He was one of just 66 players to be invited to the NBA Draft Combine, but he ultimately decided to return for his sophomore season.
Conference champions in Craig Smith's 1st season
Craig Smith inherited a program fresh off an eight-win MWC campaign and one that hadn't won a conference championship since 2011. So how did his first season go?
Oh, just by winning 28 games (15 in conference), earning a share of the regular-season title, and then winning the conference tournament to earn the program's first NCAA tournament bid in eight years.
Smith was named the MWC Coach of the Year.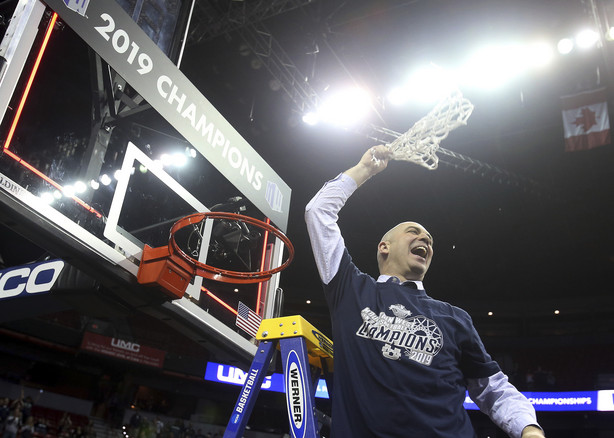 Sam Merrill named MWC Player of the Year
Merrill averaged 20.9 points, 4.2 assists, 3.9 rebounds in his junior season and was named the conference's top player. He shot 46.1% from the floor, 37.6% from behind the arc and 90.9% from the free-throw line. He dropped a career-high 38 points in an overtime victory Colorado State in the regular-season finale.
Gary Andersen's first season back
Gary Andersen returned to the football program that he helped get right. After bringing the Aggies back to relevancy in the early part of the decade, this year Andersen took over a team with a quarterback that was a legitimate NFL prospect and coming off an 11-win season. It was an uneven first season back for Andersen. USU finished the year 7-6 and without any true standout wins.
Jerry Finkbeiner steps down as women's basketball coach
Jerry Finkbeiner, who entered his seventh season at Utah State this fall, stepped down as the Aggie women's basketball coach in November. This came after the announcement that he was taking a medical leave of absence for a health condition. Finkbeiner oversaw the largest turnaround in program history during the 2018-19 season, going 17-16 overall and improving by 10 wins over the previous year.
3 USU players charged with marijuana possession
Quarterback Jordan Love, running back Gerold Bright and wide receiver Sean Carter were each charged with possession of a controlled substance (marijuana) leading up to the Miami Beach Bowl game. As first-time offenders, the three players were cleared to play in Utah State's bowl loss to Kent State.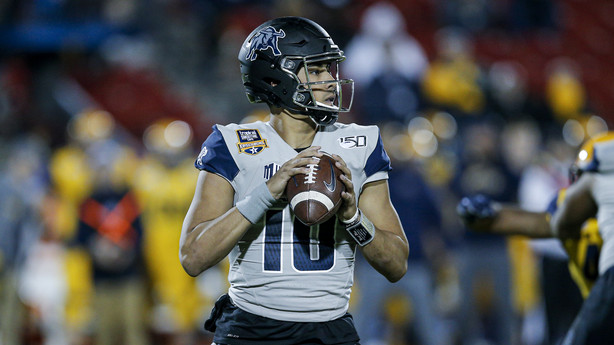 Andersen was less than pleased with the reporting of the story. "I just hope, at the end of this whole thing, that those people can have the same miserable day that those kids had when these articles came out. I hope they can have the same miserable days," the head coach said.
Jordan Love sets record, declares for NFL Draft
Love's junior season wasn't as spectacular as his sophomore campaign (which led to the school beginning a Heisman campaign for the quarterback), but he'll still leave Logan as the best offensive player in school history — at least in the record books. In his final game as an Aggie, Love threw for 308 yards with three touchdowns to become the Aggies' school-record holder with 9,003 yards of total offense.
Love announced in early December that he will forego his senior season and declare for the NFL Draft.
×
Related Stories