EAGLE MOUNTAIN — Going to school used to be a chore for Jaxson Dastrup.
The Eagle Mountain teenager would get up extra early for the long bus ride to Westlake High School in Saratoga Springs; and if the bus got there on time (a maybe), there would often be another wait as dozens of other buses tried to unload their cargo of students in the jam-packed parking lot just off Pony Express Parkway.
Students who drove to school often complained of 30-minute wait times as they searched for a parking space or somewhere along the street to park.
But the best part about making the move — which Dastrup did, as well as close to half the seniors who would've been at Westlake this year — were the coaches.
"It's a new start from Westlake, and the Cedar Valley staff is amazing," Dastrup said. "They really care about you, and they love you. It's really great."
Those days of long drives and lengthy waits are a thing of the past after a new high school opened just five minutes from home on the newly created Aviator Avenue.
What can Dastrup and his classmates — half of whom came with him to the new school in Eagle Mountain from Westlake — do with their extra time?
For starters, building a winning tradition with the Aviators, who expect to see even more growth — and soon. A development that includes as many as 3,000 homes was just approved for a plot of land nearly adjacent to the newest high school in Alpine School District.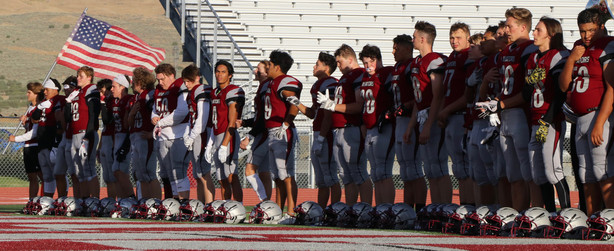 "We wanted to start new traditions, and get a winning program," Dastrup said. "We're here to set records."
Cedar Valley dropped to 0-2 Friday night with a 42-14 loss to Spanish Fork in the Aviators' inaugural home game.
But the final score is hardly a reflection of just how close the new school is to putting together a complete performance, head coach Weston Zabriskie said.
The new school trailed Maple Mountain 32-6 a week ago before rallying with 29 points in the fourth quarter. Though the Aviators ultimately fell to the Golden Eagles 51-35, the rally taught Dastrup, quarterback Jaxson Hooley and the assorted cast of nascent football players just how close they are to competing in their first season together.
Add to it the 7-7 halftime tie with Spanish Fork, and it's easy to see how close Cedar Valley really is.
Of course, that tie came because of Dastrup, who scored the first home touchdown in school history Friday night. A post pattern from 16 yards out, Dastrup caught a pass from Hooley in the open field, then frantically scampered and dived for the end-zone pylon to sneak in for the score that gave life into an Aviator side that had already forced two fumbles — by So'i Saaga and Diego Garcia in the first quarter — that also helped show that the Aviators aren't far away.
"We really had a shot," Zabriskie said. "But in the second half, we lost a lot of composure. We let one or two things affect us, and the wheels really came off.
"A lot of it came down to effort and attitude. It's still early in the program, but those are things that we need to shore up and get a little better."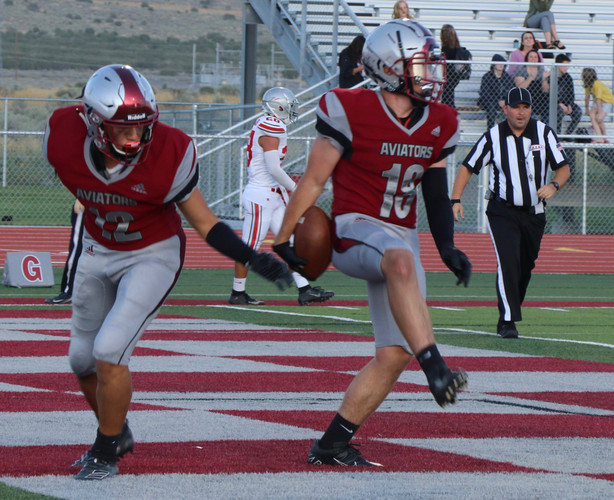 The Aviators will take their lumps this year — every first-year program expects to do the same. But after a trip to Murray next week, Cedar Valley will jump into 4A Region 10 play, where they'll face the likes of Ogden, Ben Lomond, Tooele and Uintah.
Zabriskie is confident that better days are on the horizon — this year, next year, or a dozen years down the line.
Of course, the Aviators aren't just building a football program in their first season. Their building traditions — like the Army veteran's flag that accompanies the team on to the field before every game, or the way they exit the stadium by walking through the student section at the end of each home game.
"Those are new things, to see how the school reacts. The community has been great," Zabriskie said. "Hopefully they understand we are still fairly new. But it's fun for the kids to see those things, and for them to build on this year.
"A lot of good things are going on in the school."
They're also building a franchise in a highly competitive academic environment with a highly regulated STEM-education program that caters to future aviation professionals, a program that has been purposefully engineered by lead principal Courtney Johnson — a licensed pilot herself.
And in just a week of classes, teachers, faculty and administrators are noticing that some of the most engaged students in the classroom also happen to be on the football roster.
"While it's great to have early success, we want to see where these guys are at 20 years from now," Zabriskie said. "We'll get there. We have a lot of games that we can win. But they've been at schools where there are different traditions, and we've got to work on that. That's our job, and hopefully it'll work out."
×
Photos
Related Stories