LOGAN — Six months ago, when he stood at a podium in front of various news media, boosters and fans as the brand-new head coach of Utah State men's basketball, coach Craig Smith made a promise.
It was a bold promise, but one he believed.
He didn't know how long it would take to fulfill his words. But he knew that, eventually, with hard work, dedication and the right group of players, the Aggies could be champions.
"I have tremendous expectations for Utah State men's basketball," Smith said. "I will work my hands to the bone to get this program back where it belongs — and that is on top of the Mountain West Conference."
Y'all remember this???#AggiesAllTheWaypic.twitter.com/2gKbk4DWIk

— USU Men's Hoops (@USUBasketball) March 6, 2019
Less than a year later, that promise has been fulfilled.
One year into his tenure, Smith has done the unthinkable — taking a team picked to finish ninth in the Mountain West to a league regular-season co-championship. The Aggies, whose win over then-No. 12 Nevada in the season's final home game likely cemented an NCAA tournament berth, are champs.
And Smith was rewarded Tuesday with Mountain West coach of the year. He also earned District VIII Coach of the Year by the U.S. Basketball Writers Association.
"The older you get, there's no doubt that it's always about who you surround yourself with. I'm not trying to be cliche, it's true," said Smith, who gave credit to athletic director John Hartwell and his staff of assistant coaches. "I think sometimes a head coach gets too much credit and too much blame. You better have good people in your fox hole and that means our assistant coaches."
Smith inherited a team that went 17-17, including an 8-10 record in Mountain West play in the final year under head coach Tim Duryea. Furthermore, shortly after announcing the new head coach, that team's leading scorer Koby McEwen announced plans to transfer to Marquette.
It looked like a rebuilding year for the Aggies, at least from the outside.
But not to Sam Merrill, who was named Mountain West player of the year Tuesday.
"It was kind of expected. We had a lot of young guys, a lot of freshman. The respect toward our program, probably deservedly so, wasn't very high," Merrill told KSL TV.
"But we had confidence that we were going to be a pretty good team. As we started to win some games, and win some games that people didn't expect us to win, that's when we got that confidence that this could be something special. From that moment, we played with confidence, played together as a win.
"We're not done yet, but it's been pretty fun to this point."
The Utah State junior guard was named Mountain West Conference player of the year, freshman center Neemias Queta was named freshman and defensive player of the year, and first-year coach Craig Smith took coach of the year honors when the MWC media announced their annual postseason awards Monday afternoon.
The trio duplicated the honor Tuesday in the awards given out by league coaches.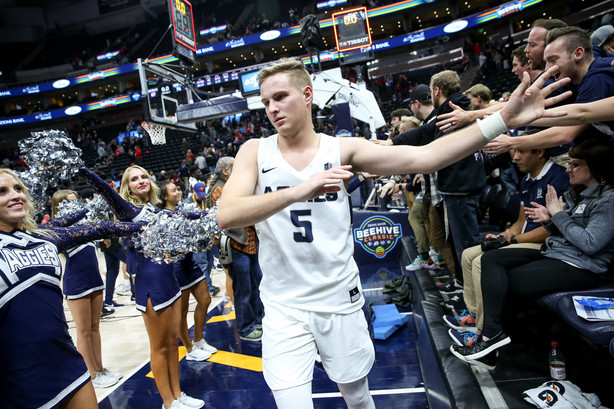 A 6-foot-5 product of Bountiful High School, Merrill averaged 21.0 points and 3.9 rebounds per game while leading the Aggies to a 25-6 record and a share of the Mountain West regular-season championship via a 15-3 conference record. The Aggies finished the regular season on a seven-game winning streak, including an upset of then-No. 12 Nevada in the regular-season home finale.
Queta, the 6-foot-11 newcomer from Portugal, posted 73 blocks and 276 rebounds in his first season with the Aggies.
"You forget Neemias is a freshman and obviously, the freshman of the year, well deserved," Smith said. "As a defensive player, he's really changed the game for us. We're not the most athletic in the world on the perimeter, but he altered and changed shots.
"He has a monster of an impact on the game and the ability to finish possessions with his rebounding. He has been really good for us."
Merrill was also named first-team all-Mountain West, Queta was added tot he all-Mountain West second team, and junior guard Diogo Brito earned three votes toward sixth-man of the year, an award won by Nevada junior Jazz Johnson (eight votes).
Utah State opens the Mountain West tournament Thursday at 7 p.m. MT as the No. 2 seed at the Thomas & Mack Center in Las Vegas. The Aggies will face the winner of No. 7-seed New Mexico and 10th-seeded Wyoming.
"At the end of the day, we have to understand that we finished as co-conference champions and when you do that, you always get everyone's best shot," Smith said. "Maybe early on in the year, we kind of snuck up on some people, obviously down the stretch we didn't sneak up on anybody. At the end of the day, let's play Aggie basketball."
×
Related Stories