Estimated read time: 3-4 minutes
This archived news story is available only for your personal, non-commercial use. Information in the story may be outdated or superseded by additional information. Reading or replaying the story in its archived form does not constitute a republication of the story.
LOGAN — Three Utah State football players have been cleared to play in the Aggies' bowl game this weekend after being charged with marijuana possession.
Quarterback Jordan Love, running back Gerold Bright and wide receiver Sean Carter were each charged Tuesday with possession of a controlled substance, marijuana/spice, a class B misdemeanor, according to charging documents filed in the Logan City Justice Court.
The charges were first reported by Cache Valley Daily and confirmed by KSL.com.
The charges stem from a Dec. 14 incident that happened at 11:32 p.m. at Millennial Towers Student Housing, 657 E. 1000 North in Logan.
Logan City Assistant Police Chief Jeff Simmons said officers responded to a call of several people smoking marijuana at the student apartments located just west of Maverik Stadium. When officers arrived, they could smell marijuana and found several people smoking in a room.
Six people were initially contacted, Simmons said, but a seventh — later identified as Love — was also brought to the officers' attention after hiding in a nearby bedroom. The responding officer requested urine tests due to the marijuana odor and, after initially refusing, the seven individuals eventually complied when police obtained a warrant.
"They were found to be in possession of marijuana by virtue of having it in their (system)," Simmons said.
An arraignment is scheduled for Dec. 30 in Logan. The Aggies will play in the Tropical Smoothie Cafe Frisco Bowl against Kent State on Friday, Dec. 20 (5:30 p.m. MST, ESPN2) in Frisco, Texas. The team arrived in Texas on Monday afternoon.
As first-time offenders, the three football players will be eligible to play in Friday's bowl game, a university spokesman confirmed.
Elani Rice, a freshman on the university's track and field team, was also charged with misdemeanor marijuana possession and possession of alcohol by a minor, another class B misdemeanor.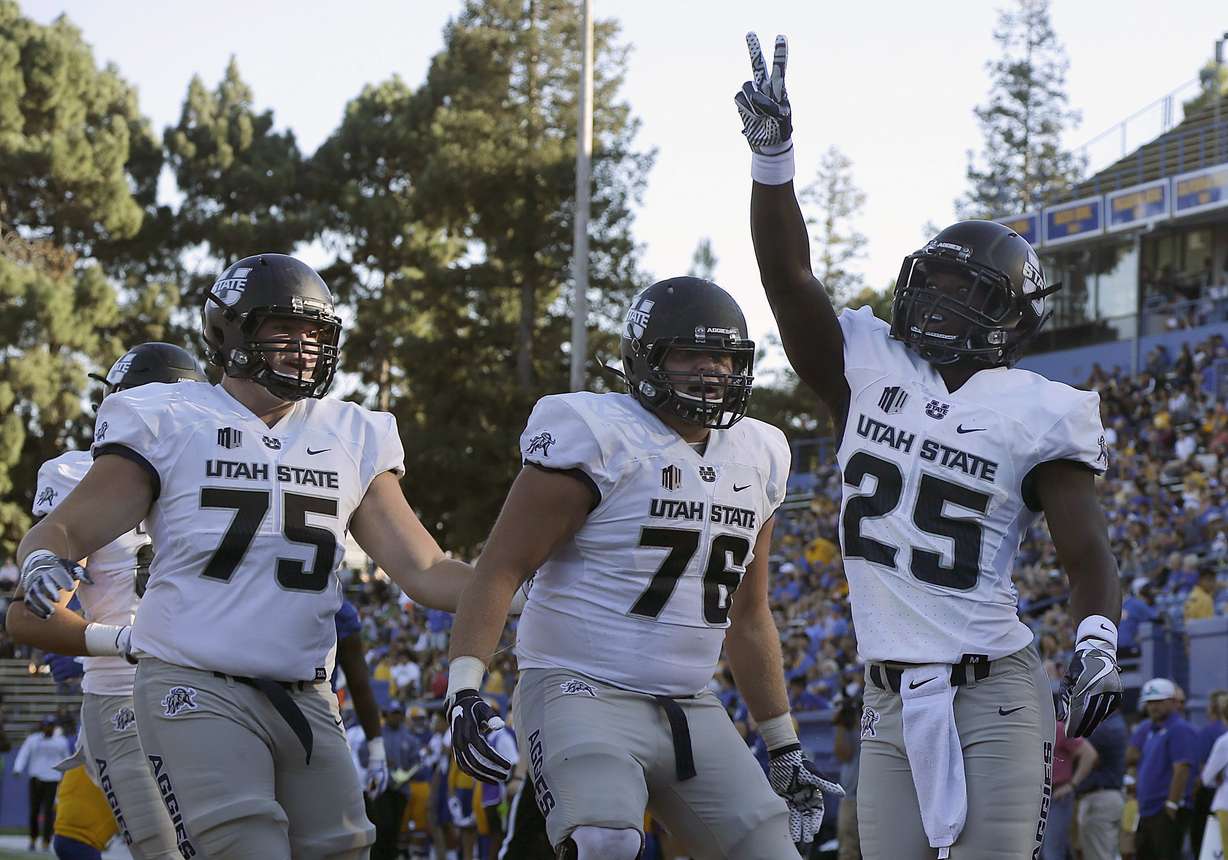 Each individual was cited for possession and released at the scene, Simmons said.
"We are aware that citations were issued," Utah State said in a prepared statement through university spokesman Tim Vitale. "We have processes in place, both in Student Conduct and in Athletics, and we'll follow our procedures, as we do in all cases."
Love, a redshirt junior who threw for 8,283 yards, 57 touchdowns and 28 interceptions in three years of eligibility, has already declared for the 2020 NFL Draft, which is in April. Bright is a senior and will also be playing in his final game with the Aggies. The 5-foot-10 native of Pensacola, Florida, had 1,034 all-purpose yards and nine touchdowns as a senior in 2019.
Carter is a junior, a junior college transfer from Fullerton (Calif.) Junior College, who has one reception for 17 yards on the year.
Disciplinary actions after testing positive for first-time drug offenders is left to the sole discretion of the sports' head coach — in this case, Utah State head football coach Gary Andersen — according to the Aggies' student-athlete handbook. The student is also expected to receive mandatory counseling and educational classes through the USU Wellness Center and may be required to complete a student-athlete substance abuse program, as well.
"The student-athlete is required to comply with the minimal guidelines set forth above," the handbook reads. "Failure to do so will result in immediate disqualification from all athletic participation and removal of all department-provided financial support.
"The student-athlete's head coach may impose additional penalties beyond these guidelines, subject to the approval of the Director of Athletics."
Second violations require the student-athlete to be restricted from competition for 20% of the current season immediately following the second test for a violation, according to the handbook. That suspension will be rolled over to the next season if the athlete is out of season at the time of the violation.
A third violation requires immediate removal of the student-athlete from the program, and the subsequent removal of all "athletically provided financial aid for the remainder of the student-athlete's career at USU." These suspensions are referred to as a "violation of team rules" by the university, unless they are made public by the student-athlete.
×
Most recent Utah State Aggies stories