SALT LAKE CITY — Utah State and Kent State combined for 518 yards of offense in the Golden Flashes' 23-17 lead at halftime of the Tropical Smoothie Cafe Frisco Bowl.
And the two teams were just getting warmed up.
Kent State quarterback Dustin Crum threw for 289 yards and two touchdowns and ran for 147 yards and a score to lead the Golden Flashes to their first-ever postseason bowl win Friday night with a 51-41 victory over Utah State at Toyota Stadium in Frisco, Texas.
Utah State's first season of the second stint under head coach Gary Andersen ends with a 7-6 record and the Aggies' third loss in four postseason appearances.
"That was our goal, to get home and take that trophy with us, and it didn't happen," Andersen told reporters after the game. "So, that's extremely disappointing."
Jordan Love threw for 308 yards with three touchdowns and an interception for Utah State, becoming the Aggies' school-record holder with 9,003 yards of total offense. He finishes his career with 689 completions, also a record, for 8,591 yards and 60 touchdowns.
Crum accounted for all but 41 of Kent State's 302 yards of offense at halftime, outgaining the Aggies 261-215 by himself before the break. The junior then iced the game with a touchdown run on fourth-and-one from the four-yard line with 1:56 to go, moving Kent State (7-6) to 1-3 all-time in bowl games and their first winning season since 2012.
In his second season at Kent State, 33-year-old coach Sean Lewis — the youngest in the Football Bowl Subdivision — did the unthinkable with the Golden Flashes: winning three straight games to end the season and clinching the first bowl victory in school history.
Kent State (7-6) went just 2-10 in Lewis' first year in charge in 2018.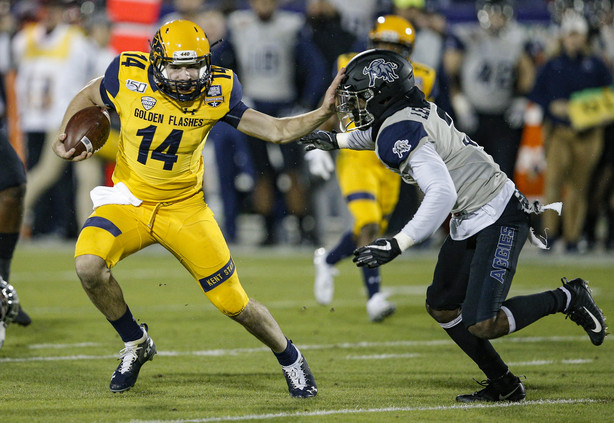 "I'm just so happy for the university," said Crum, a dual-threat quarterback who was Kent State's leading rusher during the season. "We weren't supposed to be here, but here we are."
Gerold Bright ran for 94 yards and a touchdown for Utah State, and Utah graduate transfer Siaosi Mariner caught seven passes for 113 yards and two scores for the Aggies.
Nathan Jordan added 71 yards on nine catches for the Aggies, who have played in a bowl game in four of the last five years.
"Our belief is that if you get to six or seven wins, you're a good football team because you get rewarded," Andersen said before the game. "A lot of people here from Logan hear me say this and you'll hear me say it a thousand times more but that's a fact. If you get to six or seven wins, you're a good football team and you get rewarded with a chance to come to an unbelievable atmosphere in a bowl game. That's special. If you get eight or nine, you're a great team. If you get to double digits, you'll be remembered forever and you're an elite football team.
"So yes, it does mean a lot to come and compete for a championship but it does not define the season."
'Round the corner and headed home 💨 pic.twitter.com/pjchggQ86g

— ESPN College Football (@ESPNCFB) December 21, 2019
Utah State opened the second half on a 10-3 run, including a 45-yard go-ahead field goal by Dominik Eberle with 2:27 left in the third.
The lead only lasted 89 seconds into the final period, though. That's when Will Matthews' 4-yard touchdown run finished off Antwan Dixon's 53-yard screen pass to regain the lead. Matthews added a 2-point conversion to go up 34-27 in a fourth quarter where both teams combined for 39 points, and Utah State couldn't fully recover.
Both Love and Bright, who were each cited for misdemeanor marijuana possession Tuesday, started in the final game of their respective careers. Love, a redshirt junior, has already declared for the 2020 NFL Draft, and Bright was a senior in 2019.
An arraignment is scheduled for Dec. 30 in Logan.
Kent State kicker Matthew Trickett set a school record with five field goals in a single game, and the Golden Flashes went 7 for 7 on trips inside the red zone.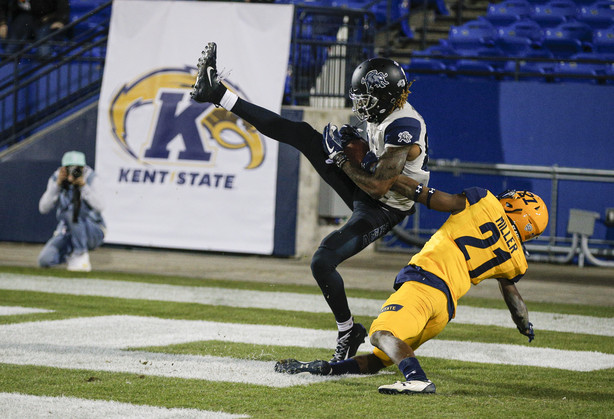 Up next
The Aggies, who open the 2020 season Sept. 5 against Washington State and add road games at Washington, BYU and Boise State, will lose the No. 2 overall passer in program history in Love, leading rusher Bright and leading receiver Mariner. The 2020 NFL Draft is in April in Las Vegas.
Contributing: The Associated Press
×
Related Links
Related Stories