SALT LAKE CITY — Utah State coach Gary Andersen wanted to be perfectly clear Thursday during his pre-bowl press conference.
Aggie quarterback Jordan Love will play when the team kicks off against Kent State in the Tropical Smoothie Cafe Frisco Bowl at 5:30 p.m. MST Friday (ESPN2).
Love, a fourth-year junior who has already declared for the 2020 NFL Draft, was one of three football players charged Tuesday with possession of a controlled substance, marijuana/spice, a class B misdemeanor, stemming from an incident Dec. 14 at Millennial Towers Student Housing in Logan.
But the Aggies have a policy in place. And as a first-time offender of marijuana possession, that policy leaves the eligibility status of student-athletes up to their head coach.
So, expect to see No. 10 on the field this weekend, just as he was 12 previous times this season.
"There was never any thought that he wouldn't play," Andersen said. "We have policies set up, just like the university's statement says. Now, that's a real statement. If you want to read that statement, that's stuff from people who really care about kids and believe in things, believe in giving them opportunities. So read the university's statement.
"It's pretty clear that Jordan will play, and it's not a bunch of written whatever."
The statement Andersen was referring to was a university statement delivered to the media after news of the infractions began to circulate. It says the school was "aware that citations were issued."
"We have processes in place, both in student conduct and in athletics, and we'll follow our procedures, as we do in all cases," the university said via the statement from spokesman Tim Vitale.
Senior running back Gerold Bright and junior college transfer receiver Sean Carter were also cited with misdemeanor offenses Tuesday, as was freshman track and field athlete Elani Rice when Logan police officers discovered the quarterback as part of a seven-person party in possession of marijuana at the student housing plot just west of Maverik Stadium, according to charging documents.
None of the seven people contacted by police was arrested for the offense, but officials cited and released all four student-athletes at the scene, according to police records.
So there's no reason to believe any of them will be held out or suspended for the season finale. The whole incident has been a distraction, and that's undoubtedly a sticking point for a veteran football coach.
Andersen did not reference which "article" drew his and the university's ire, but he did say he would work to correct what he perceived was a grave injustice on his players' characters — after the bowl game.
Multiple media outlets reported on the citation, based primarily on charging documents from Logan City police. The incident made national news, too, and extended well beyond Cache Valley and the state of Utah.
An arraignment is scheduled for Dec. 30, or 10 days after the bowl game. Until then, the Aggies' legal troubles can be marked under "we'll see," Andersen said, and the team has been fully focused on the bowl game, the Golden Flashes, and ending the season on a positive note.
"I'm excited to see how it comes out, in the end, because I know where I believe it will end," Andersen said during a lengthy diatribe about the news media. "I just hope the people that make statements, whoever makes the statements — I'm not saying that about the guy who wrote the article; he got the information somehow. But obviously, there was some inaccurate pieces to that article. You would know that by the way that the university reacted. You would know that by the way that the attorneys involved reacted, that there were some statements in there that were not truthful.
"So I just hope, at the end of this whole thing, that those people can have the same miserable day that those kids had when these articles came out. I hope they can have the same miserable days. I'll work hard, if I can, to make sure those days are miserable for those people. They won't be as miserable, but it's highly irritating to put kids in this setting, in this situation at a bowl game, and to have them go through those hours and those times just because somebody told somebody something that obviously wasn't completely correct. It's a shame. It's a pity."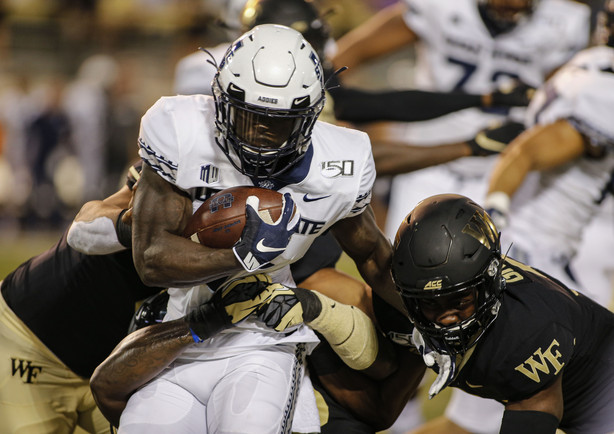 That Andersen is standing up for his players isn't a surprise. It should be expected, in fact, with the culture he's built at each of his stops — including his second stint in Logan.
Kent State coach Sean Lewis first met Andersen when he was the head coach at Wisconsin. The two have had brief, pleasant contact since then, and even joked that if they were in the same area by now, they'd just have an inter-squad practice and scrimmage against each other.
"You saw the fun competition that happened last night at the bowl event, the impromptu dance-off. It's all of those things," Lewis said. "The kids handle it the right way. That's a testament to Coach Andersen and his staff, their character and the way he leads his program. You can tell there's a mutual respect, and we do things the same way and kind of operate on the same frequency.
"It's been a pleasure to be around him and his team."
WE HAVE OURSELVES A DANCE OFF!!

Which team do you think has the best moves, @KentStFootball or @USUFootball???🕺🕺 pic.twitter.com/lnnMFmtiPi

— Tropical Smoothie Cafe Frisco Bowl (@FriscoBowlGame) December 19, 2019
Andersen expects a lot from his seniors, and that won't change even with final-year players like Bright in the headlines for non-football reasons.
He still expects them to play, and he expects the younger Aggies to fight for them.
"There's a reason why the seniors sit in the front row of our team room. The whole football team is playing for the seniors because it is their last opportunity," he said. "I expect the seniors to come out and play their best games and I'm sure both teams expect that. I expect the kids to rally around their teammates."
×
Related Stories