This archived news story is available only for your personal, non-commercial use. Information in the story may be outdated or superseded by additional information. Reading or replaying the story in its archived form does not constitute a republication of the story.
LOGAN — When Craig Smith arrived in Logan and met his team, the players all started a group chat over text message.
The title of that chat? 2019 Mountain West champions.
Now it's more than a thread.
Sam Merrill had a career-high 38 points, eight rebounds and six assists and Quinn Taylor added 18 points and six rebounds, as Utah State clinched at least a share of the Mountain West regular title with a 100-96 overtime win Tuesday night at Colorado State.
Neemias Queta added 12 points and eight rebounds for the Aggies (25-6, 15-3 MW), and teammates Justin Bean and Diogo Brito each added 10 points.
"We weren't great and they were a really good offensive team," Merrill said of CSU. "They're No. 1 in the league in offensive efficiency. They deserve a lot of credit for making a lot of big shots. Similar to that Boise State game, we were down with less than a minute to go and we found a way. That's who we are and this is a fitting way to win the league with how our season has gone."
It's the Aggies' first conference title since joining the Mountain West in 2013, and their first league title since winning the Western Athletic Conference regular season and tournament title in 2010-11. Utah State has won 17 conference titles in program history.
That was also the last time the Aggies made the NCAA Tournament.
J.D. Paige led Colorado State (12-18, 7-10 MW) with 29 points, six assists and two steals, and Nico Carvacho added 19 points and nine rebounds — but the CSU big man fouled out in the final minute of regulation to help the Aggies hold on for the win.
THESE GUYS!

🏆🏆🏆#AggiesAllTheWaypic.twitter.com/EY9TKq66h4

— USU Men's Hoops (@USUBasketball) March 6, 2019
Picked to finish ninth in the league's preseason poll, the Aggies did what many presumed unthinkable. After a non-conference schedule that included losses to Arizona State, BYU and Houston, Utah State reset the clock in time for conference play.
They've won 15 of 18 games since then, including an 81-76 victory over then-No. 12 Nevada last Saturday — before some grossly overshadowing postgame theatrics — that bolstered a tournament resume and all-but assured the Aggies will make the Big Dance.
"The last two years have been tough, being toward the bottom of the standings. It's pretty crazy," Merrill said. "Whether it's a co-championship or outright, we put in a lot of work. Our goal since coach Smith arrived here Day One was to win a Mountain West championship."
Utah State led by as much as eight twice in the first half, but, both times, the Rams came back. Paige nailed a 3-pointer from the right wing to pull Colorado State within two, 31-29, with 5:45 left in the half.
But the Aggies put together back-to-back scoring drives, including a three by Quinn Taylor, to push the lead back to multiple possessions with 3:46 left, 36-29. That helped the Aggies take a 46-41 lead into halftime, when both teams shot better than 51 percent from the field — including an astonishing 18-of-28 effort from the Aggies that led to Smith's remark at halftime that "it's like the NBA All-Star Game right now."
Colorado State took its first lead of the game when Kris Martin nailed a pair of free throws with 5:18 left. That put the Rams ahead 76-75 after an 11-2 run over 3:12.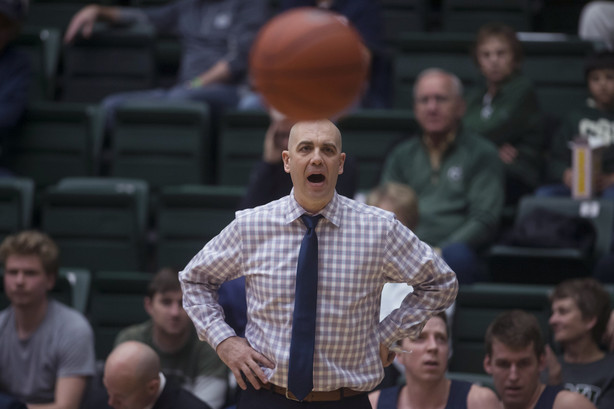 But Merrill gave the lead back to Utah State just over a minute later, scoring on a fastbreak drive from Brito with 4:02 left.
Neither team led by more than two in the final moments, and Carvacho delivered the Rams an 84-82 lead with a reverse layup with 1:35 on the clock.
"We're five and a half months into this," Smith said. "To win a regular season championship, to me, has always been the most rewarding.
"Anyone can win a conference tournament championship because you get hot at the right time, win three games in three days, three games in four days and it depends on the tournament. To win a regular season ... to do that over an 18-game schedule with all that travel, everything that goes on, you have to be mentally and physically tough.
Queta swatted Paige's layup miss in the final 30 seconds, setting up Merrill to go to the other end and make a pair of game-tying free throws with 19 seconds left and force overtime.
Merrill, the former Bountiful High star, had 32 points, eight rebounds and six assists in regulation. He played all 40 minutes before the extra session, then scored six points in overtime.
🏆 Title Town 🏆

Sam Merrill had a career-high 3️⃣8️⃣ points as @USUBasketball clinched at least a share of the Mountain West title with a 100-96 win tonight at Colorado State. #AggiesAllTheWaypic.twitter.com/d1GjvZQMG4

— KSL.com Sports (@KSLcomSports) March 6, 2019
Queta's jumper two minutes into overtime gave the Aggies a 90-88 edge, and Merrill stretched the lead to four just under a minute later with 2:25 left before holding on for the win.
Utah State made four free throws in the final 45 seconds to clinch the victory, including two from Merrill with 22 seconds left that put them over the top.
"He does it all. He's an incredible person, unbelievable character, and the All-American type of kid. He's the most unselfish star that I've ever coach in 23 years," Smith said of Merrill, who was Utah State's lead returning scorer after Koby McEwen transferred to Marquette in the offseason. "He gives our guys so much confidence. Everyone talks about how good he is on offense, but he's just as good of a defensive player. He does it all, he's so intelligent, and our guys love him to death."
The Aggies will open the Mountain West men's basketball championships next Thursday, March 14, at the Thomas & Mack Center in Las Vegas. Utah State can clinch an outright Mountain West title if Nevada loses Saturday against San Diego State in the regular-season home finale.
The Wolf Pack pulled away from Air Force, 90-79 Tuesday night in Colorado Springs, Colorado.
×
Related Stories