Estimated read time: 3-4 minutes
This archived news story is available only for your personal, non-commercial use. Information in the story may be outdated or superseded by additional information. Reading or replaying the story in its archived form does not constitute a republication of the story.
SALT LAKE CITY — Utah water managers had a big reason to celebrate Friday.
Thanks to this year's snowpack and runoff, Utah's drought is officially over — at least for now.
"We're drought-free as of today," Brian McInerney, senior hydrologist with the National Weather Service in Salt Lake City, said during a briefing Friday.
It would have been a tough wager to predict Utah would obliterate its drought designation from October of last year after a dismal 2018 gave Utah one of the country's worst drought designations, yet "we did it in six months' time," McInerney said.
"This is spectacular," he said. "This is what we had hoped for."
And there's more to celebrate.
Water managers, hydrologists and storm forecasters have been keeping a close eye on Utah's mountain ranges over the past month, wary of the possibility warm temperatures could rapidly melt this year's high snowpack and cause damaging flooding.
But Utah's bipolar weather patterns over the last several weeks have created the perfect conditions to avoid flooding while also filling just about all of the state's reservoirs.
"It's the optimum scenario we had hoped for," McInerney said.
The potential of flooding still lingers through the month of May, but weather forecasts indicate Utah will continue warming up and cooling down to gradually eat away at mountain snowpack.
So far, damaging flooding only looks to be a "possibility, not a probability," McInerney said.
"What we've been doing is melting it off in an orderly fashion — and that's optimal. We're going to fill the reservoirs," he said.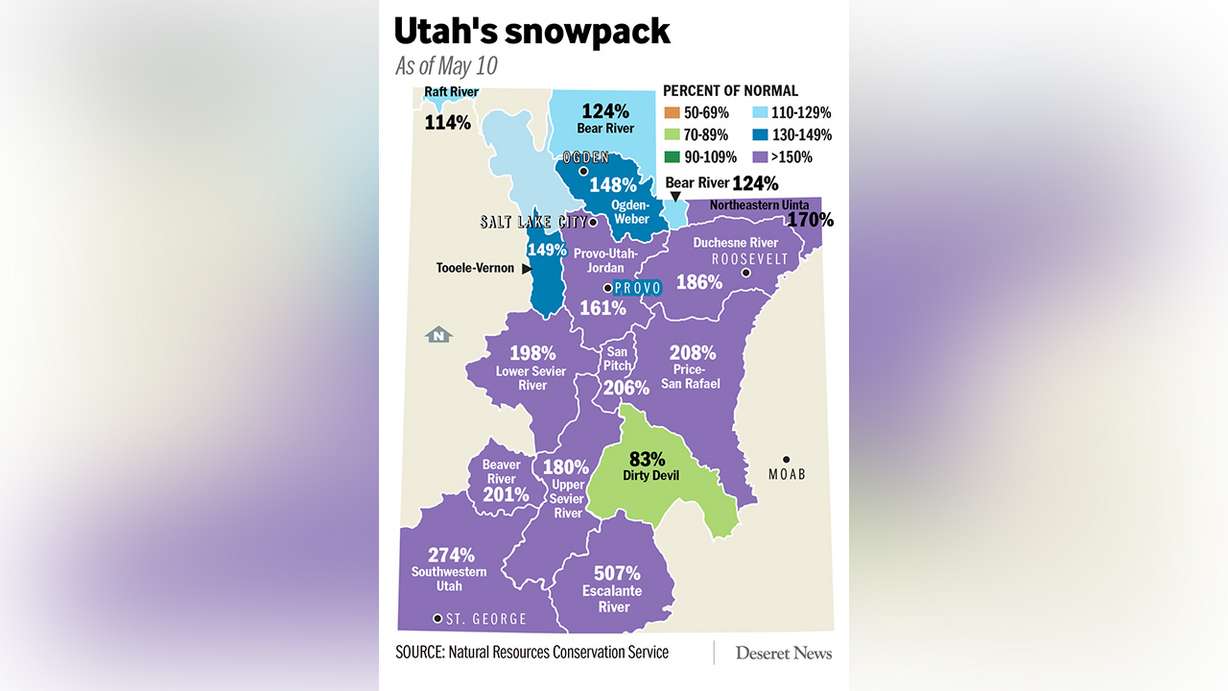 Water managers last month celebrated an exceptional water year for Utah after reviewing snowpack numbers last month, which showed anywhere between 104 percent of average to a whopping 197 percent of average in southeastern Utah.
But thanks to several warm-then-cold spells over the last month, Utah still has thick snowpack in high elevations — even creating statistical anomalies in southeastern Utah, where snowpack sits about a mammoth, nearly record-breaking 8,500 percent of average.
"Southeast did fantastic," said Troy Brosten, Utah Snow Survey supervisor with the U.S. Department of Agriculture's Natural Resources Conservation Service.
And in high elevations across state, "there's still quite a bit of snow up there," Brosten said. "It's holding pretty good."
As a result, some reservoirs are already releasing water in anticipation of more runoff. Nearly all of Utah's reservoirs are expected to fill, with some exceptions including Strawberry (due to its size) and Steinaker Reservoir, which was drained for repair, according to Gary Henrie, a civil engineer with the U.S. Bureau of Reclamation.
Lake Powell, which has struggled due to the nearly 20-year drought on the Colorado River, obviously won't fill — but it's expected to see an about 11 percent peak increase. That could mean an almost 50-foot rise in waters for the boating destination, Henrie said.
Along the Wasatch Front, it's likely rivers will be flowing their highest around the end of May — particularly rivers fed from high elevations such as Big and Little Cottonwood canyons, McInerney said.
So as runoff continues to flow, McInerney urged Utahns to stay cautious around fast-flowing rivers and keep a watchful eye on children and pets.
Just four days ago, the body of an 81-year-old man was recovered from the Ogden River after police say he fell in.
"We have people perish every year when we have large runoffs," McInerney said. "We had one so far this year, so let's see if we can keep it at no more."
×
Photos
Related links
Related stories
Most recent Utah stories