SALT LAKE CITY — Giddy would not necessarily be too strong of a description of the mood at the National Weather Service in Salt Lake City, where water managers, hydrologists and storm forecasters and others reviewed the current mountain snowpack and talked of more moisture to come.
"It's been a pretty good snowpack year," said Troy Brosten, Utah Snow Survey supervisor with the U.S. Department of Agriculture's Natural Resources Conservation Service.
During a briefing Tuesday, Brosten pointed to snowpack numbers across the state that are anywhere between 104 percent of average to a whopping 197 percent of average in southeastern Utah, which was bone-dry last year and bore one of the country's most significant drought designations.
Except for a thin slice across the top half of the state, which is still termed dry, the precipitation over the last few months has eliminated any drought classification in Utah, said Brian McInerney, senior hydrologist with the National Weather Service in Salt Lake City.
February and March were phenomenal months for building snowpack, and the storm that swept into the state Tuesday and will linger into Thursday marks the beginning of a wet, cool pattern predicted to last through the month.
"It will be active, unsettled and colder than normal," said Glen Merrill, meteorologist with the National Weather Service in Salt Lake City.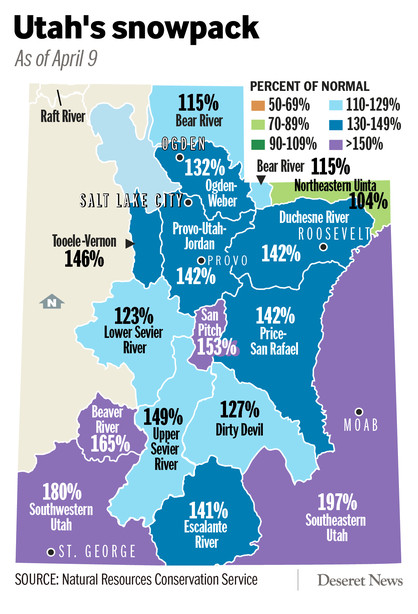 The stormy pattern will just add to the snowpack, and water watchers are now shifting into a different mode, keeping eyes on reservoirs as the stormy weather continues.
"We've had a change of mentality of 'Will it fill?' to 'Will it safely fill?'" said Gary Henrie, a civil engineer with the U.S. Bureau of Reclamation.
Henrie said there are already flood control management strategies in play at places like Starvation, and Pineview is releasing about 1,000 cubic feet of water per second to make room for the runoff to come.
With the exception of Red Fleet, which struggled with low flows, and Strawberry — which is huge — the state's reservoirs should fill, Henrie said.
The other notable exception is Lake Powell, impacted by a near 20-year drought on the Colorado River. Henrie said these April storms will give it a good boost, but it will take many good hydrological years to recover.
Henrie noted that a few months ago he didn't think he'd be paying much attention to the charts showing how quickly reservoirs are beginning to fill, but the storms changed that.
Ideally, the snowpack comes off in an orderly fashion — but McInerney said what is to come in May is anybody's guess at this point.
"It's something we are watching," he said.

Email: amyjoi@deseretnews.com Twitter: amyjoi16
×
Photos