This archived news story is available only for your personal, non-commercial use. Information in the story may be outdated or superseded by additional information. Reading or replaying the story in its archived form does not constitute a republication of the story.
BOUNTIFUL – A group of gym-goers made a man's dying wish come true in Davis County over the weekend.
Kenzee Logue said her father, Frankie, was diagnosed with ALS in late November 2018. Since then, his health has declined dramatically.
Frank Logue had been very active in the fitness world for more than 20 years, even winning some awards. Kenzee Logue said it was a huge part of his life.
"His hospice team asked him, 'If you had a dying wish, what would it be?' And he responded with: a final workout," she said.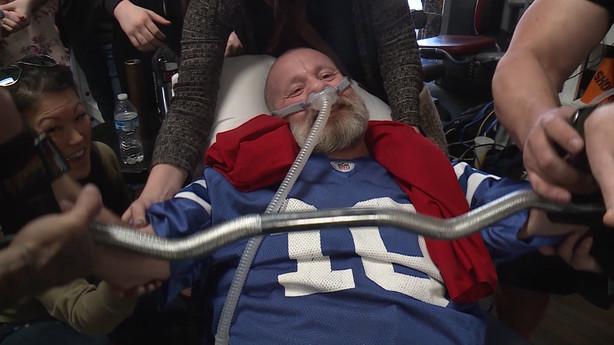 Friends, family and the Bountiful weightlifting community gathered at Big John's Pro Gym, 448 W. 1150 South, Saturday afternoon to make that happen.
Weightlifters held a competition, and there was also a silent auction to help with Frankie's medical bills and eventual funeral expenses.
As people gathered to contribute, they helped guide Frankie through his one last workout.
"I think it's amazing. (He's) the most amazing guy, and I'm so glad there are people out here helping," said gym owner "Big John."
Several accounts have been set up to help with those expenses. If you wish to help, you can donate at Mountain America Credit Union by mentioning "Frank Logue ALS" or at through a GoFundMe account for Frankie*.
____
*KSL.com does not assure that the money deposited to the account will be applied for the benefit of the persons named as beneficiaries. If you are considering a deposit to the account, you should consult your own advisors and otherwise proceed at your own risk.
×
Photos