Estimated read time: 5-6 minutes
This archived news story is available only for your personal, non-commercial use. Information in the story may be outdated or superseded by additional information. Reading or replaying the story in its archived form does not constitute a republication of the story.
SALT LAKE CITY — Gov. Gary Herbert delivered his annual State of the State address Wednesday night to the Utah Legislature, describing 2018 as a year fraught with drought and wildfires but teeming with faith and courage.
"And overall, 2018 was indeed a banner year of accelerated economic growth and prosperity," he said. "So I am pleased to report to you tonight that in spite of challenges, the state of our state is strong, resilient, and our outlook is very, very bright."
Noting the national divisiveness and polarization in politics in Washington, D.C., Herbert jokingly emphasized his gratitude that House Speaker Brad Wilson, R-Kaysville, did not disinvite him to this year's State of the State address, a dig at the dispute that has played out between President Donald Trump and House Speaker Nancy Pelosi, D-California.
"Because of your kindness, I promise I won't cancel your state-sponsored travel to the Six County Summer Meetings in Nephi," Herbert said, drawing laughter from the room.
On a more somber note, Herbert led the Utah legislature in a standing ovation to pay tribute to the families of the five Utah residents who died in the line of duty in 2018. They are:
"We stand together tonight to honor the ultimate sacrifice you have made as families to serve and protect us," he told family members attending the address.
Herbert went on to detail his goal for a $225 million sales tax cut that would be the result of a 64 percent drop in the rate from 4.85 percent to 1.75 percent.
If lawmakers follow his heed, Herbert noted that nine out of every 10 taxpayers will be paying less in sales tax in the future than they are now.
In a prepared response from the Democrats, House Minority Whip Carol Spackman Moss, D-Holladay, warned against a broad tax cut.
"Some propose we just cut taxes. That is not good policy during a time of economic prosperity," she said. "Certainly, there are many things we can do to improve our state tax system, to make sure the burden doesn't fall hardest on the middle class."
But Senate President Stuart Adams, R-Layton, said afterward that Herbert did a good job of detailing the diminishing "base" for state revenue.
"We know there's a problem. We know we ought to broaden the base. The challenge will be doing it because anytime you broaden it there's winners and losers and that becomes emotional."
While the state is awash in a revenue surplus, some fear an economic downturn is around the corner and caution should be exercised in going forward with reform.
In his speech, Herbert stressed that public education funding will continue to be the No. 1 spending priority for the state, detailing $275 million more in ongoing funding to post-secondary education ahead of a 2021 deadline. That money folds into a goal to invest an additional billion dollars into public education, he said.
"And with these additional funds, we can do some great things," he said, pointing to a 4 percent increase in the weighted pupil unit, which is the main source of funding for public education.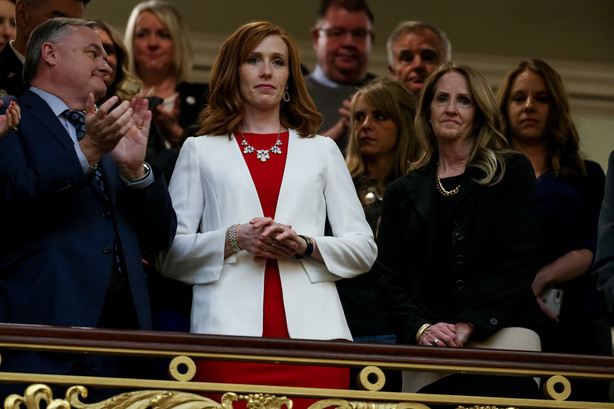 The governor said he wants robust computer science classes offered to every middle school student in Utah and supports a legislative measure to strengthen the curriculum in required financial literacy courses.
In the arena of air quality, Herbert said his recommended $100 million "down payment," in one-time money should help the state reach its goal of reducing emissions by 25 percent by 2026.
He specifically is targeting the state fleet, energy efficiency in state-owned buildings, and telecommuting or mass transit options for some state employees on bad air days.
Herbert also wants the money to incentivize changing out gas-burning yard equipment to electric counterparts and adding 1,100 new electric vehicle charging stations at state buildings and businesses.
He said those actions will collectively reduce pollutants by 14,000 tons, or the equivalent of taking 65,000 automobiles off the road on an annual basis.
In his conclusion to the speech, Herbert noted the upcoming celebration marking the 150th anniversary of the joining of the transcontinental railroads at Promontory in May this year.
He asked those listening to ponder the heritage and background of those railroad workers 150 years ago.
"So consider this: The people who literally united our nation following the Civil War were the nation's outcasts — freed slaves, Irish immigrants, exiled Mormons and underpaid Chinese workers, among others," he said.
The lessons of those contributions should propel people to "do more to protect the nameless the outcast and the vulnerable."
Those lessons, he added, should show residents and leaders they can overcome deep divisions and accomplish "great things."
Afterward, Adams praised Herbert.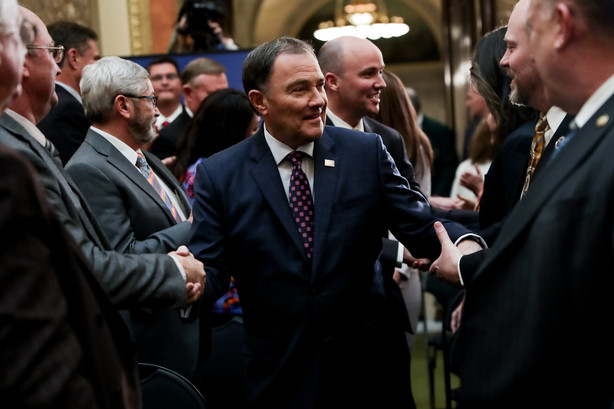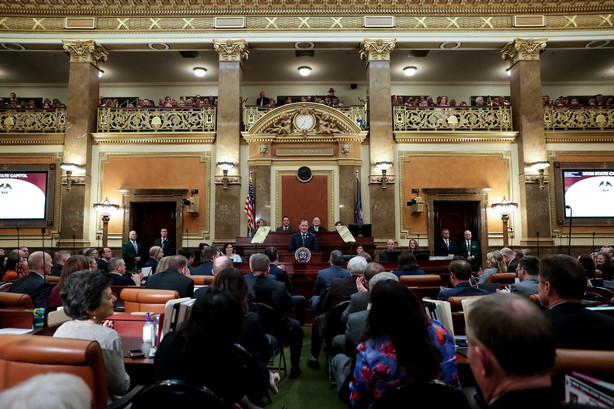 "I thought it was a great speech," he said. "We know we're one of the best-managed states, and we know even the Wall Street Journal recognizes that the fastest growing economy and the fastest growing job rate since 2010 have been in this state. But what we also know is, like the governor said, is we can't look in the rearview mirror, we've got to look forward."
The Utah Democratic Party did not attack the governor directly in its response to the State of the State address, but did emphasize its members' roles in representing the voice of the people and needed investments in schools, public safety and air quality.
"We are committed to solving our common problems, from the perspective not of Republicans or Democrats or any other identity group, but as Utahns who share common values. We are elected to represent our constituents and make policy for the entire state, not just our home city, town, or county," said House Minority Leader Brian King, D-Salt Lake City.
×
Photos