Estimated read time: 4-5 minutes
This archived news story is available only for your personal, non-commercial use. Information in the story may be outdated or superseded by additional information. Reading or replaying the story in its archived form does not constitute a republication of the story.
DRAPER — City officials say a Draper firefighter died after a tree fell on him as he battled the Mendocino Complex Fire in California Monday.
Draper Fire Battalion Chief Matt Burchett, 42, died in a hospital after sustaining injuries while fighting the blaze north of San Francisco, Draper Mayor Troy Walker said during an early-morning news conference.
Burchett was struck by a falling tree and was airlifted within 40 minutes to a medical center after other firefighters administered medical aid, according to the [Associated Press](<https://apnews.com/ff7a4f56bf0540468efaae56dc93a83c/The-Latest:-Official:-Falling-tree-killed-Utah-firefighter' target=>). He died soon after.
Three other firefighters were also injured when the tree fell Monday, though officials have not yet confirmed where those firefighters were from.
Burchett was one of five Draper firefighters sent to California to help fight the fire. Burchett was the crew's task force leader.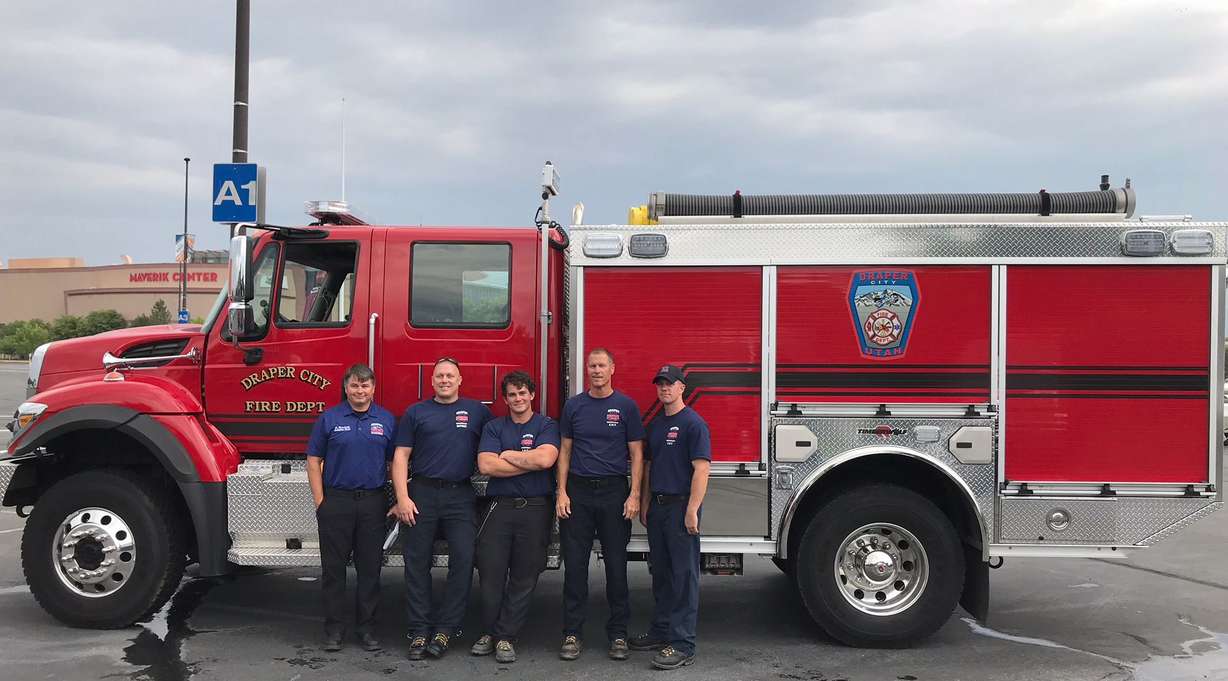 Burchett had also worked with the Unified Fire Authority for 20 years before joining Draper's force in May. He was an expert in wildland fires and a master of his craft, according to Draper Battalion Chief Bart Vawdrey.
"I've known Matt for a long time, over 20 years. Every time we lose a brother, it's hard," Vawdrey said. "This will be felt across the country."
Burchett jumped at the chance to help firefighters in California, Vawdrey added.
"I think anybody in the department would do the same," he said. "He was a good man. He had a very dry wit, and he was very professional."
Burchett's colleagues from the Unified Fire Authority spoke during a third press conference Tuesday afternoon, mourning the loss of a man who they said saved the lives of countless firefighters and civilians.
Burchett started as a seasonal wildfire fighter in 1995 and was hired full time in 1999 with Unified Fire Authority. He worked hard and was promoted to wildland specialist in 2000 but would go on to work in the department's training division and emergency management division as well, Unified Fire Authority Chief Dan Petersen said.
Burchett acted as a liaison between Utah and California in 2017 when firefighters were sent to the Golden State to help battle blazes, and his passion was wildland fires, according to Petersen.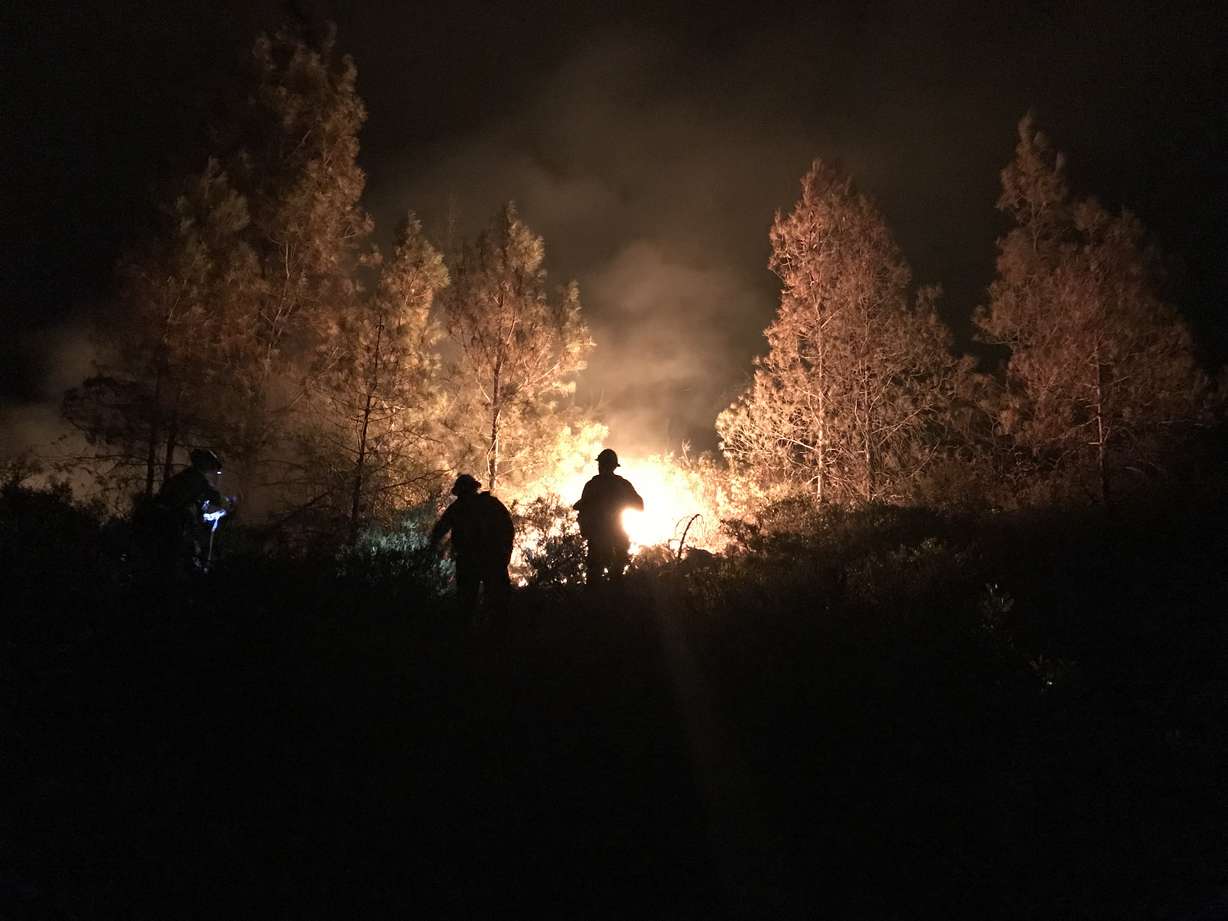 "Whether he was on the front line or working in administration, we've all been better off for his efforts," Peterson said.
Matty, as his close friends called him, had a "gleam in his eye" and a contagious grin, said Unified Fire Authority Assistant Chief Mike Watson.
"He was a doer. He was a creator. He was one who became bored easily. He was always asking 'Why?'" Watson said. "If he didn't like the 'why,' he'd change it and make it better."
Burchett had many, many friends, Watson added, and kept many firefighters safe during his service as a team lead and trainer.
"Of all the things I could tell you, all of it pales to the man he was. He was special. He was a good soul. His footprints are all over this state," Watson said.
He leaves behind a wife and young son.
Funeral arrangements for Burchett are still pending, and Draper will be working with Cal Fire and the state to get his body back home.
"These guys are American heroes who literally stand in the fire," Walker said.
Fire departments around the state began posting tributes to Burchett Tuesday, and the leaders of the 629 people assigned to the Coal Hollow Fire held a moment of silence in his honor.
Our thoughts and prayers go out to the family and friends of the firefighter we lost on the Mendocino Unit. A moment of silence was held in his honor this morning with the leaders of the 629 people assigned to the #CoalHollowFire. pic.twitter.com/PrDj4K6IdD

— Utah Fire Info (@UtahWildfire) August 14, 2018
Gov. Gary Herbert also tweeted his condolences, offering prayers to Burchett's wife and son.
"Today is a sad day in Utah. We are heartbroken for the family of Draper City Fire Battalion Chief Matt Burchett, who gave his life heroically fighting a fire in Northern California," the governor tweeted.
Herbert has since ordered the lowering of the U.S. and state of Utah flags on the day of Burchett's funeral, and California's governor Jerry Brown has ordered all California capitol flags to be flown at half-staff Tuesday.
Today is a sad day in Utah. We are heartbroken for the family of @drapercity Fire Battalion Chief Matt Burchett, who gave his life heroically fighting a fire in Northern California. Chief Burchett's wife and son will be in our minds, hearts, and prayers today.

— Gov. Gary Herbert (@GovHerbert) August 14, 2018
Six firefighters have died in California wildfires; and the deadliest fire, the Carr Fire, has left eight people dead, including three firefighters, according to the Associated Press.
Burchett was the second firefighter from the Draper City Fire Department to die in the last two months. Fire Marshal Bryan Thatcher died June 28 at his home, according to a Facebook post from the Draper City Fire Department.
In a tweet Tuesday evening, Draper City officials said a donation website* for Burchett's family is up and running for anyone who would like to help them out financially. The site — utahfes.org — is hosted by the Utah Firefighter's Emerald Society, and city officials say "100 percent of the funds raised will go to (Burchett's) family."
____
*KSL.com does not assure that the money deposited to the account will be applied for the benefit of the persons named as beneficiaries. If you are considering a deposit to the account, you should consult your own advisors and otherwise proceed at your own risk.
×
Photos
Related Stories