This archived news story is available only for your personal, non-commercial use. Information in the story may be outdated or superseded by additional information. Reading or replaying the story in its archived form does not constitute a republication of the story.
WEST VALLEY CITY — Jill Robinson was more than a code enforcement officer for West Valley City.
She was also a person who enjoyed the outdoors, playing with her grandchildren, a person who was always smiling and laughing, and at times a "crazy decorator," according to her family.
But to many, she was just "Mom," even to those she wasn't related to.
"Mom is kind of the one who took care of everybody when anything happened," daughter Haile Merrill said. "She was the ultimate caregiver."
On Monday, Katie and Haile Merrill, two of Robinson's four children, spoke publicly for the first time since their mother was shot and killed Thursday while performing her duties.
Jill Lanette Robinson, 52, was fatally wounded as she arrived at the house of Kevin Wayne Billings, 4102 W. Wendy Ave. (2925 South), as part of a follow-up investigation. Police say Billings, 64, set her city truck on fire, then shot and killed her and also burned down his neighbor's house.
Billings was arrested for investigation of aggravated murder, aggravated arson and arson. No formal charges have yet been filed against him.
The sisters remember their mother as a fun, creative person who loved crafts and always had a project going, whether it was in woodworking or painting. She loved holidays and had traditions every year, such as playing Thanksgiving Day parade bingo, her daughters said. When they went to her house after the tragedy, they found a box labeled "Halloween 2018" that was already full of materials she had been collecting and making.
"She was a homemaker, crafter, and someone who believed in not random, but constant acts of kindness. Jill was as thoughtful as they come," her family wrote in her obituary.
"Mom gave us immeasurable joy, love and guidance. Without her, we are filled with sorrow, we are heartbroken and we are lost," Haile Merrill said.
"She was the life of the room. She would make everybody laugh. She had the best smile. Everybody knew when she was around because she would be having somebody laughing," added Katie Merrill.
Robinson was a single mother who raised four children.
"She could not have been prouder of her four kids going through college and pursuing their dreams as a teacher, a lawyer, an actor and a stage technician. She was as much of a gift to her grandchildren as they were to her. She spoiled them with toys, horsey-back rides, funny noises, and trips to the pool. Her love will be a guiding light to all those who are so lost without her now, and she will always be remembered as our hero," her family wrote in her obituary.
The two sisters said their mother raised her children to be strong-willed people and to act on their dreams.
"You wanna know her personality, just look at us, I guess," said Haile Merrill. "She was many, many, many, many things."
"She was a total badass who graduated (Peace) Officer Standards (and) Training in 2004, her longtime dream, and took pride in re-certifying every year since. She was our comfort, our dance partner, our biggest fan, our April Fools' Day prankster, our actual bone-marrow-donating lifesaver, our Super Mom, our sweet 'Zelma,' and the hardest worker we ever knew," her obituary says.
Robinson was a bone marrow donor for her brother who had leukemia. Katie Merrill said their uncle is alive today because of their mother.
She was also someone who loved her job as a code enforcement officer. Her daughters said they never worried about her when she went to work.
"She knew what she was doing," Katie Merrill said. "She never expressed fear about what she was doing. She wanted to be out there, wanted to be making the community better."
Layne Morris, West Valley City's director of Community Preservation and Robinson's boss, said because she graduated from POST before joining the city — something that was not required for the job — she instantly became a leader in the organization.
Robinson was hired 10 years ago at a time when West Valley City was trying to improve its image, which included taking pride in the city's appearance. Morris admitted his only reservation initially with her was that she was actually too nice.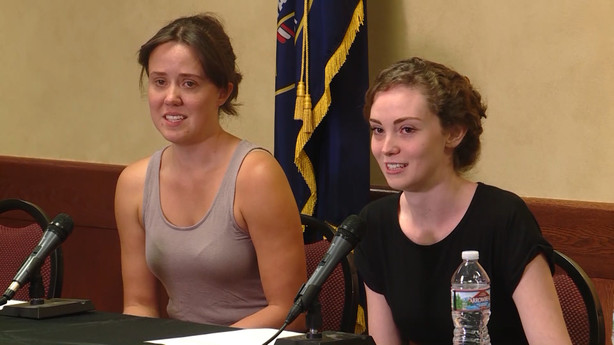 "But she did that job. She did that job. And you just could not get a better employee," he said. "The West Valley City Code Enforcement Division and West Valley City residents have lost a friend in Jill Robinson.
"She brought a maturity and a professionalism to the job that was sorely needed in our department. She was almost instantly looked up to as someone who knew what she was doing and made a conscious decision, this is what she wants to do with her life," he said, calling her "the ideal employee."
West Valley's code enforcement officers each have a route they drive, watching over about 3,000 homes, Morris said. They look for violations, such as cars that are inoperable cluttering a street or that are parked on the lawn, people who try to store solid waste in their yards or people who clutter their yards with items such as couches that belong inside, and landscaping upkeep in general.
If an officer sees a violation, that home will be sent a "courtesy note" telling the resident their yard needs to be cleaned up within a few weeks. While that usually solves the problem in most cases, Morris said the next step is to send a "notice of violation" informing the homeowners they have 10 days to clean up their yard and that an officer would stop by on the 11th day to check on them. After that, if the yard is still not in compliance, the resident can be fined and the case goes to court.
While Morris could not talk specifics about the case involving Billings, he said he had been served a notice of violation. He said the city was still trying to determine on Monday what point in the process Robinson was at with Billings when the tragedy occurred.
He also noted there were several homes that had received violation notices on that street, and that code enforcement officers don't typically visit a home based on just one complaint.
West Valley's code enforcement officers will be back on the road driving their routes on Tuesday for the first time since Robinson's death. For now, they will all be required to drive in pairs and the only contact with residents will be made through the mail, Morris said.
"We'll start at the very beginning, essentially, and kind of build our program again and make sure we're doing it just exactly how we want to, to mitigate that risk. It's something we do on an ongoing basis, frankly, and so this will be an excellent opportunity for us to once again look at it," he said.
Also on Monday, the family announced that funeral services for Robinson will be held Friday at 10 a.m at the Maverik Center.
The family asks that "in lieu of flowers, in honor of Jill, please remember your constant acts of kindness."
×
Photos
Related Stories