Estimated read time: 3-4 minutes
This archived news story is available only for your personal, non-commercial use. Information in the story may be outdated or superseded by additional information. Reading or replaying the story in its archived form does not constitute a republication of the story.
ZION NATIONAL PARK — Park officials are investigating an act of vandalism at Angels Landing after photos of a man's Instagram handle written on a rock sparked a barrage of social media backlash.
Michigan resident Joe Braun was hiking in Zion National Park when he came across the Instagram handle @SuspenceFitness and the words "Teena + Spencer 2018" written on a rock in permanent marker en route to Angels Landing in Zion National Park.
He took a picture of the act of vandalism with his hand depicting a rude gesture and posted the photo on his own Instagram account Saturday.
"Please pardon my vulgar hand gesture, but this is how I feel about people who vandalize our national parks. Graffiti like this is illegal and unwanted, and permanent marker takes a fair amount of professional effort to remove," his post reads.
The post soon sparked outrage against the owner of the Instagram handle written on the rock as social media users quickly found the account.
A current search for the Instagram account @SuspenceFitness says the link is broken or deleted. The account's photos are currently unavailable, but screenshots of photos previously on the Instagram account show the @SuspenceFitness Instagram handle written on a rock with the caption "I had to."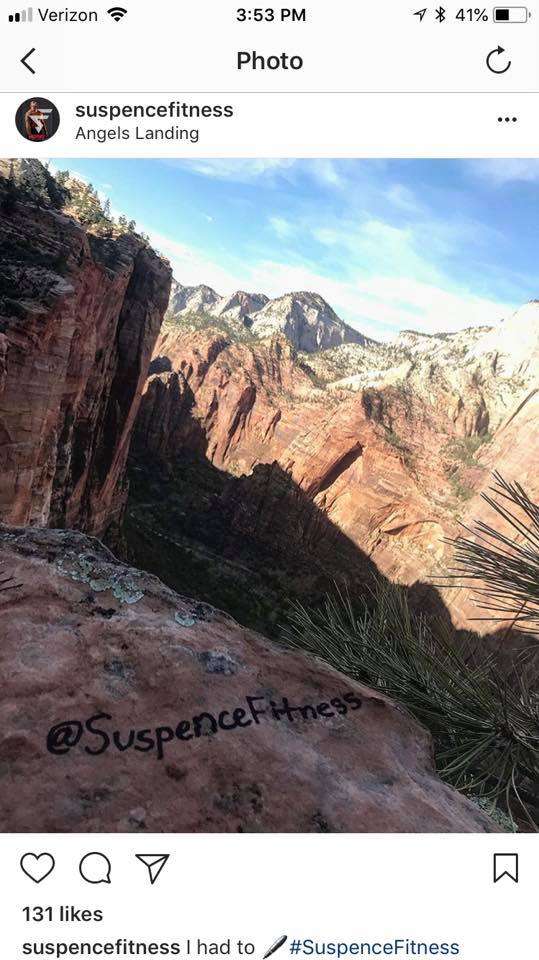 All social media accounts related to the account and the company website related to @SuspenceFitness are unavailable.
The person who wrote on the rock is working with park officials to repair the damage, said Zion National Park spokesman John Marciano. The park is not releasing the name of the perpetrator until a full investigation is complete.
"This is very serious to us, and we are taking action," Marciano said. "The good thing is, he is cooperating. He's taken full responsibility, and that's great."
While it's beneficial that backlash on social media spurred the perpetrator to turn himself in, the park does not support the death threats the man has been receiving from angry people online, Marciano said.
"People who make death threats, that's an illegal thing as well," he said.
Braun also posted an update on his Instagram post calling for social media users to stop the backlash.
"I have been in contact with the person who did this and they have contacted Zion's NPS to make it right. We all make mistakes and it's great when people own up to them. Please don't send any more hate mail to this person," his post now reads.
In a screenshot of a post that has since been deleted, @SuspenceFitness apologized for the vandalism.
"I'm so so so so so sorry about this. I am contacting the park to help with the situation. I did not mean to cause any harm and I obviously was not thinking," the post read.
The park has already sent a crew up to Angels Landing to remove the graffiti, Marciano said. While the investigation is not yet complete, the park usually charges vandals a fine and requires them to pay restitution for the cost of removing the graffiti. Criminal and civil penalties are pending.
"Park law enforcement appreciate the tips that have poured in and hope that this incident will serve as a deterrent to anyone else contemplating vandalizing one of America's treasures," Marciano said.
×
Photos
Most recent Utah stories