Estimated read time: 1-2 minutes
This archived news story is available only for your personal, non-commercial use. Information in the story may be outdated or superseded by additional information. Reading or replaying the story in its archived form does not constitute a republication of the story.
CRUSHVILLE — If you haven't found the Hydraulic Press Channel on YouTube yet, I feel sorry for you. From its most popular post which proves that yes, it is impossible to fold paper more than seven times, to crushing watches, alarm clocks, phones and bubble wrap. It's all great.
Things get even more interesting when a vat of liquid nitrogen gets introduced into the equation. Narrated by the channel-runner's pleasantly thick Finnish accent, viewers can see a rubber ball, ball of rubber bands, PlayStation controller, rolled up bike tire inner tube and small toy deer get mercilessly flattened under the sheer power of the hydraulic press.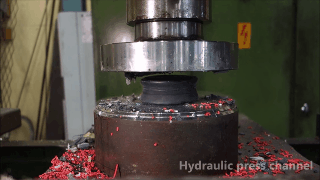 While the hydraulic press usually just slowly mushes things until they become unrecognizable versions of themselves, the added element of the liquid nitrogen means more exploding/shattering/sheer awesomeness.
Enjoy this video from the Hydraulic Press Channel. You can thank me later after you go down the rabbit hole of its content and have to explain to your boss how eight hours went by and all you have to show for it is a YouTube history filled with clips of squished home goods.
×
Related Links