Estimated read time: 1-2 minutes
This archived news story is available only for your personal, non-commercial use. Information in the story may be outdated or superseded by additional information. Reading or replaying the story in its archived form does not constitute a republication of the story.
WINTER WONDERLAND — In my experience as a niece and now as an aunt, uncles everywhere are definitely a target of their nieces' and nephews' excess energy.
They become jungle gyms, workhorses, bad guys and horsies. They give piggybacks, morph into wrestling partners and get pushed in the pool to the delight of their brothers' and sisters' progeny.
What happens when an uncle is tired of being the focus of that aggression in the dead of winter? They develop a snowball machine gun as a means of self-defense, of course.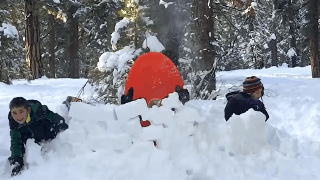 In a video uploaded to YouTube Tuesday, user Mark Rober makes a pseudo snowball Gatling gun that is capable of firing 13 prepacked snowballs in just .5 seconds, what Rober describes as a "must have in any self-respecting Uncle's arsenal."
The wintery weapon is made using leaf blower and the completely reloadable magazines are fabricated using ABS pipe. It's really quite brilliant, though it does require some preplanning for full efficacy.
The cherry on top is that Rober includes a PDF with complete building instructions in the description of his YouTube video.
Features: Have You Seen This?

Click here to watch more funny, odd and amazing videos curated from the Internet just for you.
×
Related links
Most recent Have You Seen This? stories