This archived news story is available only for your personal, non-commercial use. Information in the story may be outdated or superseded by additional information. Reading or replaying the story in its archived form does not constitute a republication of the story.
SALT LAKE CITY — Utah civic leaders paid respects Monday to former Salt Lake City Mayor Deedee Corradini. The pioneering political figure died Sunday following a battle with lung cancer.
Utah Gov. Gary Herbert praised Corradini's service as the city's first and only female mayor, saying she "served admirably."
"She played an important role in preparing our capital city to host the 2002 Olympic Winter Games and leaves a legacy of investing in our transportation infrastructure that continues to benefit Utahns to this day," Herbert said.
Other former governors added their voices to those who honored Corradini's contributions to Salt Lake City.
"Deedee Corradini was not afraid of doing big things," former Gov. Mike Leavitt said. "She was personable, but strong-willed. She knew the importance of relentlessly moving forward when things got hard."
Leavitt was governor during her time as mayor. He noted that they served together on the board of Utah Power and Light and worked together to secure the Salt Lake Olympic Games.
She was a pioneer as the city's first female mayor and one of the first female members of the Alta Club, Leavitt said.
"We will all look back on her as having made a strong contribution to the community," he said.
The state's first and only female governor also called Corradini a Utah pioneer.
---
Deedee Corradini was not afraid of doing big things. She was personable, but strong-willed. She knew the importance of relentlessly moving forward when things got hard.
–Mike Leavitt, former Utah governor
---
"She was a leader of great courage and determination and a great friend of mine," said Olene Walker. "She will be long remembered for her leadership in securing the Olympics for Utah and as a role model for women in Utah politics."
Corradini served as mayor from 1992 to 2000. In addition to finalizing Salt Lake's bid to host the 2002 Olympics, she accepted the Olympic flag on behalf of Utah in Nagano, Japan, in 1998 and was the first woman to bring home the Olympic flag.
Current Salt Lake City Mayor Ralph Becker said she was a woman whose tireless advocacy and countless successes can be seen not only throughout the city, but around the world.
"I, personally, and our community, owe a debt of gratitude and remembrance to this great leader who contributed so much to so many," he said.
"We honor her many efforts to make our city a better place," said Salt Lake City Council Chairman Luke Garrott. "She broke ground as the first and only female mayor in the history of Salt Lake City, and her leadership will be missed."
Corradini was instrumental in helping get women's ski jumping included as an official Olympic event.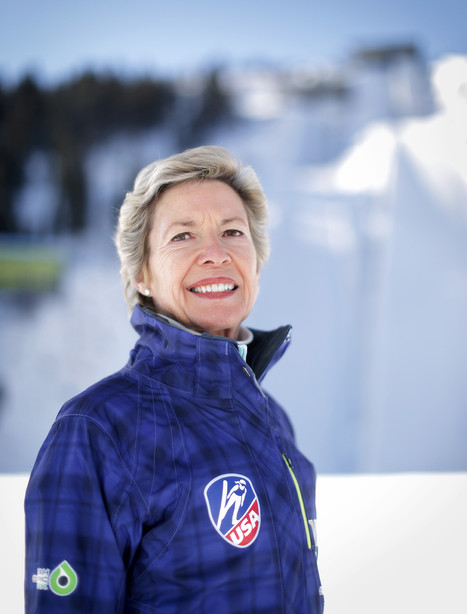 "(She) brought great passion and perseverance to her pursuits," said U.S. Ski and Snowboard Association President and CEO Tiger Shaw. "She was a difference maker for the 2002 Olympic Winter Games in Salt Lake City and later instilled a pioneering spirit into women's ski jumping that led to its successful Olympic debut and international success of U.S. athletes."
As the city's 32nd mayor, she also helped secure approval and funding for Salt Lake's initial TRAX light rail line and also pushed for the relocation of the Union Pacific Railroad tracks, which divided the city. Additionally, she pushed for funding of Salt Lake's massive I-15 reconstruction prior to the 2002 Games.
During her time as mayor, Corradini came under scrutiny for soliciting more than $200,000 in cash gifts and loans to pay off more than $800,000 for her part in the failure of Bonneville Pacific, a publicly traded alternative energy corporation that went bankrupt on inflated financials in 1991.
Corradini also approved the controversial sale of the Main Street Plaza area to The Church of Jesus Christ of Latter-day Saints and spurred construction of the Gateway project, as well as a new stadium for Salt Lake's professional baseball team.
Don Leonard, who chaired the task force that helped bring a minor league team to the city, said she was "an expert at getting things done," even though she may not have been especially familiar with a particular issue.
"She knew very little about professional baseball," Leonard said. "That's why she appointed a new task force, and before anybody knew it, Salt Lake City had a new stadium and a triple-A team."
The process took only three years, he noted.
"Deedee was a consummate 'arm-twister,'" Leonard said. "It was very beneficial to Salt Lake City when it was facing a crisis of a crumbling (old stadium) because she had to affirm a commitment from a team" to move to Utah.
Related:
Corradini also worked to revitalize the downtown area through public-private partnerships. Lane Beattie, president and CEO of the Salt Lake Chamber, called her "a true stateswoman."
"Mayor Corradini was an integral figure not only during her service as mayor, but also as a civic leader for the community," he said. "She understood the value of partnering with the business community to find common ground and create community prosperity."
"We've lost a visionary leader who was a tireless champion for Salt Lake City," Beattie added. "She will long be remembered."
State Sen. Stuart Reid, D-Ogden, a former Salt Lake City Council chairman who served as Community and Economic Development director under Corradini, described her as "a remarkable leader."
"She always asked us, as her staff, whether what we were purposing was the right thing to do," he said. "If we could demonstrate that it was, nothing would stop her from pursuing it with courage, no matter who was opposed to it."
Reid called her "a fearless leader" in making government work for the people of Salt Lake, and she was "an incomparable emissary" for the state of Utah.
"I was proud to serve in her government," Reid said.
A funeral service will be held Monday, March 9, from noon to 1 p.m. at Wasatch Presbyterian Church, 1626 S. 1700 East, Salt Lake City. A reception follows from 2 to 4:30 p.m. at Log Haven, 6451 E. Millcreek Canyon Road, Salt Lake City.
In lieu of flowers, the family encourages a donation to one of the following organizations in her memory:
Contributing: Sam Penrod, Mike Anderson
×
Photos
Related Stories