This archived news story is available only for your personal, non-commercial use. Information in the story may be outdated or superseded by additional information. Reading or replaying the story in its archived form does not constitute a republication of the story.
SALT LAKE CITY — Deedee Corradini, who served as Salt Lake City's only female mayor from 1992 to 2000, died Sunday, a family spokeswoman confirms.
Corradini, 70, served two terms as the city's first and only female mayor. In February, she said that she had been diagnosed with non-small cell lung cancer last year in late July. At the time of her announcement, she was undergoing chemotherapy treatment.
She was born in Providence, Rhode Island, but moved as a child to Lebanon and Syria for 11 years. She returned to the United States, earning her Masters degree in psychology from the University of Utah. She was the mother of two children.
Her family released a statement late Sunday night honoring her:
"Our amazing mother, wife, sister, aunt, friend, and mentor, died today at her home in Park City, surrounded by the light, love, and gratitude of her loved ones. She fought a fierce six-month battle with stage 4 metastasized non-small cell lung cancer (the non-smoking type).
"Our lives will never be the same without her, yet we celebrate her legacy with such JOY. We feel her grace, and know she will continue to guide us deeply though her courageous spirit and extraordinary light that lives within us all."
In the 1970s, she worked as press secretary to Utah Congressman Wayne Owens and Rep. Richard Ottinger of New York.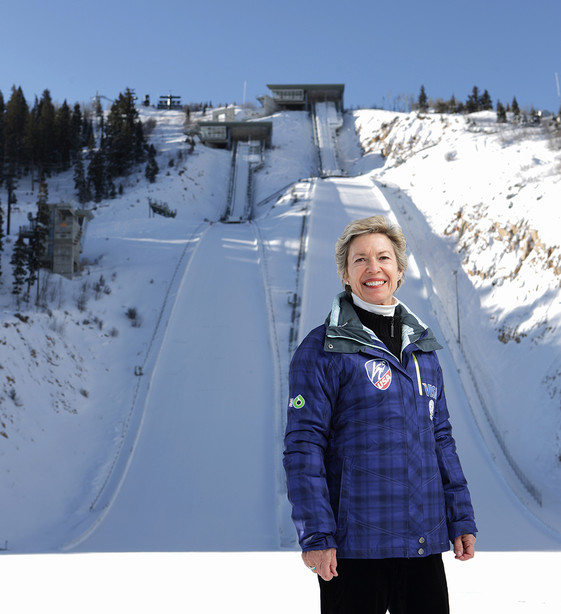 As mayor, Corradini was instrumental in getting the city ready for the 2002 Winter Games, including securing funding for the games and beefing up the city's transportation infrastructure. She helped secure approval and funding for the city's first TRAX line as well as for extensive I-15 construction. Her work to revitalize downtown Salt Lake included work to bring the Gateway, moving the Union Pacific Railroad tracks and other private-public partnerships.
Her tenure was not without controversy. While mayor, Corradini came under scrutiny for soliciting more than $200,000 in cash gifts and loans to pay off $805,000 for her part in the failure of Bonneville Pacific, a publicly traded alternative energy corporation that went bankrupt on inflated financials in 1991. She faced no criminal charges in connection with the events.
Later, she approved the sale of Main Street Plaza to The Church of Jesus Christ of Latter-day Saints.
In 1998, she served as the president of the U.S. Conference of Mayors.
After two terms, Corradini did not seek reelection, moving on to teach at Furman University, leading Prudential Utah Real Estate and the International Women's Forum. In 2011, as president of Women's Ski Jumping USA, she helped bring the sport to the olympics.
In 2014, she told the Associated Press that she would continue to work to get a women's large hill and team event in the olympics by 2018.
In recent years, Corradini had worked with an effort led by the YWCA of Salt Lake to encourage more women to run for public office.
She and former state Rep. Sheryl Allen were Utah's delegates to Vision 2020, a national initiative to commemorate the 100th anniversary of the women's suffrage movement.
"My concern has always been that there are not enough women in public office. I'm just thrilled to be working with all these different parties to come together to make a serious effort in Utah," Corradini said at the time.
Peter Corroon, chairman of the Utah Democratic Party, responding to news of Corradini's death, offered this statement: "Deedee Corradini was equally known as the mayor who championed bringing the Olympics to Utah, a successful businesswoman and a champion for women's rights. I had the good fortune of supporting Mayor Corradini's efforts to bring women's ski jumping to the Olympics. I saw a woman with passion and dedication. Our thoughts and prayers go out to her family."
Funeral services have not yet been announced.
Contributing: Marjorie Cortez
×
Photos
Related Stories