AMERICAN FORK CANYON — JoeAnn Johnson hiked to Timpanogos Cave 63 years ago when she was 18.
Johnson, now 81, made a return trip Tuesday that had special meaning for her and her family.
"My grandmother did this when she was 80," she said. "My mother did this when she was 80, and I was planning on doing it last year when I was 80, but I fell and hurt my knees, so I have been working on this to get better and get in better shape, and my knees working so I could do it this year."
It's a tough hike, regardless of your age. The trail is 1 ½ miles long with an ascent of 1,000 feet.
A couple of Johnson's friends made the hike with her, and they were impressed.
"She is pretty spry," Karin Brown said. "I've been here many years ago, but the trail is a little easier than it used to be."
Friend Mary Smith added: "She did great. I really had to work to keep up with her."
When Johnson reached the cave's entrance, she received a big round of applause.
"I feel good. I feel great," she said. "Now that I am here, I wonder, 'What did I worry about?' My friends understand I didn't want all this attention, but this has been a goal of mine for some time."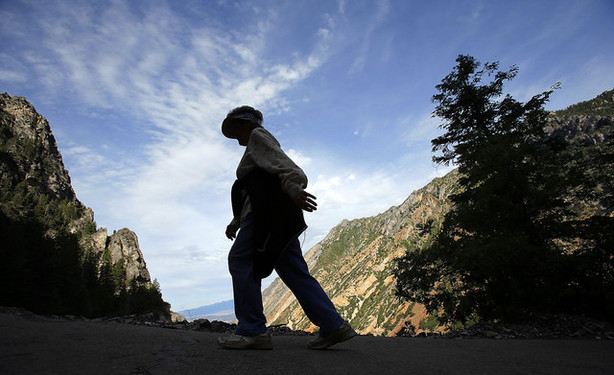 Johnson said she enjoyed the beauty of the trail, the stunning views of the canyon and the tour inside the cave with formations that attract people from all over the world.
"This is amazing," she said. "I am not usually lost for words, but I think I am now."
While the hike was strenuous, it was also emotional for Johnson as she thought about her mother and grandmother.
"I think they have been behind me, encouraging me to do this," she said. "I think they were both determined people to do it, and my grandmother had to go on the old trail that was steeper."
Now the pressure is on her daughters and granddaughters to carry on the family tradition.
×
Photos
Related Stories