Estimated read time: 3-4 minutes
This archived news story is available only for your personal, non-commercial use. Information in the story may be outdated or superseded by additional information. Reading or replaying the story in its archived form does not constitute a republication of the story.
HILL VALLEY — If you're a fan of the "Back to the Future" movie franchise, you've probably been waiting on some level for real-life hover boards to be invented, even if it's just leftover nostalgic hope from your childhood.
According to a website and accompanying video titled "Belief" released on March 3 by HUVr Corp, your wait is finally over.
But I'm sorry to tell you that it's just a slick and celebrity-injected fake — albeit an entertainingly slick and celebrity-injected fake that is creating the buzz it is surely supposed to be creating for a yet-undisclosed product or purpose.
At first the video seems it might be credible when "Back to the Future" cast member Christopher Lloyd, who played Emmett "Doc" Brown, appears on screen.
The video begins with Lloyd pulling up in a DeLorean, then walking in all the drama of slow motion with a large carrying case with "HUVr" emblazoned on it.
"At the time, as much as we all wanted hover boards to be real, of course it was an impossibility. But I'm proud to announce, that thanks to the folks at HUVr Tech, the technology has caught up with the concept," Lloyd says in the voiceover.
Lloyd unveils the hover board for none other than pro skater Tony Hawk. Hawk "tries it out" and testifies that he "can't believe how well it works."
Then a handful of other people — including musician Moby and NFL star Terrell Owens — "try it out" and exclaim their amazement and joy pretty convincingly.
But it's still a hoax.
If you were duped on any level, don't feel bad. You're not alone. In fact, enough people believed it that the myth-busting website snopes.com updated its entry on hover boards the same day that the video and website were released.
But if you're still convinced that HUVr Corp's video and website are the real deal, if your hope is too strong to let the naysayers get you down, then let's take a closer look.
The video may pull you in further with simple misdirection. You probably watched the hover board the whole time and didn't look up. If you did, you might have noticed how the hover board user's shirts often looked pulled up at the shoulders — a telltale sign that they're wearing a harness and being pulled up by wires. And sometimes you can just plain see the white harness.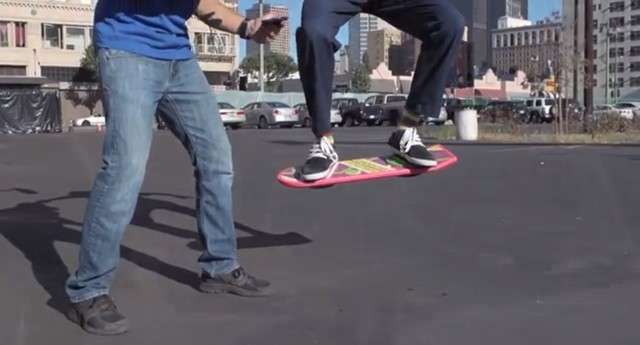 GrindTV points out that the HUVr Corp representative in the video and on the website is an actor named Nelson Cheng, as evidenced by his own webpage and his entry on IMDb.
The description of the technology in a second video called "HOW" consists of only the following hilariously choppy and unclear explanation: "… the magnetic pads … connected to the mag force charger, then it creates the magnetic field."
In 2013, Popular Mechanics detailed why technology is not all that close to giving us trackless hover boards.
Although the whole kit and caboodle is a phony, it's an enjoyable diversion. And some of us will always believe that someday we will get our hover boards. Until then, we might have to settle for the self-lacing shoes inspired by "Back to the Future II" that Nike announced for wide release in 2015.

×
Photos
Related links
Related stories
Most recent Have You Seen This? stories