Estimated read time: 4-5 minutes
This archived news story is available only for your personal, non-commercial use. Information in the story may be outdated or superseded by additional information. Reading or replaying the story in its archived form does not constitute a republication of the story.
This story is sponsored by Harmons. Want to talk to us in person? Stop by your local Harmons today for fun, friendly food advice.
SALT LAKE CITY - Every week one of the chefs from Harmons Grocery Stores will be answering your toughest culinary questions. No question is too big or too small and each week we'll award a pair of Harmons cooking school passes to one lucky viewer whose question is selected. Email your questions to askachef@harmonsgrocery.com.
This week's question comes from Heidi:
"Every time I make mashed potatoes they turn out very sticky and starchy. I don't want to disappoint my family again this year because it's just not Thanksgiving without yummy mashed potatoes. Do you have any tips that will help?"
The key to making a great batch of mashed potatoes is to always start with the right kind of potato. I like to use a combination of Russet and Yukon Gold potatoes. Russet potatoes are high in starch and will give you a fluffy mashed potato that absorbs cream and butter well. Yukon Gold potatoes have less starch, but provide great moisture for your mashed potatoes. Using the two together creates a wonderful combination.
When cooking your potatoes always start with cold salted water. The salt draws away extra starch and helps prevent gumminess. I also like to add garlic cloves to the water for extra flavor.
Once your water is boiling, reduce it to a simmer and cook for 30 to 40 minutes. Be carful not to overcook your potatoes. They should be fork tender, but should not fall apart. If your potatoes are falling apart it means they have absorbed too much moisture and will not turn out well.


What culinary questions do you have? Let us know! Email our Harmons chefs at askachef@harmonsgrocery.com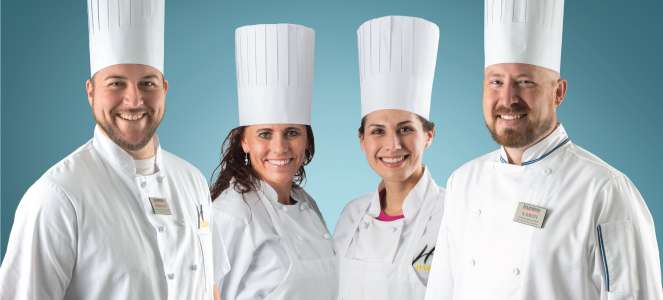 The tools you use to smash your potatoes can also make a big difference. For lumpy or skin-on potatoes, use a hand masher or mixer. For smooth, creamy potatoes use a potato ricer. You can find these tools in the housewares section at any Harmons Grocery Store.
Make sure you warm up the butter, cream and other cold ingredients you want to add to your potatoes. Mixing in cold ingredients will reduce the fluffy texture. I personally like to use heavy cream and butter to create rich tasting mashed potatoes, and I always season with salt and pepper.
Below is my favorite mashed potato recipe:
The Best Mashed Potatoes
Ingredients:
1 1/2 lb. Russet potatoes
1 1/2 lb. Yukon Gold potatoes
1 tablespoon salt
1 cup butter
1 cup heavy cream
Freshly ground white pepper, to taste
Directions:
Related:
1. Peel and chop your potatoes to 1/2 inch thick pieces.
2. In large saucepan combine potatoes
3. Cover with cold salted water and bring to boil
4. Reduce heat and simmer for 30-40 minutes until potatoes are tender
5. Drain off moisture
6. Mash, whip or use ricer to break down potatoes
7. Add salt, butter and heavy cream
8. Combined thoroughly
9. Season with freshly ground pepper
Another Thanksgiving favorite is sweet potatoes topped with marshmallows. My recipe is sweet and savory, and the marshmallow meringue topping creates a delicious layer of gooey perfection. The method for cooking sweet potatoes is similar to traditional mashed potatoes. Follow the recipe below for a delicious Thanksgiving treat.
Sweet Potato Mash With Marshmallow Meringue
Ingredients:
1 1/2 lb. white sweet potato
3 cloves garlic
1/2 cup butter, divided
1 cup heavy cream, divided
1 1/2 lb. orange sweet potato
1 tablespoon cinnamon
1 teaspoon nutmeg
Directions: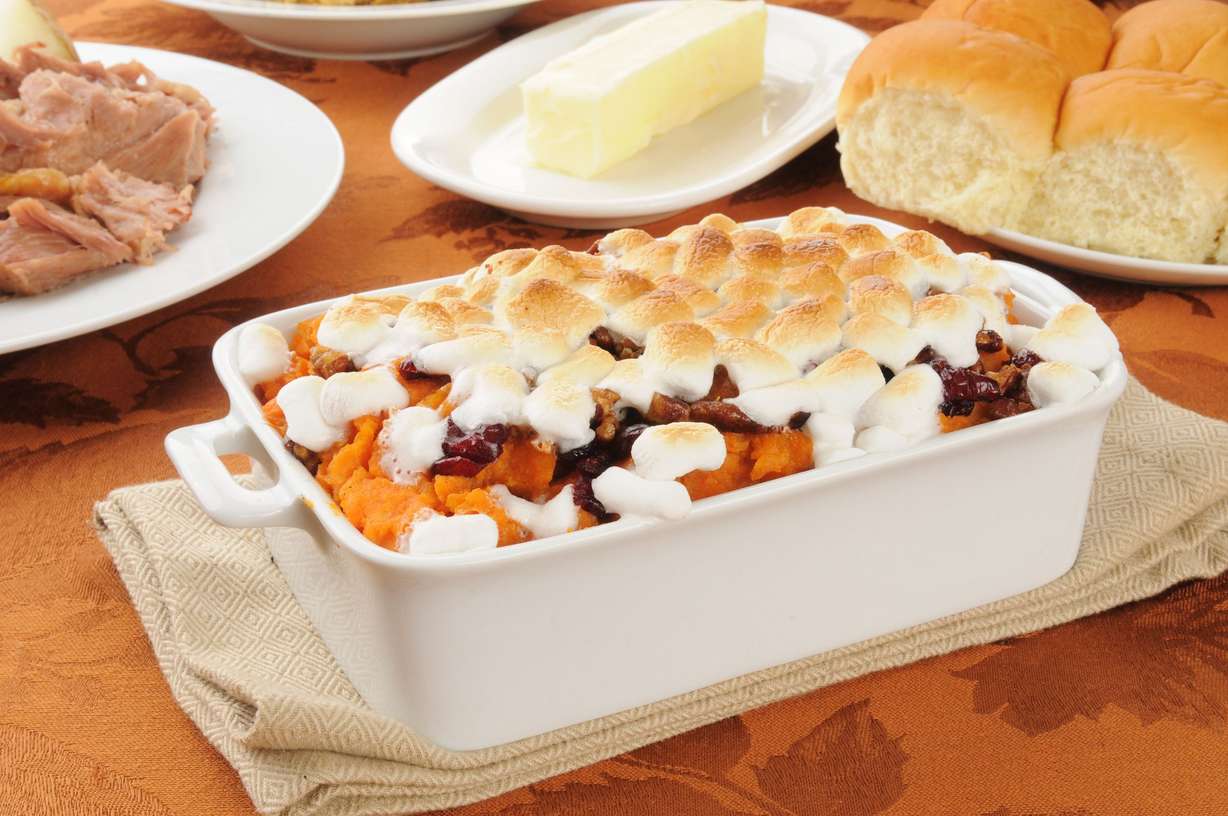 1. Peel and dice potatoes.
2. In saucepan combined white sweet potato and garlic.
3. Cover with warm water, bring to boil and cook until tender.
4. In separate saucepan combined orange sweet potato, cinnamon and nutmeg.
5. Cover with warm water, bring to boil simmer until tender.
6. When potatoes are tender drain off water and smash with potato masher to desired consistency, keeping them separate.
7. Season with salt and pepper.
8. Lightly fold the two together careful to not to over mix.
9. Layer in baking dish.
10. Make meringue.
Marshmallow Meringue Ingredients:
1 7-ounce jar Marshmallow Crème
3 large egg whites
1/4 cup sugar
Directions:
1. Using electric mixer, beat egg whites and 1 teaspoon sugar large bowl until foamy.
2. Add sugar, 1 tablespoon at a time, and beat until stiff and glossy peaks form.
3. Add 1/2 cup beaten egg whites to marshmallow crème and stir with rubber spatula or spoon just until incorporated to lighten (marshmallow crème is very sticky but will get easier to mix as you add the egg whites).
4. Fold in remaining whites in 2 additions just until incorporated.
5. Spread meringue over top of sweet potatoes.
6. Place in 400 degree over and bake until meringue is brown and potatoes are heated.
Check out other Ask a Harmons Chef articles here.
×
Related stories
Most recent Utah stories