Estimated read time: 5-6 minutes
This archived news story is available only for your personal, non-commercial use. Information in the story may be outdated or superseded by additional information. Reading or replaying the story in its archived form does not constitute a republication of the story.
This story is sponsored by Harmons. Want to talk to us in person? Stop by your local Harmons today for fun, friendly food advice.
SALT LAKE CITY — Every week one of the chefs from Harmons Grocery Stores will be answering your toughest culinary questions. No question is too big or too small and each week we'll award a pair of Harmons cooking school passes to one lucky viewer whose question is selected. Email your questions to askachef@harmonsgrocery.com.
This week's question comes from Nicole:
"Dear Chefs,
I have never made a pie, but this year, bless my husband's soul, I have been volunteered to bake pies for his family. Do you have a simple yet delicious pie recipe?"
Executive Chef Johnny McAdams from Harmons City Creek has simple and delicious pie recipes that are not only easy…they will have your husband's family assigning you to pie duty every year.
The first step to making the perfect pie is mastering the crust. For many the crust is also the most daunting part of the pie making process. To create a flaky, golden crust every time follow this recipe.
Perfect Pie Crust
Ingredients: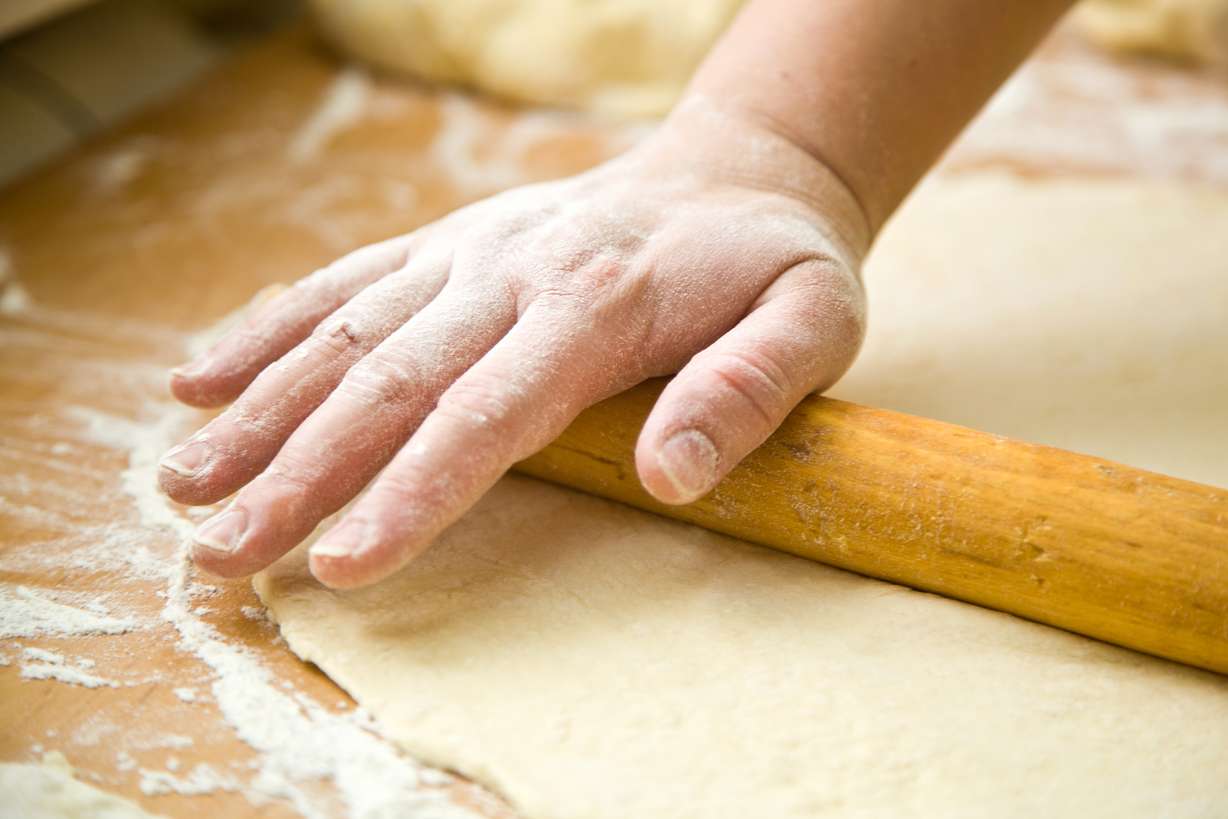 3 Cups all-purpose flour
1 1/2 Cups vegetable shortening (packed measurement)
1 egg (beaten)
5 Tbsp. ice water
1 Tbsp. white vinegar
1 tsp. salt
1 Tbsp. sugar
Directions:
1. In a large bowl add the flour, salt and sugar together.
2. Add shortening.
3. Using a pastry knife cut the shortening and flour mix together.
4. In a small bowl beat the egg then add egg to flour and shortening mixture.
5. Stir in water and vinegar gently (careful not to over mix).
6. Separate the dough into thirds.
7. Shape the dough into dough balls.
8. Place the dough onto some parchment paper or in a large plastic zipper top bag then flatten the dough slightly. It can store in the freezer this way for up to two weeks.
9. To use the dough lightly flour a flat smooth surface.
10. Place the dough into the center and lightly flour the surface of the dough.
11. Use a floured rolling pin to flatten and shape into a round.
12. Be sure to flip the dough and flour both the surface and dough as needed roll until the dough is about a 1/4 inch thick.
13. Careful not to over work your dough.
14. Create pie filling using one of the delicious recipes below.
Now that you've mastered your pie crust, it is time to create a delicious pie filling. Pumpkin pie is a classic Thanksgiving treat.
Pumpkin Pie
Ingredients:
1/2 Cup granulated sugar
1/4 Cup brown sugar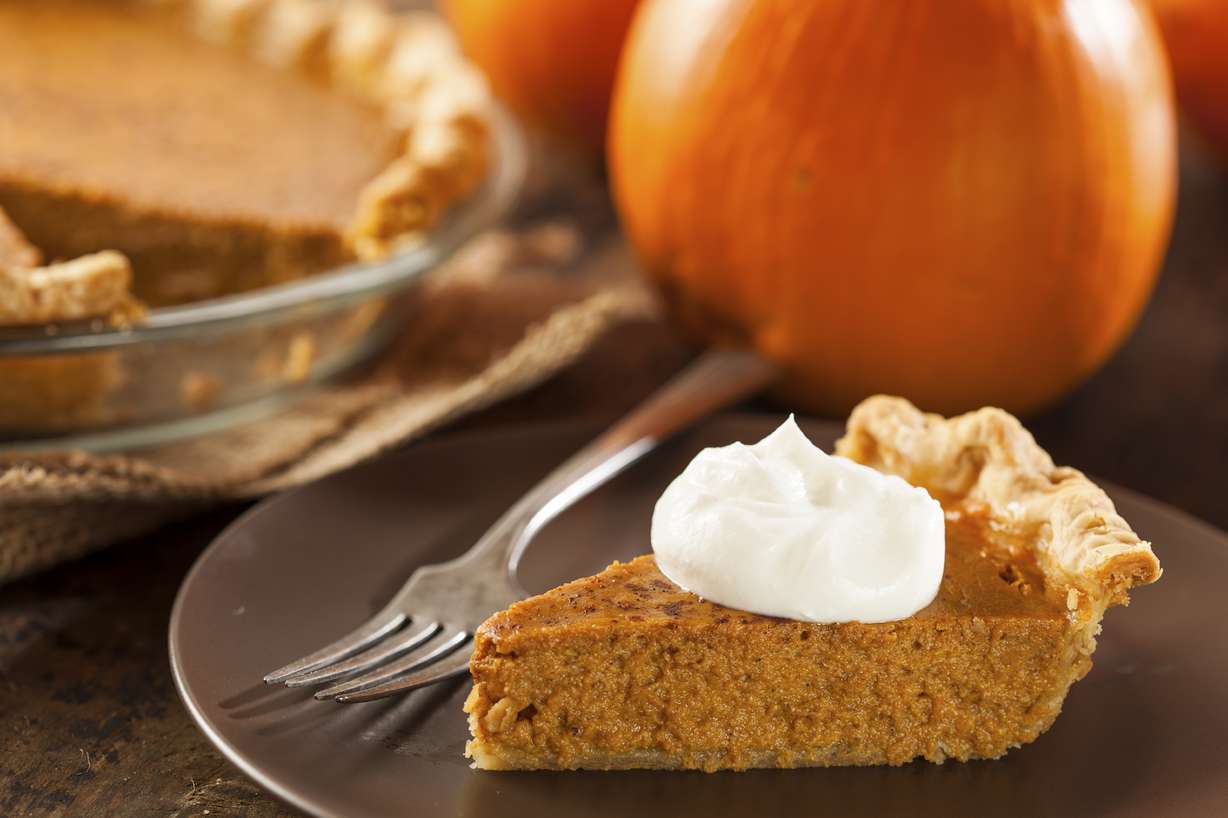 1 tsp. ground cinnamon
1/2 tsp. salt
1/2 tsp. ground ginger
1/4 tsp. ground cloves
1/2 tsp. cardamom
1/2 tsp. nutmeg
2 large eggs
1 can (15 oz.) pumpkin puree
1 can (12 fl. oz.) evaporated milk
1 unbaked 9-inch deep-dish pie shell made from dough recipe above. Directions:
1. Preheat the oven to 450 degrees.
2. In a large bowl mix the eggs breaking the yolks.
3. Add all of remaining ingredients and mix together making sure everything is incorporated.
4. Pour into prepared pie shell
5. Place on a rimmed baking sheet and bake at 450 for 15 minutes then reduce the heat to 375 for 40 minutes.
6. Remove the pie and place on the stovetop to cool for at least an hour.
Cherry Pie
If your family loves fruit, consider also making a delicious cherry pie.
Ingredients:
1 cup plus 1 Tbsp. brown sugar
1/2 Tbsp. cinnamon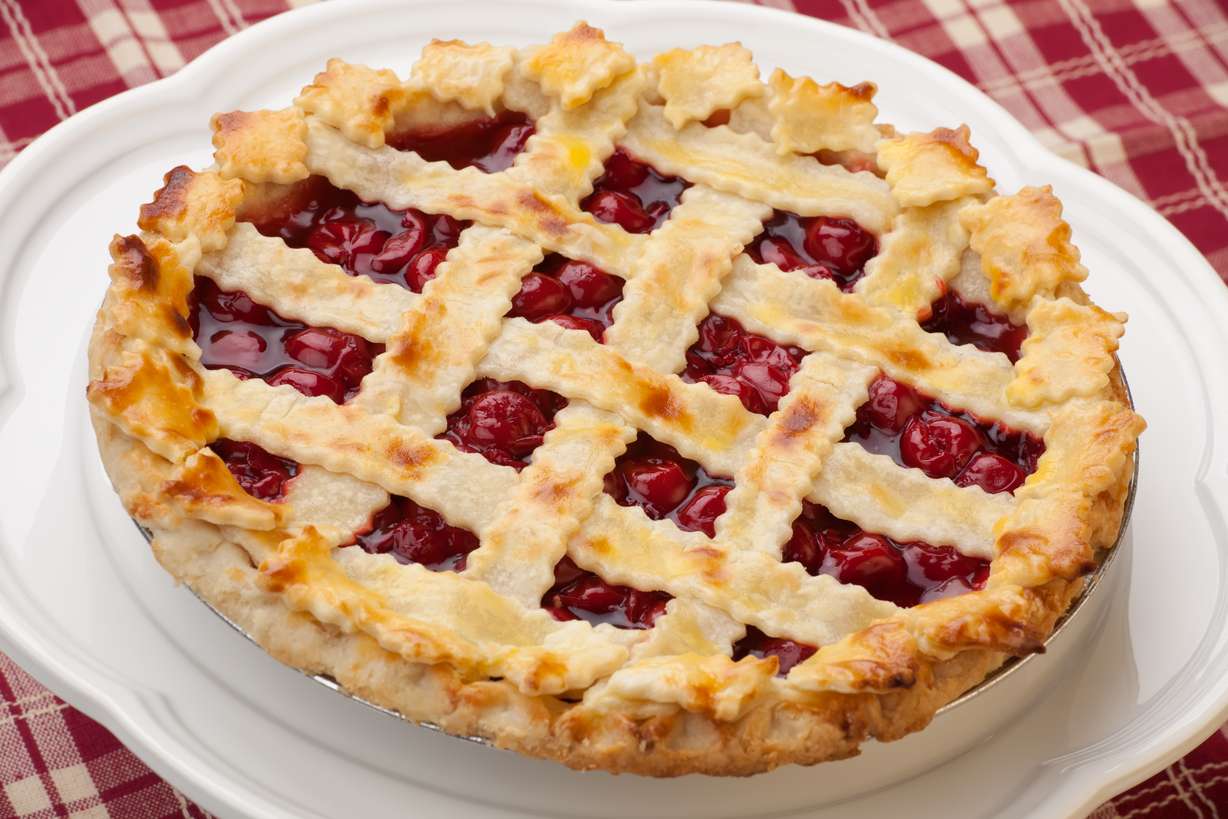 1/2 tsp. nutmeg
3 Tbsp. cornstarch
1/4 tsp. salt
5 cups whole pitted sour cherries or dark sweet cherries
1 tsp. lemon juice
1/2 tsp. vanilla extract
2 Tbsp. sweetened condensed milk Directions:
1. Preheat the oven to 450 degrees.
2. Whisk together all the dry ingredients in a large bowl.
3. Add the pitted cherries.
4. With a wooden spoon stir the cherries making sure they are coated with the dry mix.
5. Add the remaining wet ingredients.
6. With the wooden spoon stir everything together and set aside.
7. Roll out 1 dough disk on floured surface to 12-inch round.
8. Transfer to 9-inch glass pie dish.
9. Trim dough overhang to 1/2 inch.
10. Roll out second dough disk on floured surface to 12-inch round.
11. Using large knife or pastry wheel with fluted edge, cut ten 3/4-inch-wide strips from dough round.


What culinary questions do you have? Let us know! Email our Harmons chefs at askachef@harmonsgrocery.com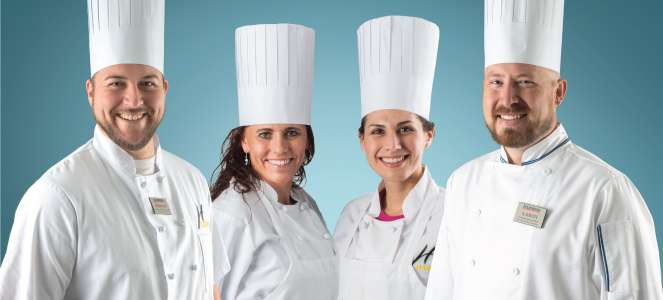 12. Transfer filling to dough-lined dish, mounding slightly in center.
13. Arrange dough strips on a sheet of parchment paper, forming lattice; place the lattice over the pie trim dough strip overhang.
14. Fold bottom.
15. Sprinkle lattice with 1 tbsp. sugar.
16. Place pie on rimmed baking sheet and bake 450 for 15 minutes.
17. Reduce oven temperature to 375°F.
18. Bake pie until filling is bubbling and crust is golden brown, covering edges with foil collar if browning too quickly.
19. Transfer pie to rack and cool completely.
Banana or Coconut Cream Pie
For my personal favorite, you can create a yummy custard based banana cream or coconut cream pie. The instructions for making both pies are the same, there is just a slight change in ingredients.
Ingredients: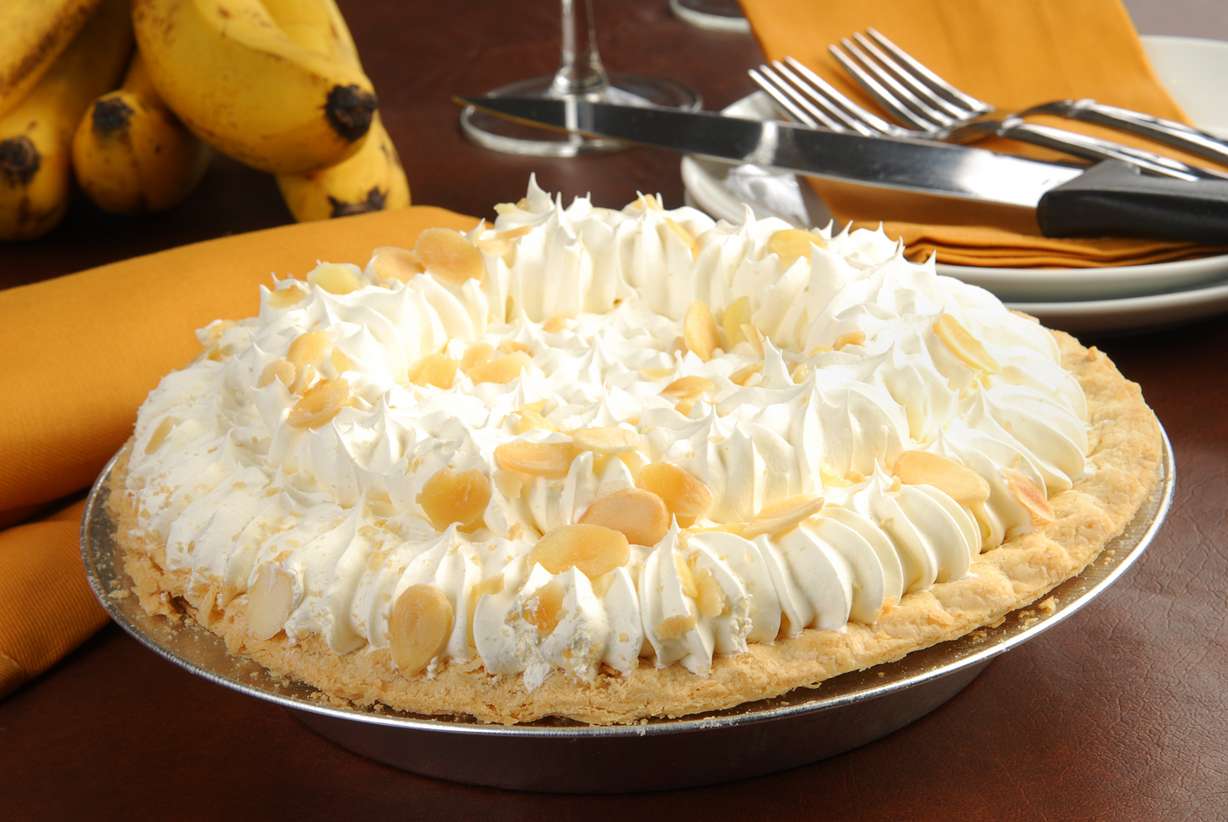 4 Cups whole milk (for Coconut Cream Pie use 2 cups whole milk, 2 cups coconut milk and 2 cups of coconut, shredded)
4 Tbsp. cornstarch
2/3 cup sugar
4 eggs, lightly beaten
2 tsp. vanilla
3 bananas (peeled and sliced, place in lemon water 1 tsp. lemon 16 oz. water)
2 tbsp. butter
1 9 inch baked pie shell
Directions:
1. In a large bowl lightly beat eggs and set aside.
2. Using a whisk, combine milk, sugar and cornstarch in a medium saucepan over medium heat.
3. Allow milk to scald (heat to the point when tiny bubbles form around edges of pan).
4. Whisk occasionally to prevent cornstarch from clumping.
5. Remove milk mixture from heat.
6. Mix about 2 Tbsp. of scalded milk mixture into eggs using whisk, then combine eggs into milk mixture in a slow stream, whisking milk mixture constantly.
7. Immediately return pan to heat and whisk gently until custard thickens.
8. Do not allow to boil.
9. Remove pan from heat and stir in butter and vanilla.
10. Allow the custard to cool to a warm temperature.
11. Slice the bananas and place in the lemon water. (If making Coconut Cream pie skip the bananas and stir coconut into warm custard).
12. Place banana slices into baked pie shell and add half of the warm custard then make another layer of banana and top with more custard. (If making Coconut Cream Pie, sprinkle coconut on top of custard filled pie shell and bake for 5 minutes or until coconut is golden brown).
13. Place the pie into the refrigerator for at least 45 minutes or until ready to serve.
Check out other Ask a Harmons Chef articles here.
×
Related stories
Most recent Utah stories