Estimated read time: 5-6 minutes
This archived news story is available only for your personal, non-commercial use. Information in the story may be outdated or superseded by additional information. Reading or replaying the story in its archived form does not constitute a republication of the story.
SALT LAKE CITY — Utah is one of the best places in the U.S. to find, see and learn about dinosaurs. The state is home to a number of good, family-friendly natural history museums filled with fossils from dinosaurs large and small. Many of the dinosaurs on display were found in the state of Utah.
In Utah's remote regions, serious dinosaur hunters can see paleontologists at work, find fossils in the wild, and possibly even discover a new species. Here are a few of Utah's best dinosaur destinations.
Wasatch Front
1. Natural History Museum of Utah
Whenever a new dinosaur species is discovered in Utah, there is a good chance that it will be on display at the Natural History Museum of Utah first. Here, skulls from new species Utahceratops and Cosmoceratops are part of the world's only display of 14 ceratopsian (horned) dinosaur skulls.
The Natural History Museum of Utah is a lot of fun for families. The museum's beautiful new building is innovative, interactive and filled with educational play spaces for children.
2. Museum of Ancient Life
With 60 complete dinosaur skeletons and more than 50 hands-on exhibits, the Museum of Ancient Life at Thanksgiving Point is one of the largest dinosaur museums in the world.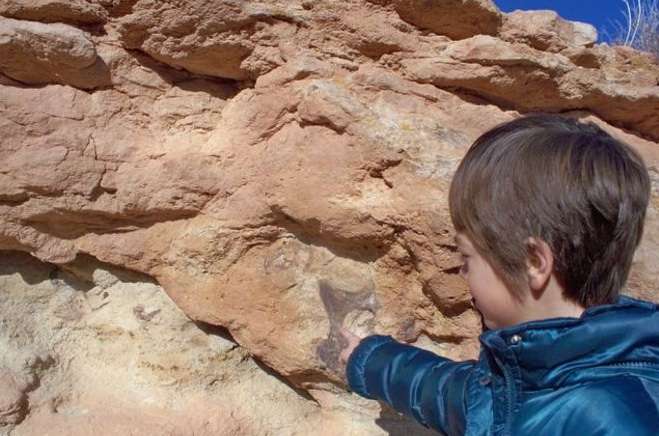 The Museum of Ancient Life is a great destination for dinosaur lovers of any age, but it is especially good for families. Children may enjoy gazing into the gigantic jaws of a prehistoric shark, playing in the paleontology lab or learning about erosion at the huge sand and water table.
3. Ogden Eccles Dinosaur Park
The Eccles Dinosaur Park in Ogden has a building full of dinosaur skeletons and interactive touch screens like other museums, but that isn't the best reason to visit this dinosaur destination. What sets the Ogden Eccles Dinosaur Park apart from the other museums on this list are several acres of life-like dinosaur statues in a natural setting.
Visitors enjoy exploring the park and imagining what it might have been like to live in the age of dinosaurs. Along the way, children can compare their footprints with dinosaur footprints, unearth dinosaur fossils in the sand pit and play on a dinosaur-themed playground.
4. BYU Museum of Paleontology
This museum on the campus of Brigham Young University in Provo is the home of one of the largest and most valuable Jurassic collections in the world. Most of BYU's collection is in storage under the football stadium, which means that only the best stuff is on display.
The BYU Museum of Paleontology is small, but it is also one of the few free dinosaur museums in Utah. It's a good option for an easy field trip.
Eastern Utah
5. Dinosaur National Monument
The wall of bones at the Dinosaur Quarry Exhibit Hall is what many visitors remember most about their visit to Dinosaur National Monument near Vernal. The exhibit hall has been renovated in recent years, making the experience of seeing more than 1,500 dinosaur bones better than ever. There are several places where visitors can touch the ancient bones.
It may be surprising to some that Dinosaur National Monument has a lot more to offer than just dinosaurs. Visitors can also enjoy petroglyphs, scenic drives, whitewater rafting, hiking, camping, stargazing and more.
6. Utah Field House of Natural History
The Utah Field House of Natural History in Vernal is one of the oldest natural history museums in the state of Utah. Visitors have been learning about dinosaurs here since 1948.
A 60-foot dipolodicus is on display inside the museum and a 20-foot statue of a tyrannosaurus rex with 6-inch teeth can be seen in the garden outside. Several exhibits teach visitors about the history of the earth and children can learn more about dinosaurs through age appropriate toys, books and activities in the Dinosaur Discovery exhibit.
7. Cleveland-Lloyd Dinosaur Quarry
If you want to see where real paleontologists hang out, head for the Cleveland-Lloyd Dinosaur Quarry south of Price. Many of the fossils in Utah museums were found at the Cleveland-Lloyd Dinosaur Quarry, which "contains the densest concentration of Jurassic-aged dinosaur bones ever found."
Visitors to the quarry will find a small museum, nature walks and two buildings that have been erected over dig sites to protect the bones. In one building, visitors can watch paleontologists and volunteers working during the field season.
8. Mill Canyon Dinosaur Trail
This short, unpaved trail outside of Moab offers visitors the chance to see real dinosaur bones embedded in the rocks along the trail. Signs have been placed along the way to help visitors recognize what they are seeing.
This trail is a good one for families with young children. The loop trail is easy and the dinosaur bones are near enough to the ground for children to see them up close. Find detailed driving directions to the Mill Canyon Dinosaur Trail at Utah.com. The short dirt road may be impassable when wet. Pair a visit to Mill Canyon with a trip to Arches or Canyonlands National Parks.
Southern Utah
9. St. George Dinosaur Discovery Site
The St. George Dinosaur Discovery Site is a relative newcomer to the Utah dinosaur scene. In 2000, Dr. Sheldon Johnson found a large rock slab covered with perfectly preserved dinosaur footprints while excavating his land for development.
The site was preserved and a family-friendly museum has been built over it. The St. George Dinosaur Discovery Site has been called "the most important in the world for researchers working on early Jurassic footprints." The St. George Dinosaur Discovery Site gives visitors an idea of how dinosaurs walked and behaved.
10. Grand Staircase/Escalante National Monument
Grand Staircase/Escalante National Monument is the next frontier for dinosaur hunters. In a KSL story published in July 2013, Scott Sampson, a paleontologist who has participated in the recent discoveries of several new dinosaur species in the monument called Grand Staircase, called it the "last great, largely unexplored dinosaur boneyard in the 48 states."
There are no formal dinosaur exhibits at Grand Staircase/Escalante, but visitors to this remote and rugged region could come across an active dig, or even make a historic discovery of their own. Allison Laypath is an expert on family travel and author of the family travel blog tipsforfamilytrips.com. With her family, she especially enjoys road trips, national parks and local field trips. Email her at allison@tipsforfamilytrips.com.
×
Photos
Most recent Utah stories