SALT LAKE CITY — The owner of popular downtown sandwich shop Moochie's Meatballs and More said the theft of their mascot and statue, the "Meatball Madonna," has been devastating.
Especially since Joanna Rendi and her husband are preparing to both open a new restaurant and celebrate Moochie's 10-year anniversary.
"Now is probably the worst time," she said. "But it doesn't matter on the timing. It's so upsetting that someone would steal her, she is just such a big part of our business and she really means a lot to me."
---
To me, it's priceless.
–- Joanna Rendi, Moochie's Owner
---
The iron statue of a robed woman holding a ball, which Rendi likes to think of as a meatball, was stolen from the restaurant at 282 E. 800 South on Wednesday. Salt Lake City police detective Veronica Montoya said the statue was found to be missing around 10:30 a.m. and was then reported to police.
Rendi said the business has surveillance cameras, but that the thief knew the space well enough to avoid them.
"They knew exactly what they were going for," she said. "They didn't take anything else; they were very careful to stay out of the sight of cameras."
Since the robbery, six additional security cameras have been installed at the property in addition to a new security gate.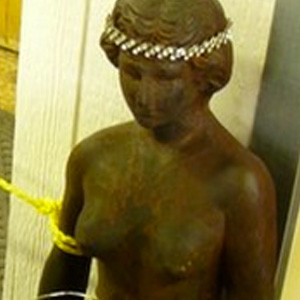 Rendi said she bought the statute 10 years ago as an anniversary present to her husband, just before opening Moochie's. She thinks the thieves may have believed it was made of bronze, but she said it's only iron, and it would only yield $2 or $3 if sold as scrap metal.
She is offering a reward for anyone who can provide information leading to the statue's return.
"To me, it's priceless," Rendi said. "Thieves don't realize how they hurt people. To them it's just a thing, but to me that really meant a lot, and I'm really upset about it."
Rendi became emotional as she talked about the prospect of celebrating the shop's 10th anniversary without its longtime mascot.
"She's just been a part of our business. All this time she's been there, and for somebody to do this to us is just really devastating," she said.
Police are asking that anyone with information about the statue contact them at 801-799-3000.
×
Photos
Related Stories