This archived news story is available only for your personal, non-commercial use. Information in the story may be outdated or superseded by additional information. Reading or replaying the story in its archived form does not constitute a republication of the story.
SALT LAKE CITY — Though sometimes it feels like there are only chain restaurants around, downtown Salt Lake has a lot of lunch options for those who want to try something different.
To help you cut out the time of finding them, we've compiled a list of several places we think you should try within a few parameters (though there are many, many more, we know).
Sandwiches
The Robin's Nest never disappoints. Try any of their signature sandwiches and you're guaranteed to leave happy. Be sure to get a glass full of their lemonade and a side of orzo pasta, too. They accommodate gluten-free eaters.
311 S. Main Street 801-466-6378
#poll
If you live in Utah, Toasters is kind of a rite of passage. The turkey avocado with balsamic is a popular sandwich, but try their croissants and bagels, too.
30 E 300 South 801-746-4444
Rich's Burgers has more than a dozen burgers to choose from, and sweet potatoes to pair with whatever you choose. Go basic with their bacon cheeseburger or be adventurous and get the fried egg burger.
30 E. Broadway 801-355-0667
Pizza
Settebello serves up traditional pizza pies fresh out of their wood burning oven. Forget about picking up the dinner-plate sized pizza with your hands and eat it with a fork and knife. Their Involtini di Prosciutto — goat cheese and baby arugula wrapped in prosciutto and drizzled with balsamic reduction — is worth the extra splurge, too.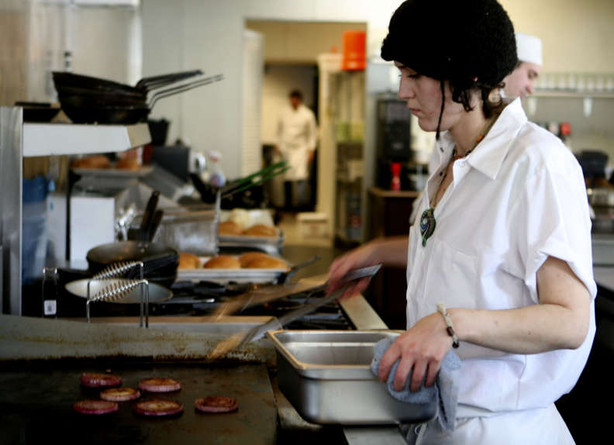 260 S. 200 West 801-322-3556
For New York pizza by the slice, Este Pizzeria is the place. Their garlic knots are delicious too. They offer vegetarian, vegan and gluten-free options, too.
156 E 200 South 801-363-2366
American fare
The Judge Cafe serves up everything you would expect from a cafe, and they do a good job of it. Try their French fries with their special sauces and cookies with your soup, sandwich, pasta or salad.
8 E. Broadway #100 801-485-2808
The Copper Onion is American comfort food with a twist. Their Wagyu beef stroganoff is a classic, but anything on the menu will entice the more adventurous eaters. Don't forget the pickles, because they are pretty great.
111 E. Broadway, suite 170 801-355-3282
Have another suggestion for sandwiches, pizza or American fare? Tell us in the comments.
Top image: Copper Onion
×
Related Links
Related Stories