Estimated read time: 2-3 minutes
This archived news story is available only for your personal, non-commercial use. Information in the story may be outdated or superseded by additional information. Reading or replaying the story in its archived form does not constitute a republication of the story.
Keith McCord Reporting Summertime and warm temperatures are still a few months away, and with all the rain and snow we've gotten the last day or two, we thought we'd try to warm you up a bit. A Salt Lake City woman was the inspiration behind the Beach Boys' famous song they wrote about her!
The music of the Beach Boys was about surfing, cars, and of course, girls! And one song in particular had the catchy line: "And she'll have Fun, Fun, Fun 'til her daddy takes the T-Bird away..." That song was one of their biggest hits in the 60s.
Turns out, it's a true story, and the woman having all that fun still lives in Utah!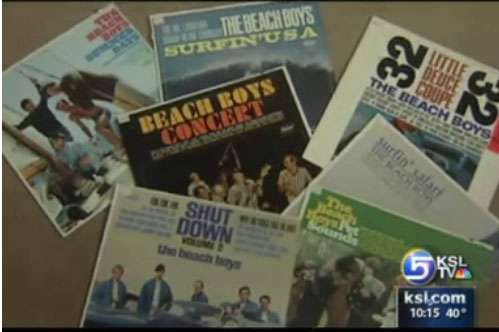 The Beach Boys always had a special bond with Utah. Early in their career, they performed here several times a year. Back then, 1280 on the AM radio dial was the top music station everyone listened to, and the station's owner promoted the band often.
Shirley England: "They would come down to the radio station and be interviewed over the air, and I would always be there! (laughs)"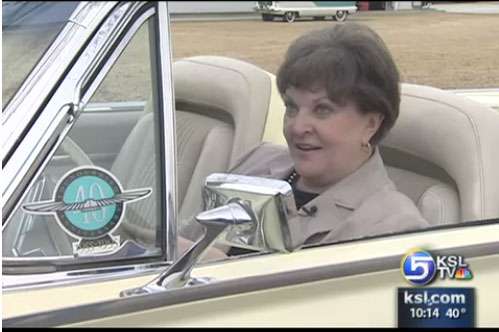 Shirley England's dad owned the station. She grew up at the studio and spent parts of her high school and college years working there. Oh, and dad had a T-Bird!
Shirley England: "What really happened? I did take my dad's car, and I was going to go to the library and ended up at a place called Shore's Drive In ... a hamburger shop on 33rd South and 27th East."
We thought it was only fitting that Shirley should be sitting in a '63 T-Bird, similar to her dad's, to tell us her story. Ardell Brown had one in his collection and kindly let Shirley drive it, too!
Turns out that Shirley's dad found out about her "cruising to the hamburger stand" and DID take the T-Bird away. The Beach Boys happened to be at the radio station the next day.
Shirley England: "So I was kind of complaining to the staff at the radio station that I was in a bit of trouble, and the Beach Boys heard it."
And, later, as the station general manager was driving the band back to the airport, they wrote the lyrics to "Fun, Fun, Fun" in the car! As you might expect, Shirley said the Beach Boys were her favorites--still are really.
Shirley England: "Oh it's my favorite!!! I told my husband, when I die, I want on my tombstone, 'She had Fun, Fun, Fun.'"
Shirley admitted that her dad took the T-Bird away SEVERAL TIMES! She says she's never owned a T-bird but hopes to someday!
×
Most recent Utah stories