Estimated read time: 2-3 minutes
This archived news story is available only for your personal, non-commercial use. Information in the story may be outdated or superseded by additional information. Reading or replaying the story in its archived form does not constitute a republication of the story.
SOUTH SALT LAKE -- Police arrested a woman accused of using her pit bulls as weapons during a fight after the dogs bit another woman. The woman who was bitten says the owner threatened that she was going to order her pit bulls to attack, and that's what happened.
Latoyia Portillo showed us her injuries: a scratch on her face, scrapes on her elbow and a dog bite on her hip. All are from a fight where she found herself outnumbered.
"I'm just really sore," Latoyia said. "It was crazy."
Latoyia was visiting her mother and sisters at their apartment in South Salt Lake Tuesday night. She says a neighbor let her two pit bulls roam free where Latoyia daughter and other kids were playing.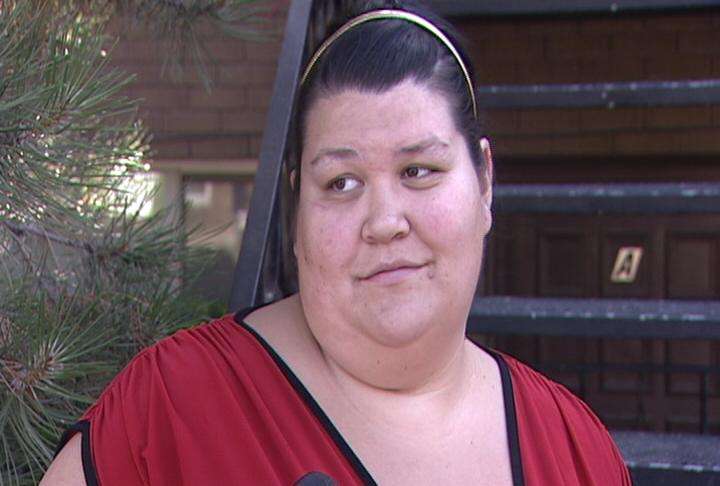 "That's all we wanted, to get her dogs on a leash," Latoyia said.
She repeated the request after the pit bulls attacked another dog that belongs to a neighbor. She says that started a yelling match, which got physical.
"She pushed me twice, and then she started swinging at me, and that's when we started fighting," Latoyia said.
She says the woman's boyfriend joined in, hitting Latoyia's elbow and side with a metal bed rail. Then the woman ordered her pit bulls to attack.
"She kept saying, 'Get him! Get him!'" Latoyia said.
She says one dog went for her legs and the other bit her on the hip. She says she's lucky they let go.
Police arrested the dogs' owner, Ashlei Rebolloso, and her boyfriend, Lawrence Rich.
"The owner crossed the line when she called her dogs into the fight," said Gary Keller, spokesman for the South Salt Lake Police Department. "I'm not putting any blame on the pit bulls, but they can be very vicious at times.
Latoyia says the dogs have been aggressive toward her sister and other neighbors. Still, she and her husband don't blame the animals either, just their owner.
"I was just hoping they would just relax, but then the dog, seeing the owner being attacked, or she attacking my wife; they're obviously going to jump at someone, and just hoped it wasn't the kids," said Candido Portillo, Latoyia's husband.
"I'm a dog person. I like dogs. You know, pit bulls, Rottweilers; it just depends on how you raise them," Latoya said.
The two pit bulls are at the South Salt Lake animal shelter. Police aren't sure yet what will happen to them.
E-mail: syi@ksl.com
×
Most recent Utah stories