Estimated read time: 2-3 minutes
This archived news story is available only for your personal, non-commercial use. Information in the story may be outdated or superseded by additional information. Reading or replaying the story in its archived form does not constitute a republication of the story.
Utah has too many moose, and Colorado would like to have some more! So wildlife biologists from both states are working together this week to transplant a bunch of moose from here to there.
It's a very unusual sight to see a big moose, dangling underneath a helicopter, but that's how these wildlife transport missions work.
These animals were plucked off the mountainside, east of Ogden near Pineview Reservoir.
Bill deVergie, Area Wildlife manager Meeker, Colo., has been looking forward to this week for some time. He and his colleagues in Utah are rounding up nearly two dozen moose.
With one last check of the map and test firing of a net-launching gun that will catch the moose; the helicopter takes off and heads to the high country.
It's certainly a bizarre sight in the sky when the chopper comes back with a giant moose weighing hundreds of pounds, helplessly dangling below. Utah DWR Conservation Outreach Manager Phil Douglass says, "This transplant operation is to move these moose out of areas where they would eventually show up in residential areas and on highways." That's been a problem in this area. So, to help thin the herd some, Utah is sending these moose to Western Colorado, where they'll have more room to roam.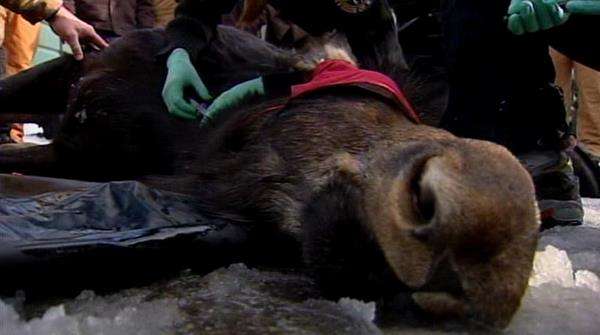 It's a win-win for both states: Utah protects the moose habitat that's overpopulated and Colorado gets to increase the size of its big game population.
"Obviously, we're doing it for the people of Colorado," deVergie said. "This is going to be a watchable experience for people, as well as a potential hunting experience in the future."
Once the moose are flown back to the staging area, veterinarians take blood samples and check the overall health of the animal.
These moose are being outfitted with special collars with radio transmitters and GPS tracking devices. They'll be monitored daily. "Most of what we're looking at is where they're going to start establishing and which habitat they want to use, which drainages their going to start setting up in and where we can start looking for them in the future," said deVergie.
They were hoping for 20 moose, they ended up with 16. High winds grounded the helicopters for a time yesterday. But, it was a successful mission, and the moose are already on the way to their new home!
Utah and Colorado have exchanged animals for years: otters, big horn sheep, fish, deer, and moose. It's all about protecting the wildlife and keeping these various species of wildlife healthy.
E-mail: kmccord@ksl.com
×
Most recent Utah stories