Estimated read time: 6-7 minutes
ALTA — Troy Brosten watched Thursday as two of his colleagues slowly whipped a massive blue aluminum pole around like a javelin before jamming it into the snow-covered ground around them.
This large pole is actually called a snow tube. Once they'd driven it all the way through the several feet of snow piled up in the Wasatch Mountains, they hoisted it up and used a scale to measure the new growth of the snowpack.
This is a process that the Natural Resources Conservation Service has done ever since it began collecting snowpack levels in 1935. Though almost all of the data available today comes from digital readings, this decades-old process is being used to help make sure the sensors are accurate.
Sure enough, snow surveyors found there is quite a lot of snow — and water — in the mountainside across the street from a bustling Alta Ski Area.
Alta is, of course, not alone. The statewide snowpack, a collection of over 100 mountain sites across Utah, reached 23.9 inches Thursday afternoon, the highest it has ever been for this time of the year since at least 1980.
The more detailed process implemented in the early '80s is why records officially only go back to then. And even if Utah didn't receive another drop of precipitation this season, 2023 would end up as one of the top-five deepest snowpacks in that time.
"We're seeing good snow. That's really great," said Brosten, a hydrologist and Natural Resources Conservation Service's assistant snow survey supervisor.
Why this snowpack gets a high grade
Brosten didn't hesitate to give Utah's 2023 snowpack an "A+" rating since the grade was obvious this year. Yet, what makes this year so impressive and unique is how all regions of the state are benefitting from a great season after years of drought.
Utah's individual snow basins ranged from 127% of normal snowpack at Raft River in northwest Utah to 239% in southwestern Utah by Thursday afternoon. That wasn't the case in some of the other major snowpack years over the past four decades.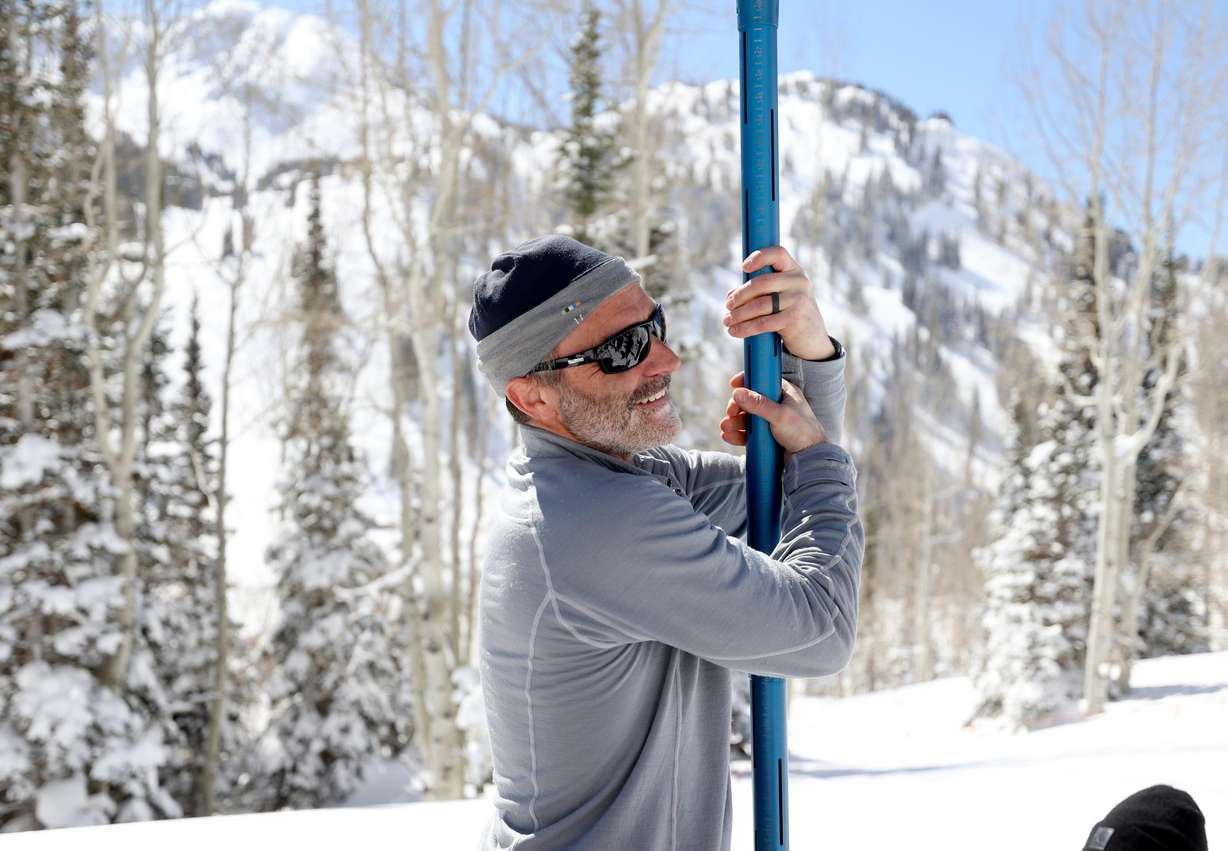 "The basins are all doing fantastic from north to south," Brosten said. "It's really great because in those years like 1982, 1983 and 1997, there were some basins that weren't doing that well. They were doing OK, and the other basins were doing really well."
It's possible that the snowpack will continue to build over the next few weeks, too. The National Weather Service's Climate Prediction Center issued a pair of long-range forecasts Thursday that list all of Utah as having a higher probability for above-normal precipitation in the final half of March.
There's nothing overly remarkable about this 10-day GFS forecast. If you had shown me this during a normal winter period, I'd say, "Looks like a pretty active 10 days ahead." The remarkable thing is that this is occurring on already record snowpacks in CA/NV/UT.

Relentless. pic.twitter.com/You3mSB8zT

— Wasatch Snow Forecast (@WasatchSnow) March 17, 2023
The trend eventually switches over in April, though, where there's a growing probability for drier-than-average conditions across the state. Utah's snowpack collection typically peaks in early April anyway.
Does a strong snowpack mean flooding?
There is already some flooding happening in the state, as warmer storms have produced rain in foothill-elevation areas. Gov. Spencer Cox issued an executive order Thursday over possible ongoing flooding risks.
However, the widespread spring snowmelt process has yet to begin, especially with the forecast offering a wet end to March. While more flooding is possible and likely, it's difficult to project how severe the flooding will be.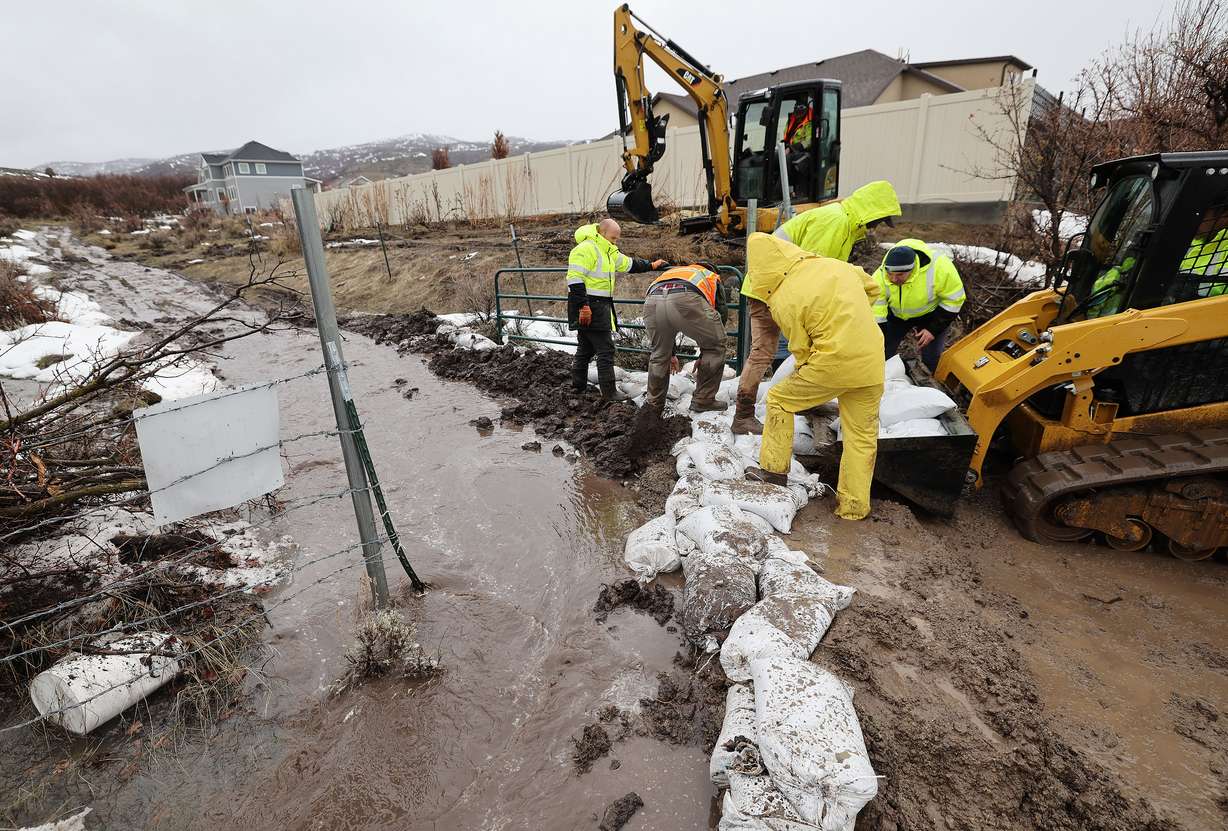 Experts point to 1983 and 2011 as polar opposites of what could happen with this type of strong snowpack.
What happened in 1983 is the worst-case scenario. That year is remembered for the State Street River in Salt Lake City after a swift runoff in late spring. But it could also be like 2011 when the right conditions of warm enough days and cool nights in spring allowed for a much less disruptive spring runoff season.
The long-range forecast includes a higher probability of below-normal or normal temperatures, leaning closer to a 2011 repeat. But communities all over Utah are already preparing for the possibility of a 1983-like runoff just in case. They've offered all sorts of advice on how to protect homes from flooding, while also setting up areas for residents to pick up sandbags.
Some water managers are also thinking ahead of the surplus water in the snow.
"We need these data," said John Wells, a hydrologist and Salt Lake City's watershed operations supervisor.
He told KSL.com that the city uses the Natural Resources Conservation Services snowpack information to help project runoff into streams and reservoirs the city manages. This helps reassure officials that they have enough culinary and irrigation water any given year.
It also led to Salt Lake City Public Utilities' decision to release water from a pair of reservoirs in Parleys Canyon at the end of February. The city has since decided to build a cofferdam to collect more water at Mountain Dell Reservoir, which had been mostly empty due to construction, as an additional flood safety precaution, Wells added.
How much will the snowpack benefit Utah lakes and reservoirs?
What Utah's strong snowpack means for lake and reservoir levels is the other burning question remaining at the moment.
Most small and medium-sized reservoirs are expected to refill close to or at capacity this spring, Brosten said; most large reservoirs that had been depleted by drought the past few years will likely take longer. The best example is Lake Powell, which will likely take years of 2023-like precipitation to get back to normal.
"A lot of really big reservoirs might not fill up all the way, but just about all the reservoirs will do extremely well," he said.
Natural places like the Great Salt Lake and Utah Lake also stand to benefit from the snowmelt — and they already have.
---
This year seems like we have a lot — and we do have a lot, but it's (possibly) an anomalous year.
–John Wells, hydrologist
---
Utah Lake has jumped from 37% capacity to 57% full since November, according to the Utah Division of Water Resources. Cox said that the Great Salt Lake has already gained 2 feet of elevation in the same span of time, and could end up gaining 3 more feet this spring before it likely dips this summer.
Wells said Salt Lake City met all of its irrigation rights during a much-drier 2022, so any water "above and beyond" what's stored or used should end up in the Great Salt Lake.
That said, it will also depend on consumption.
Wells pointed out that many Utahns cut back their water consumption habits over the past few summers because they've seen firsthand how the drought has impacted the state's water supply. Those on the Salt Lake City Public Utilities system, for example, saved 2.9 billion gallons of water last year after a cutback in 2021. If people reverse those decisions because of a strong winter, that will reduce how much is sent to the Great Salt Lake.
It's not just the lake, though. Wells contends that there aren't any guarantees that Utah will receive this type of precipitation again next year, so it's important that residents save as much water as possible when the state does get winters like this.
"It's always good to conserve water in a desert," he said. "We only have so much of it. This year seems like we have a lot — and we do have a lot, but it's (possibly) an anomalous year."
×
Photos
Related stories
Most recent Environment stories