Estimated read time: 6-7 minutes
SALT LAKE CITY — Utah's snowpack is officially the highest it has ever been in the middle of March in more than 40 years.
The statewide snowpack reached an average of 23.2 inches of snow water equivalent Wednesday morning, according to Natural Resources Conservation Service data. The agency's figure is based on the amount of water in the snow at 114 mountain sites across Utah.
Record books date back to the beginning of the 1980s, with the previous record snowpack for mid-March being 23.1 inches set in 1997. The current figure is also now within 3 inches of Utah's all-time snowpack record of 26 inches, set in April 1983.
Snowpack collection and spring runoff account for about 95% of the state's water supply. The Utah Division of Water Resources reports that Utah's reservoir system is currently at 54% capacity, up from 42.5% at the start of the water year on Oct. 1, 2022. The average for mid-March is about 61.5%.
Some reservoirs are already close to full capacity. The division lists a half-dozen reservoirs as being at least 85% full, including Gunlock Reservoir in Washington County. The Gunlock State Park waterfalls, a feature caused by runoff from the reservoir, began flowing Wednesday for the first time since 2020.
Park managers began posting safety signage in the area earlier this week in anticipation that the waterfalls would return.
What you're seeing here is record-breaking action, folks! That black line shows #Utah's current snow water equivalent. Paired with ongoing, intentional water conservation, this snowpack could help fill many of our reservoirs. Full reservoirs mean a more secure water future. 🎉 pic.twitter.com/8umG2wmsXT

— Utah Division of Water Resources (@utahwaterres) March 15, 2023
Despite the high snowpack and closer-to-normal reservoir levels, nearly nine-tenths of Utah remains in at least a moderate drought, including almost 40% in either a severe or extreme drought, according to the U.S. Drought Monitor. However, the severity of the drought has been reduced significantly over the past few months.
New flooding impacts
But this week's storm is also causing some risks across the state and the West.
Baker Reservoir and Gunlock Reservoir were overflowing Monday evening, and Ash Creek and Enterprise Reservoir were both reported to be close to going over as well.
Jason Whipple, director of Washington County Emergency Services, said flooding has closed several major roads including Gunlock Road at Old Highway 91. He said local fire stations are filling sandbags to combat the flooding.
"We do have a lot of preparations in place for some areas that are in low-lying areas near some of these rivers, so hopefully we are just prepared if it does hit some of those homes," Whipple said.
Whipple encouraged visitors to stay away from affected areas and said there have been no injuries or major damage reported so far.
Lone Peak Fire District officials said extensive water runoff between new rain and snowmelt resulted in flooding near 12600 North and Ponce De Leon Drive in Highland Wednesday afternoon. City employees, firefighters and volunteers were dispatched to place sandbags in the area, while crews also work to divert water with trenches, according to the district.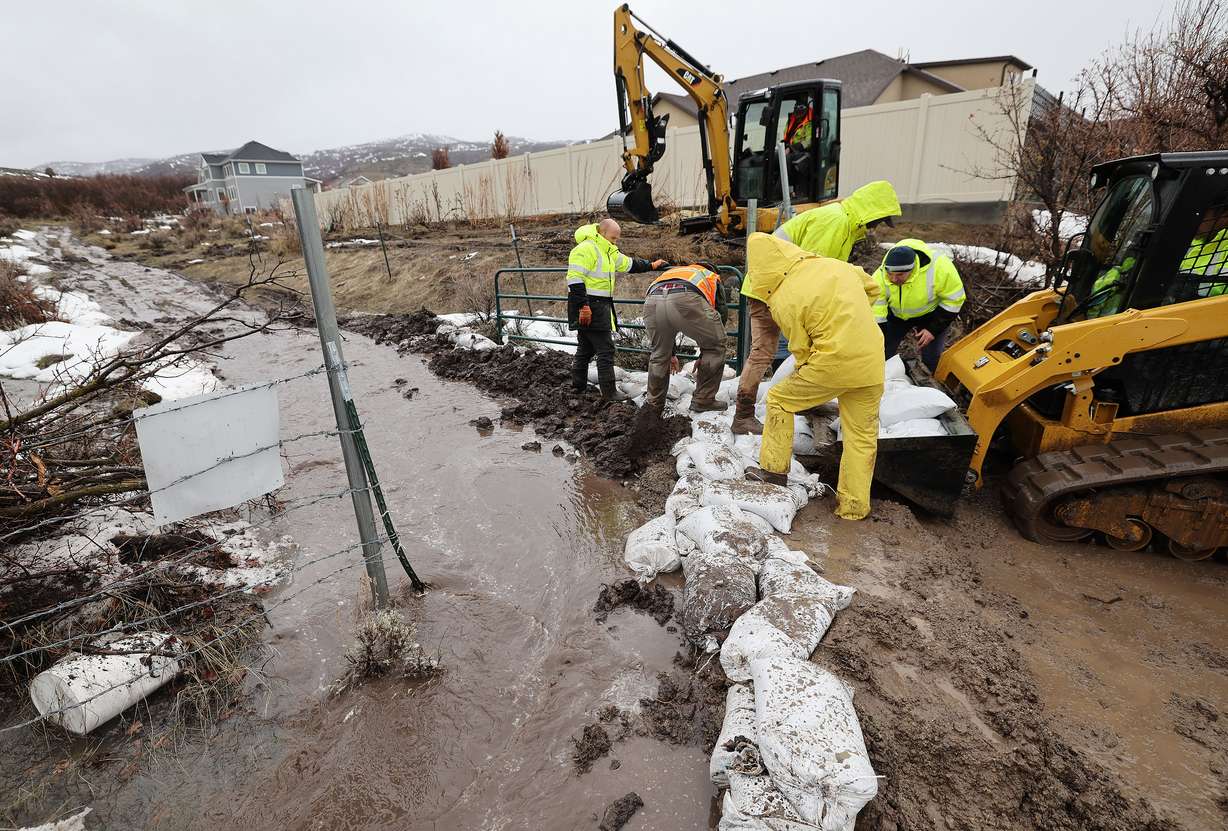 Residents in southern Utah also posted videos of flooding in and around the Washington County area. The National Weather Service also issued a series of flood watches, warnings and advisories in southern Utah again on Wednesday because of "excessive" rainfall and snowmelt in the area. The agency tweeted that the strongest flooding risks may come from storms Wednesday evening.
"Excessive runoff may result in flooding of rivers, creeks, streams and other low-lying and flood-prone locations," the weather service alert stated. "Flooding may occur in poor drainage and urban areas. Area creeks and streams are running high and could flood with more heavy rain."
With a band of rain and t-storms headed for So. & SW Utah this evening, we've got to watch dry washes, creeks, streams and rivers in the area.

ALSO, Latest river forecast is calling for elevated flows on the Virgin River, especially near Bloomington tomorrow AM. #utwxpic.twitter.com/uwCzW20Dg9

— Matthew Johnson (@KSL_Matt) March 15, 2023
Flooding in the region swept up three hikers in Kane County Tuesday, killing one while another remained missing Wednesday afternoon. The strong precipitation resulted in a few weather-related road closures Wednesday, including a rockslide on U.S. 191 in Daggett County, according to the Utah Highway Patrol. An avalanche is also impacting state Route 31 in Emery County.
UHP Sgt. Cameron Roden said drivers should be aware of similar types of closures over the next few weeks. He advises that drivers pay attention to the road in front of them, especially when traveling through canyons and other areas prone to rockslides and avalanches.
"Over the next little while, with the runoff starting and stuff, we do experience a lot of rockslides and things like that," he said. "If you're able — if it's a multi-lane road and you can change lanes — to get away from that to give yourself a little bit of space, that's always helpful."
Utah isn't alone in this issue. Both directions of I-70 were temporarily closed near Vail, Colorado, Wednesday morning because of a rockslide that has since been cleared. The Associated Press reports that flooding issues are continuing to grow in California, as well, which received the brunt of the atmospheric river event.
Flooding preparation ramps up
Communities across Utah are continuing to prepare for ongoing flooding risks, especially as temperatures begin to warm up. St. George and Salt Lake City are among the growing number of cities making sandbags available for vulnerable residents.
St. George residents can pick up bags at the city's Reuse Center, 575 E. Brigham Road. Salt Lake City residents can pick up as many as 10 sandbags at the Salt Lake City Department of Public Utilities building, 1530 S. West Temple.
Salt Lake City Emergency Management also provided a few tips that residents can use to avoid serious flooding impacts.
Make sure that your gutters aren't clogged by twigs, leaves, trash or anything else that could prevent water from escaping.
Make sure all storm drains near your house are also clear so water can flow into them.
Make sure your sump pump, French drain or any other kind of drainage system is properly working.
The Weber Fire District adds that people should not place sandbags out too early because it can cause them to become ineffective. Any sandbags should be placed in areas clear of snow to help divert any flood water.
Utah State University-Extension posted several other flooding preparation tips Tuesday, which can be found here.
Full seven-day forecasts for areas across Utah can be found online at the KSL Weather Center.
Contributing: Gabrielle Shiozawa
×
Photos
Related stories
Most recent Utah weather stories