Estimated read time: 3-4 minutes
GUNLOCK, Washington County — While the waterfalls aren't flowing yet, Gunlock State Park managers say that they expect the popular man-made feature will return this spring because of the strong snowpack in southwest Utah's mountains.
But that also means possible safety concerns. That's why officials are already posting signage warning visitors of potential hazards at the waterfalls this year, including swift water and slick rocks.
"We invite visitors to enjoy this wonderful experience but want to remind the public to exercise vigilance and safety in the area. There is inherent risk when recreating outdoors, so safety and situational awareness are paramount," Gunlock State Park manager Jon Allred said in a statement Monday.
The waterfalls are actually a man-made feature tied to the health of Gunlock Reservoir, which collects water that flows from the Santa Clara River. Any additional water flows past the dam in the area and spills onto the scenic red rocks, creating a waterfall before it eventually flows back into the river that eventually dumps into the Virgin River.
Utah Division of State Parks officials say it's a "rare sight to behold" because it doesn't happen every year. It needs the right water conditions, which are shaping up at the moment.
The reservoir is already 82% full, according to Utah Division of Water Resources data. There's still plenty of water expected to flow into the reservoir this spring, as well. The Santa Clara River is a part of the Southwestern Utah snowpack basin, which currently holds 22.3 inches of water, double the seasonal average of the past 30 years, per Natural Resources Conservation Service data.
It's why the agency also projects that Santa Clara River streamflow will be well above normal this spring, easily refilling the rest of the reservoir with more than enough water for the waterfalls to return.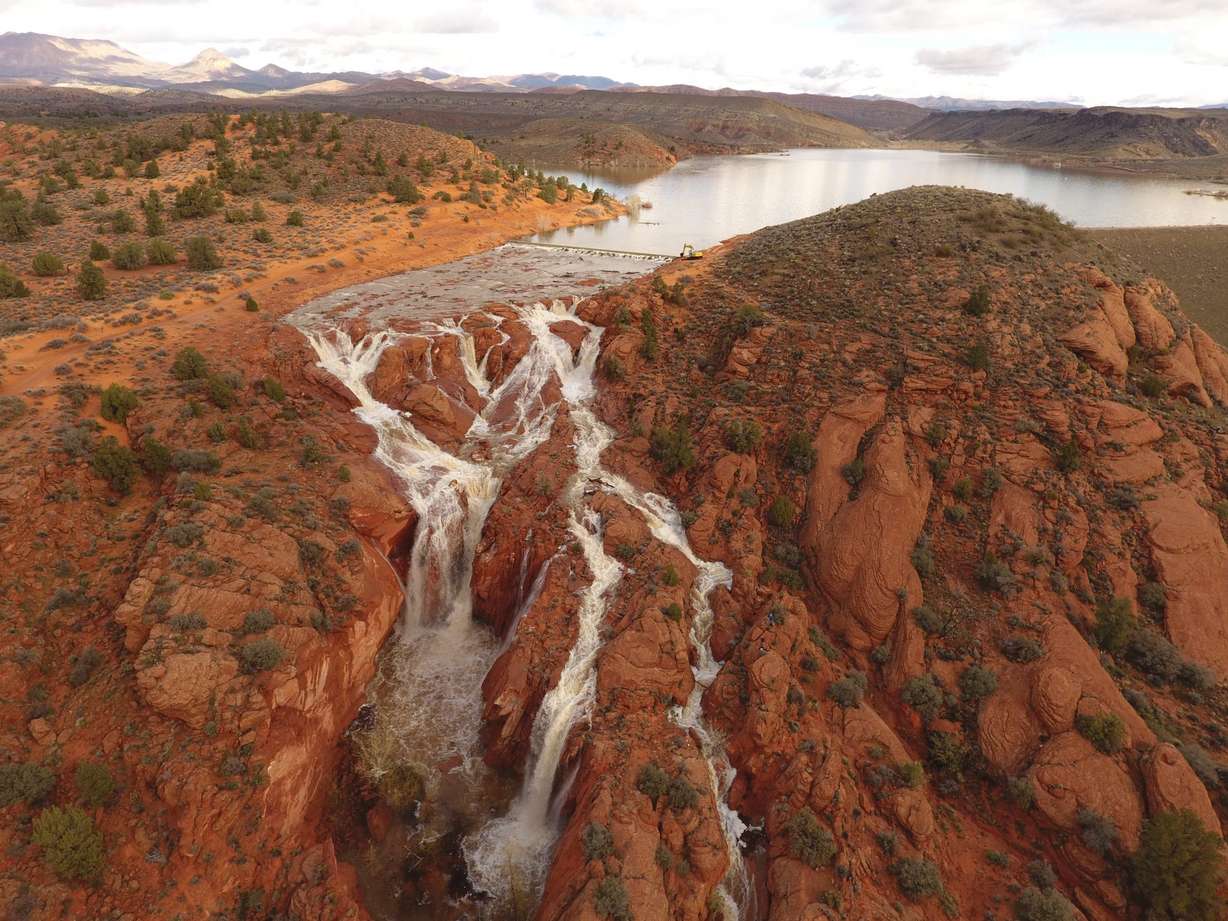 In addition to safety signage, Allred said there could be some park closures this spring if the park reaches full capacity, something that happened during the start of the COVID-19 pandemic lockdowns when there was a rush into many state parks. In fact, park officials even shut off the waterfalls because of public health concerns related to overcrowding at the time.
He recommends that people check the park's website or Facebook page for any closures before heading out to the park.
Utah Division of State Parks officials said they are also implementing measures that seek to quell traffic congestion.
"Parking near the falls and within the state park will be restricted to designated parking areas only and limited to the west side of the road along Gunlock Road." the agency wrote in a statement. "Please utilize the appropriate pay station to pay your entrance fee.
"Visitors are also asked to continue utilizing the appropriate park amenities — such as trash cans and restrooms," officials add. "Please recreate responsibly by cleaning up after yourself, respecting others around you and following safety precautions."
×
Related stories
Most recent Outdoors stories