Estimated read time: 4-5 minutes
SALT LAKE CITY — If this winter felt colder and wetter than normal, it was.
Utah's 2022-23 meteorological winter, which wrapped up last week, ended up being the ninth-wettest and 49th-coldest on record, according to data released by the National Centers for Environmental Information on Wednesday. The agency's records date back to 1895.
Top 10 winter helps drought conditions
The Beehive State collected, on average, 5.8 inches of precipitation over December, January and February, 2.75 inches above the previous meteorological winter and 2.26 inches above the 20th-century normal.
The data is different than snowpack levels because it's based on a mix of valley and mountain locations across the state, while snowpack is a calculation of the water in the snow at several mountain locations across Utah. The mountain snowpack gained 15.5 inches over the same span of time, crossing the 20-inch plateau last week.
This past winter was the most productive in six years. The all-time record remains 6.9 inches, set between December 1992 and February 1993.
Utah's 10 wettest meteorological winters since 1895
1992-1993: 6.9 inches
1979-1980: 6.49 inches
1908-1909: 6.24 inches
2016-2017: 6.23 inches
1968-1969: 6.08 inches
1915-1916: 5.99 inches
1906-1907: 5.88 inches
1910-1911: 5.81 inches
2022-2023: 5.80 inches
2004-2005: 5.66 inches
Source: National Centers for Environmental Information
Utah wasn't alone in having above-average precipitation this past winter. Many states across the West posted precipitation totals well above normal. Nevada ended up with its eight-wettest winter, while California and Colorado's winters each landed 11th overall. The pattern even continued eastward, where Wisconsin had its wettest winter on record and Minnesota had its second-wettest since 1895.
"An abundance of precipitation fell during the winter season from California to the Great Lakes, and in parts of the Mississippi, Tennessee and Ohio river valleys, Northeast and interior Southeast," the National Centers for Environmental Information wrote in a report Wednesday.
It was a different story in the Pacific Northwest, as the winter jet streams predominantly set up over California. Oregon had its 29th-driest winter, while Washington (32nd) and Idaho (39th) also ended up with below-normal winters.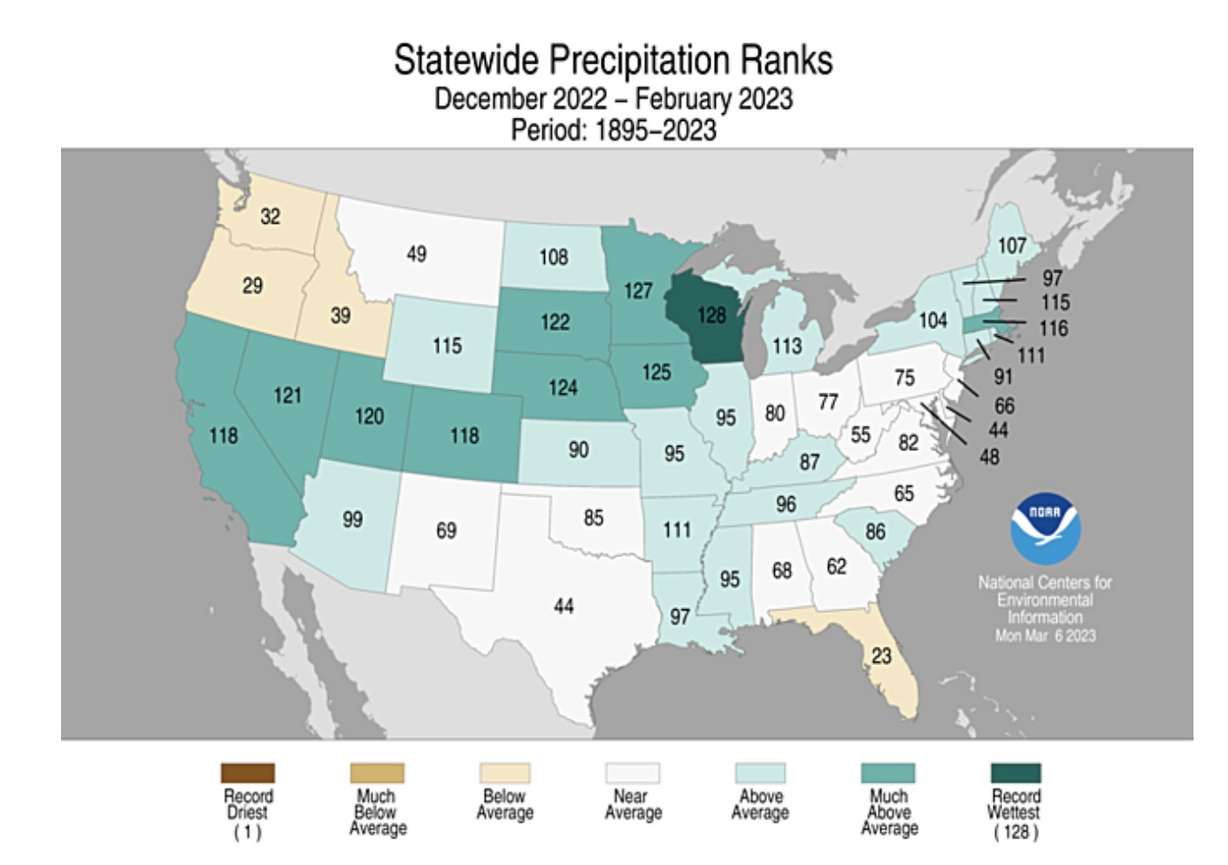 But the mixture of rain and snow helped Utah chip away at its ongoing drought.
While 89% of Utah remained in at least a moderate drought to begin meteorological spring, the percentage of the state in extreme or exceptional drought dropped from 50.6% at the start of winter to 3.9% at the end of it, according to the U.S. Drought Monitor. The percentage of Utah in at least severe drought also dropped from almost 91% to 48.7%.
Even Utah's reservoirs got a boost before the spring runoff. The state's reservoir system jumped from 44% full at the start of December to 51% by the end of February. It's currently 10 percentage points below the normal for the start of March but is expected to gain ground as the snowpack melts in the coming months.
However, the report Wednesday acknowledges that Lake Powell, along the Utah-Arizona border, reached an all-time low again this winter, "raising concerns for millions of Americans that rely on that system."
A colder-than-average winter in the West
Meanwhile, the average temperature this past winter also ended up below normal. Utah's average temperature for the past three months was 27 degrees Fahrenheit, 3 degrees below the previous winter and 0.6 degrees below the 20th-century normal.
The same trend occurred throughout the West. Multiple states across the region ended up with below-average temperatures.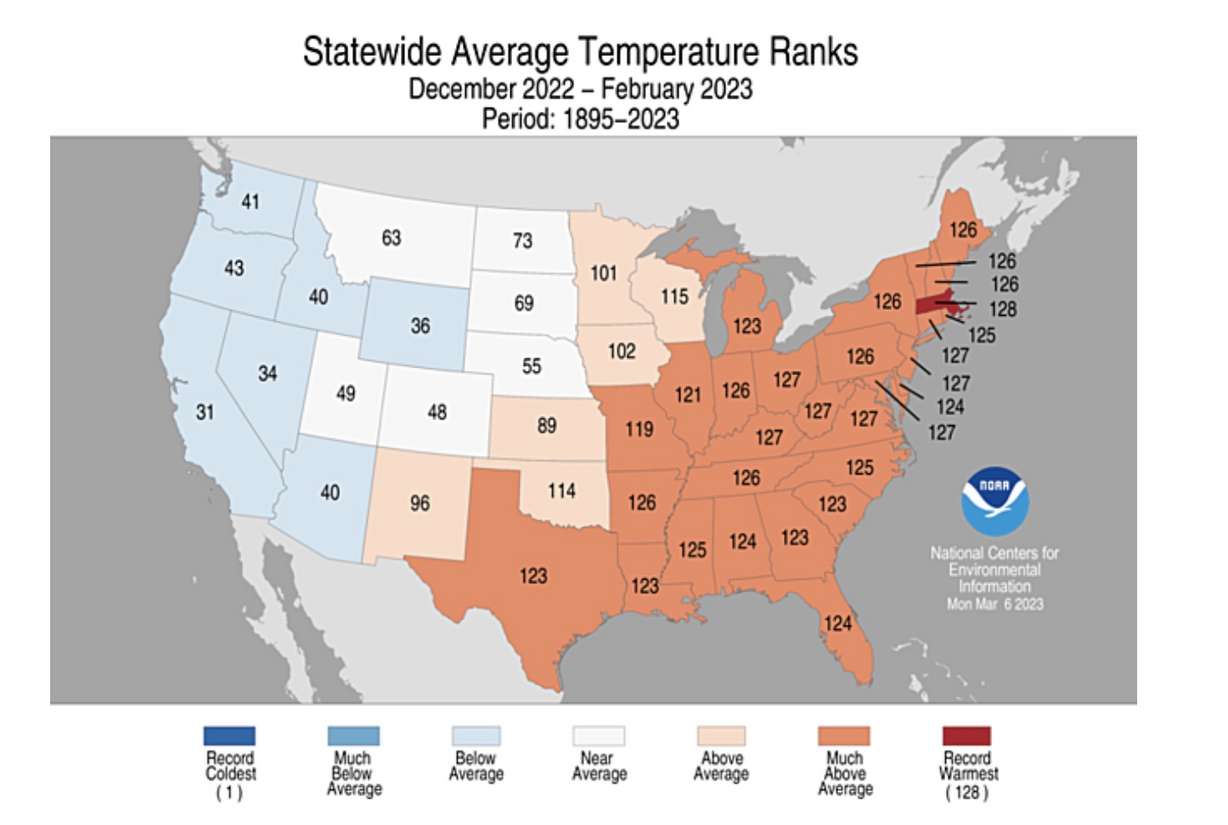 Again, there was a tale of two winters in the U.S. Most East Coast states ended up with some of the warmest meteorological winters on record, including Massachusetts which ended up with its warmest season since 1895. Oddly enough, Wednesday's report notes that Boston's Logan International Airport recorded an all-time record low of 10 degrees below zero on Feb. 4 within the meteorological winter.
The average temperature of the contiguous U.S. over the winter ended up at 34.9 degrees, about 2.7 degrees above the 20th-century normal despite the two extremes. It was the 17th warmest on record.
Going back to Utah, state water experts say that the temperatures over meteorological spring will play an important factor in the upcoming spring runoff. The right temperatures and conditions can help reservoir collection efficiency while minimizing flooding risks.
"There's this sort of perfect (scenario) where it melts a little then it sort of freezes overnight," said Laura Haskell, drought coordinator with the Utah Division of Water Resources, in an interview with KSL.com last month. "A lot of it really is up to Mother Nature — how it melts and how much we get to see in the reservoirs."
×
Related stories
Most recent Utah weather stories