Estimated read time: 4-5 minutes
SALT LAKE CITY — Friday's storms tacked on another inch of water to Utah's statewide mountain snowpack, boosting it to 22.9 inches by Monday afternoon, according to federal Natural Resources Conservation Service data.
It fell back down a bit to 22.6 inches Tuesday morning but the figure is still only a half-inch below the all-time record for this point in the snow collection season.
There's also a strong chance this year's snowpack will surpass the mid-March record as another atmospheric river event arrives in Utah this week. The record books date back to the 1980-81 water year.
The National Weather Service on Monday issued a winter storm warning for mountain ranges in northern and southern Utah ahead of a storm forecast to arrive Tuesday, which has the potential to dump over 2 feet of snow in parts of the Wasatch Mountains by Thursday morning.
The next storm
Utah is within the path of an atmospheric river event impacting California first.
KSL meteorologist Matt Johnson said Tuesday will be breezy while more showers develop in waves during the late afternoon and evening. He adds that wind from the south may cause some rain shadows, where one side of a mountain receives precipitation and the other side doesn't. That happened during last week's storm, which muted some of the precipitation totals.
Rain totals are a bit more challenging thanks to southerly winds that could cause some shadowing. That being said, the brunt of the valley rain will pair up with the cold front timing sometime Wednesday. #utwx

More details on rain as we get closer. 🌧️ pic.twitter.com/Tbv8wle56W

— Matthew Johnson (@KSL_Matt) March 13, 2023
Precipitation is expected to strengthen Wednesday ahead of a cold front that is set to arrive in the Wasatch Front either in the late morning or afternoon.
"Wednesday is the wettest day, (producing) the most rain that we'll see from this storm," Johnson said, adding that roads will likely be wet during Wednesday's morning commute.
More valley rain, mountain snow
The system is also expected to be split between valley rain and mountain snow, as was the case last week. The National Weather Service's winter storm warning for the southern mountain starts at 3 p.m. Tuesday, while the warning for Wasatch and western Uinta mountain ranges begins Tuesday evening. Both remain in effect through early Thursday.
The warnings state:
1 to 2 feet of snow is forecast for the Wasatch and western Uintas mountains. The Upper Cottonwood canyons may end up with as much as 3 feet of snow by the end of the storm.
1 to 2 feet of snow is forecast for the southwest mountains, but only areas above 8,000 feet elevation.
8 to 16 inches of snow or more in the La Sal and Abajo mountains. Again, the snow line is about 8,000 feet elevation in southeast Utah.
The weather service also issued a winter weather advisory for the central mountains, where 6 to 12 inches of snow is projected. The alert adds that ridgelines east of the Sanpete Valley could end up with as much as 1½ feet of snow.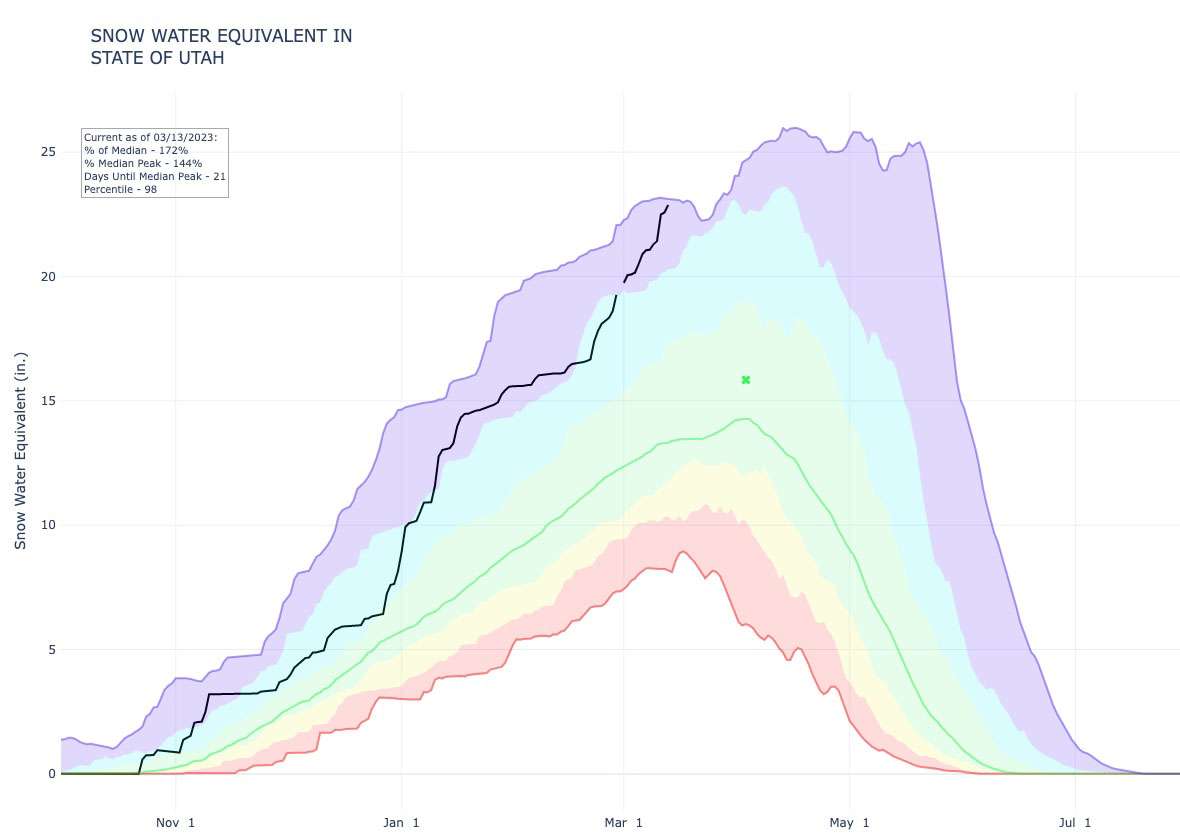 It raises the probability that Utah's current snowpack could hit an all-time high for at least mid-March. The record for March 15, for instance, is 23.1 inches, set in 1997. It dips down to 22.2 inches — or below the current snowpack mark — by March 22.
The maximum record then surges because of prolific snowpack totals at the end of March and start of April in 1983. That year still holds the all-time snowpack record of 26 inches set in April. It's still too early to tell if this year will challenge that all-time record.
Meanwhile, weather projections on Monday also indicated that valleys across Utah could receive anywhere from a few drops to over an inch of rain over the next few days. The weather service tweeted that upwards of 1½ inches of rain is possible in northern Utah between Tuesday and Thursday.
Travel impacts
The weather service says winter driving conditions should be expected in the mountains throughout the duration of the warning; and that traction laws may be enforced in some high-elevation areas, such as Big and Little Cottonwood canyons.
The Utah Department of Transportation issued a road weather alert as a result of the incoming storm. It warns that "heavy precipitation" Tuesday afternoon through Wednesday night may impact travel on the roads, though snow is expected only on high-elevation passes. The agency advises drivers to slow down and use caution, especially when traveling through canyons and mountain routes.
Utah is expected to be primarily dry for the rest of the workweek with a small chance of additional rain along the Wasatch Front, Johnson said.
Full seven-day forecasts for areas across Utah can be found online, at the KSL Weather Center.
×
Related stories
Most recent Utah weather stories