Estimated read time: 5-6 minutes
LAS VEGAS — Nani Falatea had a unique role for BYU women's basketball's comeback against San Francisco in Saturday's quarterfinals of the West Coast Conference Tournament.
Friday's leading scorer was relegated to the bench with foul trouble, but that just left more time to celebrate her teammates' win.
Ari Mackey-Williams had 14 points, including a key 3-pointer in the fourth quarter, to help fifth-seeded BYU oust fourth-seeded San Francisco 66-56 to advance to Monday's semifinals at Orleans Arena.
Lauren Gustin had 9 points, four assists and a career-high 27 rebounds, and Emma Calvert added 17 points and five rebounds for the Cougars (16-15). Falatea finished with 15 points, five rebounds and two assists to overcome 25 turnovers, 12 steals, 22 fouls and three starters fouling out.
"That's three strikes against us," BYU head coach Amber Whiting said., "But I always say, if you want to play an individual sport, play tennis or play golf. But this is a team sport.
"Everybody stepped up at the right time, and Lauren did struggle tonight. It wasn't her night but I had three or four others in double digits. We were very heavily involved on the defensive end, and they came to play today."
But the key hero (with respect to Defensive Player of the YearGustin's WCC tournament-record rebounding and Falatea's double digits) was Mackey-Williams, who went 4-of-5 from 3-point range with three assists. When Falatea was forced to the bench, the ball went to the 5-foot-9 sophomore from Ngati Porou, New Zealand who scored in double figures for the fourth time in the last five games.
She also had to call off her own coach, at one point, to pull off one of her self-admitted "lucky shots."
"I looked at the clock, and I just though, 'no, no, I've got this,'" Mackey-Williams said. "I knew that we had to take off as much time as possible, and luckily enough the stepback shot went in. We'll take that.
"I think we knew as a team we all needed to step up, and just do our roles," she added. "We had to take care of the ball, especially when they were pressing us. We all had to get catches, and Kaylee (Smiler) really helped a lot on that end ... but once we got the ball on our side of the court, we just had to take care of it, chew the time down, and not get any forced shots."
Debora Dos Santos had a team-high 12 points and Kennedy Dickie added 11 points and seven rebounds for San Francisco (19-12), which forced 25 turnovers in the loss. Turnovers and foul trouble continued to plague BYU through the second quarter and into the second half.
The Dons shot just 2-of-9 to open the third, but the Cougars couldn't take advantage after Mackey-Williams drew her third foul early, and Calvert was sent to the bench with a fourth.
BYU had 15 turnovers before Smiler ripped a 3-pointer to retake the lead, but couldn't string together consecutive offensive possessions.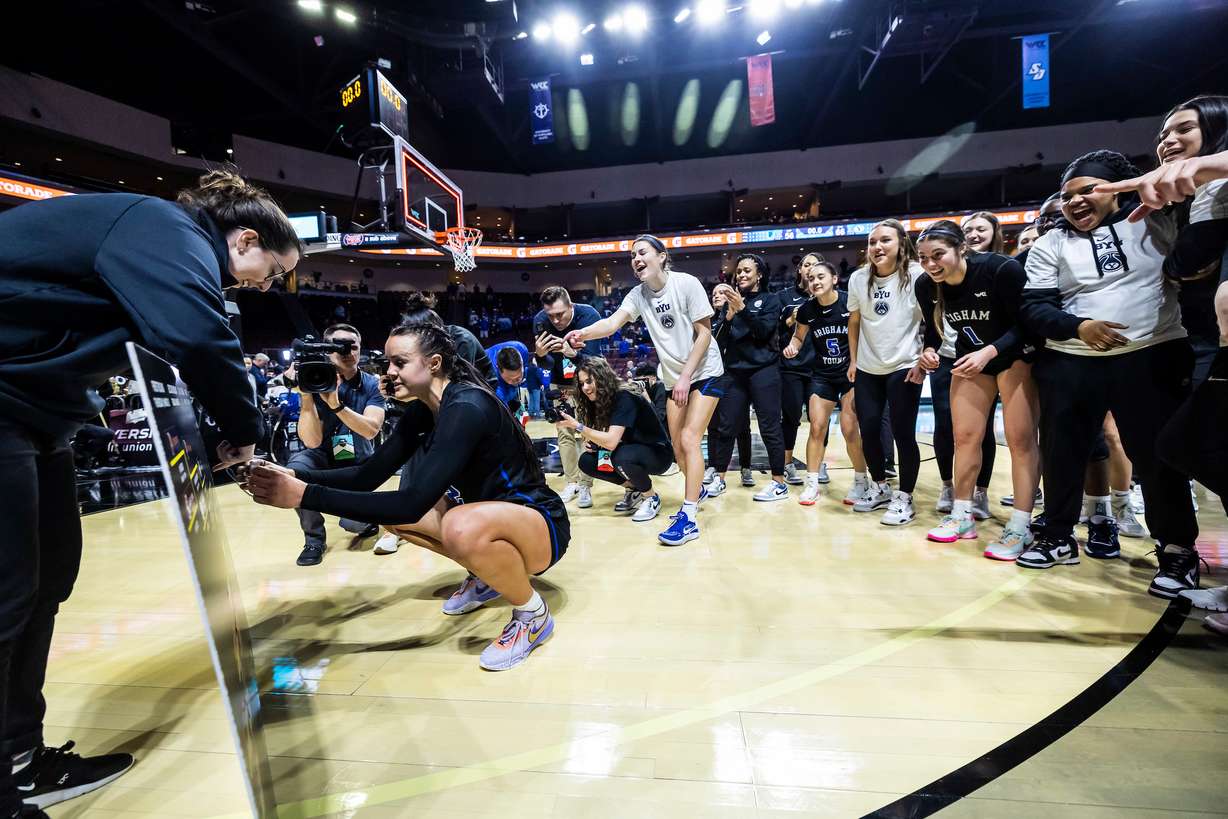 Still, USF never led by more than 3 points in the second half, and a large chunk of that was due to Smiler. The junior from Hamilton, New Zealand was the primary defender on San Francisco leading scorer Ioanna Krimili, whowent 2-for-11 from the field and 0-for-3 from 3-point range for 6 points.
Krimili, who averaged 17.1 points per game, didn't make a shot until the middle of the fourth quarter.
"I had one job this game, and that was to not let her catch the ball and just defend," Smiler said. "Everybody has their roles, and I don't need to be the scorer or the MVP. I know what my team needs; you want me to stop 21, I'll stop 21. And if we do that, our team wins."
Best player? Leading scorer? Sounds like an assignment for Smiler, Whiting said.
"We're always going to give the best guard to Kaylee. She's a defensive stopper," the first-year head coach added. "She has that dog mentality, and she doesn't stop. I ask her to do the hard things, and she steps up every single game.
"She doesn't have to be in the limelight, but it's always the little things behind the scenes that make or break a team. And if she doesn't shut her down tonight, we don't win."
So when Falatea helped BYU retake the lead midway through the fourth, and Calvert drilled from distance off an outlet pass from Gustin, the 47-43 advantage with 7:39 remaining felt like a 40-point lead.
At least, it may have for the smattering of blue-clad BYU fans that half-filled the 9,500-seat arena. Or it may have a few minutes later, when Gustin's first field goal with 6:38 on the clock. Or maybe it was 40 seconds later, when Calvert coolly knocked down her fifth 3-pointer from the top of the key en route to a game-high lead of 9.
Calvert earned her fifth foul with the Cougars leading by 8 with just under five minutes remaining, and Falatea followed her to the bench a minute later with 15 points, five rebounds and two assists.
In other words: Mackey time.
Mackey-Williams drained the shot clock before a stepback triple with 3:26 to push BYU's lead to 57-47, and Amanda Barcello scored in transition moments later to help BYU ice the win and advance to face top-seeded Gonzaga in Monday's semifinals.
"I think my mindset was just don't hesitate," Mackey-Williams said. "If the defense is sagging back, don't shoot it. Credit to the coaches, who gave us the game plan. If we have open shots, just shoot it."
BYU and Gonzaga will tip off at 1 p.m. MST Monday on BYUtv.
×
Photos
Most recent BYU Basketball stories