Estimated read time: 4-5 minutes
PROVO — Utah girls basketball was on display in BYU's regular-season finale Monday afternoon.
Former East High star Liana Kaitu'u totaled 17 points, five rebounds and three steals as Portland locked up the No. 2 seed in the West Coast Conference Tournament with a 61-49 win over the Cougars at the Marriott Center.
Fellow former East star Nani Falatea had 14 points, three rebounds and two assists for BYU, and Lauren Gustin secured her 25th double-double in 29 games with 15 points and a career high-tying 24 rebounds for the Cougars (14-15, 9-9 WCC).
Former Fremont High star Emma Calvert had 10 points and six rebounds for BYU.
Gustin made just two field goals in the first half, but the Pilots (21-8, 15-3 WCC) couldn't stop Gustin from setting records. The 6-foot-2 forward from Salem Hills High made history with her 11th board, breaking a program record before halftime.
With 24 boards, Gustin increased her total to 478 rebounds on the year to pass two-time All-American and BYU Hall of Famer Tina Gunn Robinson for the most rebounds in a single season in BYU history.
"She responded today from the Gonzaga game. She was really frustrated with herself and was really hard on herself. That's just who Lo is," BYU coach Amber Whiting said of the nation's leading rebounder, who had just 8 points and 14 rebounds in Saturday's 58-51 loss to the 18th-ranked Zags. "It's not just enough to get a double-double. She wants to win, and she wants to help her team win. And I think she really responded today and helped us."
Gustin, the nation's leading rebounder at 16.2 per game, and Robinson are the only players in BYU women's basketball history with more than 1,000 career rebounds. Gustin's total mark of 1,116 career boards trails only Robison, whose 1,482 rebounds is one of seven program records held by the Florida native.
Gustin has been equally greatness personified, but few recognize it by talking to the former Salt Lake Community College standout. To her teammates, she's just "Lo."
"Lauren's funny," said BYU teammate Devry Millett, one of two seniors on the team. "She brings a lot of energy, but you know she's working her hardest on every possession. She pulls that out of other people, too.
"Off the court, she's a really good friend, a good teammate to everybody, and she cares a lot about everybody on the team."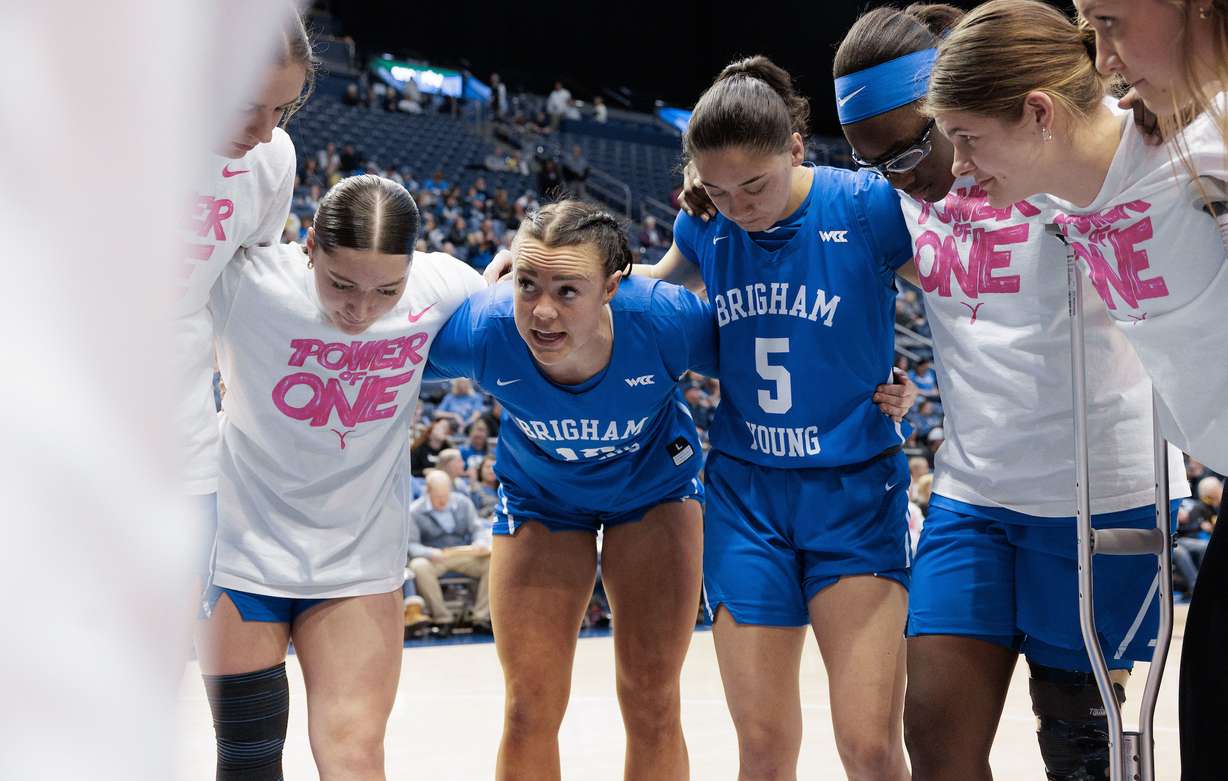 Portland shot just 27% from the field in the first quarter, but forced seven turnovers to lead 9-6 at the break when Kaitu'u sparked the Pilots with 5 points off the bench.
Kaitu'u had 12 points on 5-of-5 shooting, including a pair of 3s, to go along with four rebounds and two steals, and Portland used an 11-1 run in the second quarter to pull to a 28-17 halftime lead.
The Salt Lake City native who led the Leopards in scoring all four years, including en route to the 5A state title in 2018, didn't miss a shot until clanking an ambitious 3-point attempt with 6:34 left in the third quarter. That included a bucket at the 7:05 mark of the period to stretch the Pilots' lead to 31-19.
"It came down to our Achilles heel tonight with turnovers," said Whiting, whose team gave up 23 points off 19 turnovers. "We need to fix those. Last game we took care of them, but tonight we didn't. We need to make sure the ball has meaning and work on closing out defensive opportunities."
Falatea hit back-to-back 3-pointers to bring the Cougars as close as eight in the third quarter. But the deficit proved too wide to overcome for the hosts as the Pilots locked up the No. 2 seed in this week's West Coast Conference Tournament in Las Vegas.
BYU fell to the No. 5 seed with the loss, and will open the tournament Friday at 1 p.m. MST on BYUtv.
"We've got to make sure that the ball has meaning, and close out defensive opportunities and offensive rebounds," Whiting said. "We've got to make sure those are second-chance points all the time. Our turnovers turned in 23 points, and that's just unacceptable. We've got to make sure we're taking care of the ball, and that just goes back to working on us."
×
Most recent BYU Basketball stories