Estimated read time: 3-4 minutes
PROVO — BYU basketball isn't leaving the West Coast Conference on top of the league, but Lauren Gustin sure is.
The junior forward took home WCC co-defensive player of the year honors when the conference announced its annual postseason accolades Wednesday, sharing the award with San Diego's Ayanna Khalfani.
The nation's leading rebounder with 16.5 per game set a BYU single-season record with 478 boards, beating out the mark held by former two-time All-American and 1980 national player of the year Tina Gunn Robison in Monday's regular-season finale loss to Portland. Gustin also holds the Marriott Center record for most rebounds in a single game, which she set twice with 24.
"Lauren is an amazing player and an even better person," BYU coach Amber Whiting said of Gustin, who also averaged 16.6 points per game. "She gives everything she has each time she steps on the court and has a motor that won't quit. She is a great example of what happens when you work hard."
Gustin and teammate Nani Falatea are the only BYU basketball players, men's or women's, to earn All-WCC first-team honors this season. Falatea earned the honor after moving into the full-time starting lineup and averaged a team-high 4.6 assists to go along with 14.8 points per game on 39.1% shooting.
"Nani is such a smooth, skilled player," said Whiting. "She is a talented playmaker that contributes to our team in many ways, including her ability to score and the way she can create for her teammates."
Redshirt freshman Amanda Barcello was named to the WCC All-Freshman team after averaging 2.1 points and 3.1 rebounds, including a career-high 12 points on Nov. 15, 2023, in a loss to Oklahoma. The "three-and-D" wing from Chandler, Arizona, also had 25 assists, 16 steals and 13 blocks in 19.5 minutes per game.
Gonzaga took the top honors in WCC women's basketball, with Kaylynne Truong earning player of the tear and Lisa Fortier named coach of the year for the fifth time in her career. Santa Clara's Tess Heal was named newcomer of the year, and San Francisco's Jasmine Gayles the sixth woman of the year.
In men's basketball, Gonzaga's Drew Timme and Santa Clara's Brandin Podziemski shared player of the year honors, with Saint Mary's Randy Bennett taking home coach of the year after leading the 17th-ranked Gaels to a share of the conference regular-season title and No. 1 seed in the league tournament in Las Vegas.
Timme was joined by Gonzaga teammate Julian Strawther with All-WCC first-team recognition, along with Saint Mary's tandem Logan Johnson, Mitchell Saxen and freshman Aidan Mahaney, among others.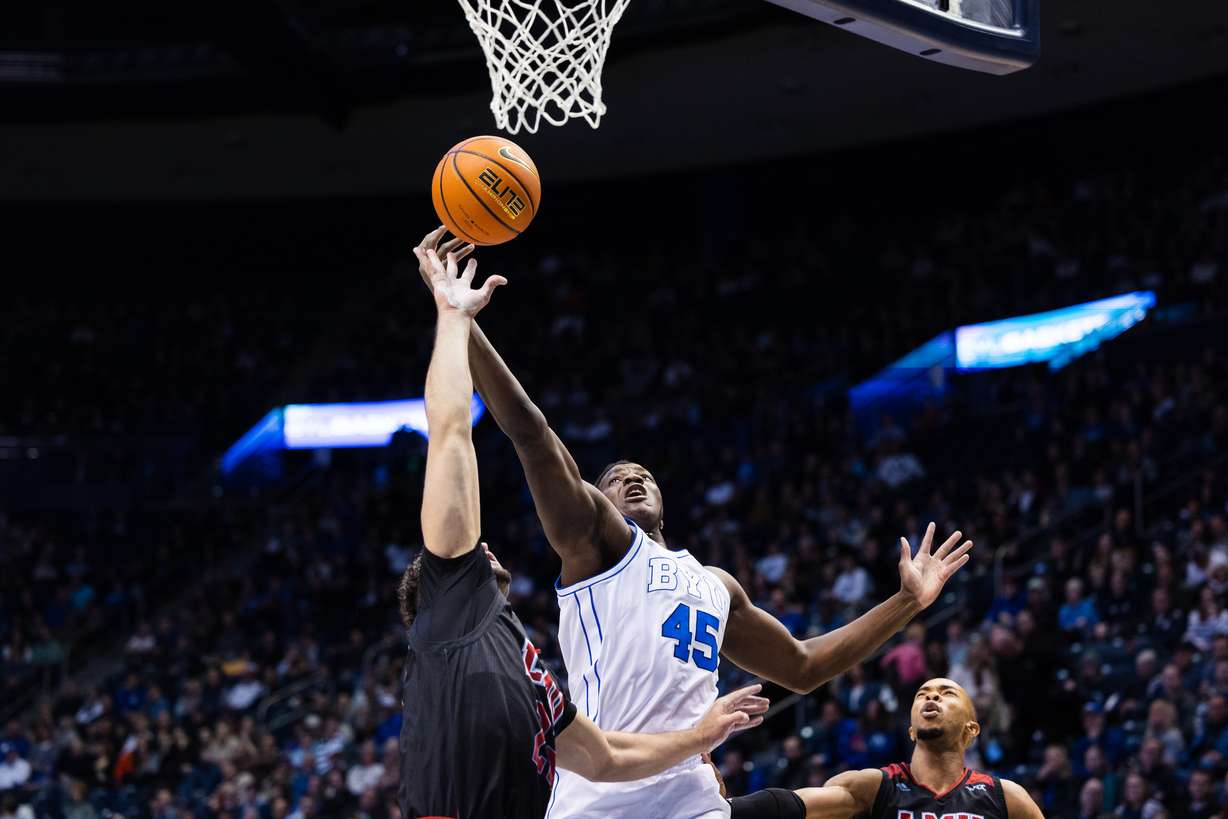 BYU's Fousseyni Traore was named an All-WCC second-team selection after the sophomore from Bamako, Mali, who prepped at Wasatch Academy averaged 13.2 points and 8.0 rebounds while shooting 60.4% from the field, the second-highest percentage in a single season in program history. The 6-foot-6, 240-pound forward totaled eight of his 17 career double-doubles in 2022-23, including a 17-point, 13-rebound effort in the Cougars' season finale against San Francisco.
Former Fremont High star Dallin Hall became the ninth player in BYU History to be named to the WCC All-Freshman team after leading the team in assists less than a year after returning from a two-year mission for The Church of Jesus Christ of Latter-day Saints.
The Plain City native is one of just seven BYU freshmen all-time with more than 100 assists in a season after averaging 7.2 points per game.
Spencer Johnson was named All-WCC honorable mention after the junior wing shot a team-best 52.7% from 3-point range. He also amassed 33 steals in 16 conference games, the eighth-most in program history.
Both BYU teams will open the WCC Tournament on Friday as the No. 5 seed, with the women tipping at Orleans Arena at 1 p.m. MST and the men opening at 7 p.m. MST.
×
Most recent BYU Basketball stories