Estimated read time: 4-5 minutes
LAS VEGAS — Contact the Nevada gaming control board: Nani Falatea was feeling lucky Friday afternoon.
The sophomore from East High totaled 23 points, seven assists and four rebounds to help BYU women's basketball to a 74-59 win over Pepperdine in the second round of the West Coast Conference Tournament at Orleans Arena.
Lauren Gustin added 23 points and 18 rebounds for the Cougars (15-15), who snapped a regular season-ending three-game losing skid with Falatea's best scoring output since Jan. 28.
But the second half was all Falatea, who scored shot 9-of-17 from the field with four 3-pointers that included 11 points on 4-of-7 shooting after halftime. Not that she'd give herself any credit for it.
"I've got Emma (Calvert) and Lauren dominating inside, and that really opens things up for me," the All-WCC first-teamer from Salt Lake City said. "When they do well, everyone starts to collapse on them and it leaves me open. Then they start setting screens for me; they're really big bodies to get me open.
"I've got to give them a lot of credit."
Theresa Grace Mbanefo had 18 points and nine rebounds to lead Pepperdine (11-19), and Jane Nwaba added 17 points, six rebounds and four assists for a Waves team that shot just 5-of-15 in the fourth quarter and went scoreless from 3-point range.
"I think they capitalized a lot on our fatigue," Nwaba said. "It was more of a running game today, and they did well in transition and shooting shots."
Arielle Mackey-Williams supplied 11 points, four rebounds and four assists for BYU, which outrebounded the Waves 39-28 in advancing to face San Francisco in Saturday's quarterfinals (2 p.m. MST, BYUtv). She also had two of her three steals in the fourth quarter to help lock down the win with 13 turnovers.
"She's been one from the get-go who is a defensive dog up top," BYU coach Amber Whiting said of Mackey-Williams. "I told her today to just go get it — freedom. Sometimes you want to hold your girls back, but it's one-and-done now, so I just let her roll."
But with respect to Mackey-Williams and Gustin, who had her 26th double-double of the season and tied a WCC Tournament record with 18 rebounds, Friday afternoon belonged to Falatea.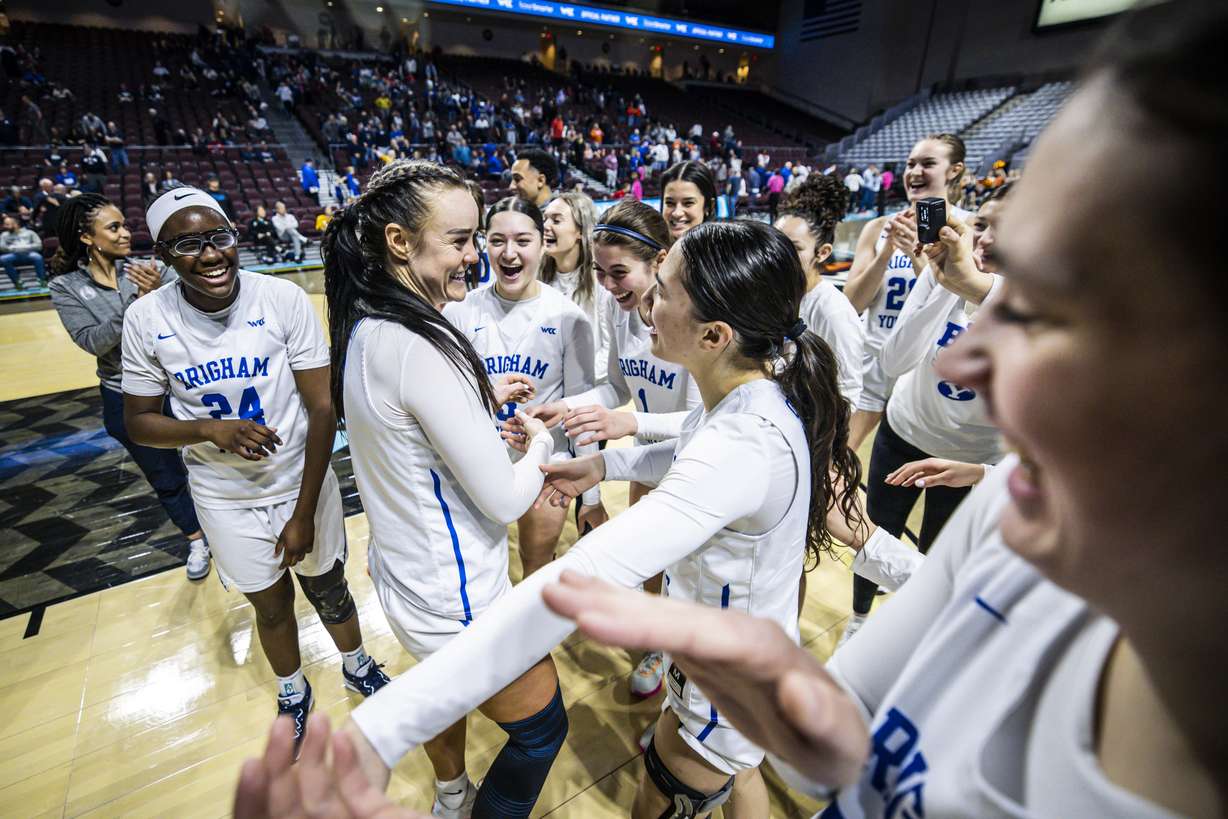 Falatea had a game-high 12 points in the first half, including a 3-pointer to beat the first-quarter buzzer that gave the Cougars a 16-10 edge. BYU led by as much as 12 in the first half, but struggled to pull away for a variety of reasons while out-shooting the Waves 14-11, outrebounding the lower seed 20-13, and out-fouling Pepperdine 9-4 en route to a 34-27 halftime advantage that included a game-high
"I felt like our girls really came and competed and came to play for each other," Whiting said. "The foul trouble in the first half could've rattled them really easily, but they stayed locked in and stayed the course. I was really proud of them.
"We played well, but I don't think it's the best we've played," the first-year head coach added. "I've seen them play better before. I actually think we played pretty well last weekend against Gonzaga and Portland. Yeah, we took some losses, but we played really well. They're coming together at the right time, and they're learning about each other at the right time and buying into the defensive game plan."
The Waves shot just 38% in the first half but scored 12 points off nine turnovers to keep the deficit no higher than 12 and as low as 5 points in the first half.
But Falatea hit back-to-back triples to cap a 13-2 run with 1:47 left in the third quarter that helped the Cougars to a 58-40 lead with one quarter remaining. But even when she wasn't scoring, Falatea was affecting the game.
Take, for example, the drive off the left wing in the middle of the fourth quarter, when Falatea faked a trio of Pepperdine defenders into collapsing underneath the basket before finding Gustin with a no-look pass and an easy lay-in to go up 65-47 with 6:07 remaining.
Some things can be taught, or coached up. Then there's Falatea's pass to Gustin in the fourth quarter.
"She won't say it, but she's one of the best passers in the league," Gustin said. "I don't know how she does it, but her passes are insane. She knows where I'm going to be before I'm even there. It's a lot of practice and a lot of chemistry; she does that kind of stuff every day in practice."
×
Photos
Most recent BYU Basketball stories