Estimated read time: 6-7 minutes
ALBUQUERQUE, N.M. — Now it's time to talk about the Big 12.
After BYU's heart-stopping 24-23 win over SMU in the New Mexico Bowl — a win that featured the emergence of freshman quarterback Sol-Jay Maiava-Peters, a career-best pick six by Ben Bywater, and ultimately a last-gasp defensive stand by sophomore Jakob Robinson — head coach Kalani Sitake is finally ready to talk about the future.
After sending off a bevy of seniors and others with eligibility remaining, a list that may include quarterback Jaren Hall and star wide out Puka Nacua in the coming days, along with stalwart running backs Chris Brooks, Lopini Katoa and career leading scorer Jake Oldroyd, the soon-to-be eighth-year head coach will now turn his eye toward the Big 12 horizon.
The decade of independence wrapped up in front of an announced crowd of 22,209 fans at the same site as the final game in the Mountain West against the same familiar foe as the 1980 Holiday Bowl. Now it's time for a new challenge.
And what a challenge it will be.
"We're excited to go to the Big 12. It will be a lot of fun," Sitake said with a smile on his face. "We've known about it for a while now, and I've asked these guys not to talk about it. Now let's go.
"The emphasis going into the offseason is going to be a lot of work. These guys know; they're ready to be uncomfortable, to grow and get better in the offseason. Then we're going to have a fun spring ball. We've got to be a more physical team."
Even with the move to a conference for the first time since 2011, and a long-awaited berth in a Power Five league, the Cougars don't want to forget who they are, Sitake added.
"More than anything, just keep our faith and belief in what we know is right and in our priorities: that we have faith in our Lord and Savior Jesus Christ; that's first and foremost," he said. "We work through that, and everything else will work out. It's the great example we can follow, and it even works in personal life, in business, and even in football — especially at BYU."
BYU will reportedly find out its first Big 12 schedule in mid-February, a date that has been delayed multiple times as the conference works to welcome in the Cougars and the American Athletic Conference trio of Cincinnati, Houston and UCF.
But Oklahoma and Texas are also working to expedite an early exit, as well, according to several reports. The SEC-bound Red River rivals no doubt want to join their new conference at the same time USC and UCLA enter the Big Ten, which will create a dramatically different caste system in college football, with a clear Power Two, a Middle Three, and the Group of Five.
And yet, before the Cougars' minds turned toward Big 12 resources and competition, they had to hold off one of the top offenses in the Football Bowl Subdivision.
Down a number of injured starters, from Hall and Nacua to Katoa and safety Malik Moore (among many others), BYU put in a performance the likes of which the New Mexico Bowl had never seen — and not just for the record-low 34 degrees at kickoff.
In just the second New Mexico Bowl to be tied at halftime, Bywater secured the first-ever postseason pick six in Albuquerque while flashing his former Olympus High running back speed on the 76-yard return. Ryan Rehkow broke the bowl game record twice with punts of 65 and 67 yards en route to a 58.8 yards per punt average, the most in the bowl's history.
The Cougars' 256 yards are the fewest by a winning team in the game's two-decade history, and their 211 rushing yards are the fifth-most in any bowl game in program history.
BYU got several surprise performances in Saturday night's win over SMU, none greater than the defense that held Tanner Mordecai and a top-15 passing offense after finishing the regular season ranked No. 93 in total defense and No. 100 in scoring. But no performance was more of a surprise than the first-time starting QB.
Maiava-Peters completed 7-of-12 passes for 47 yards and an interception in his first career start. But his real advantage was his mobility, gaining a team-best 96 yards on 14 carries. That included a 1-yard TD plunge in the first half, a touchdown that paced the Cougars' 24-7 run to take a 24-10 lead through three quarters before holding on.
But when the game was on the line with Mordecai marching a late drive to pull within a point, and then a 2-point conversion play to win it, all Maiava-Peters could do was take a knee.
"It's for sure a different feeling when the defense is out there. But like Kalani says, it's complementary football," he said. "So I just said a little prayer. … It was genuine, and then J-Rob made the play.
"I just felt comfort when everyone was turning up, and I just pointed to the sky and said, 'Thank you, Heavenly Father.'"
Leading his team to a win like Saturday night could give the freshman a leg up in a quarterback competition that is likely to include at least two transfers, according to offensive coordinator Aaron Roderick; a pair of incoming freshmen in Utah high school stars Cole Hagen (Corner Canyon) and Ryder Burton (Springville); as well as incumbents Cade Fennegan and Nick Billoups, assuming Hall enters the NFL draft, as many expect.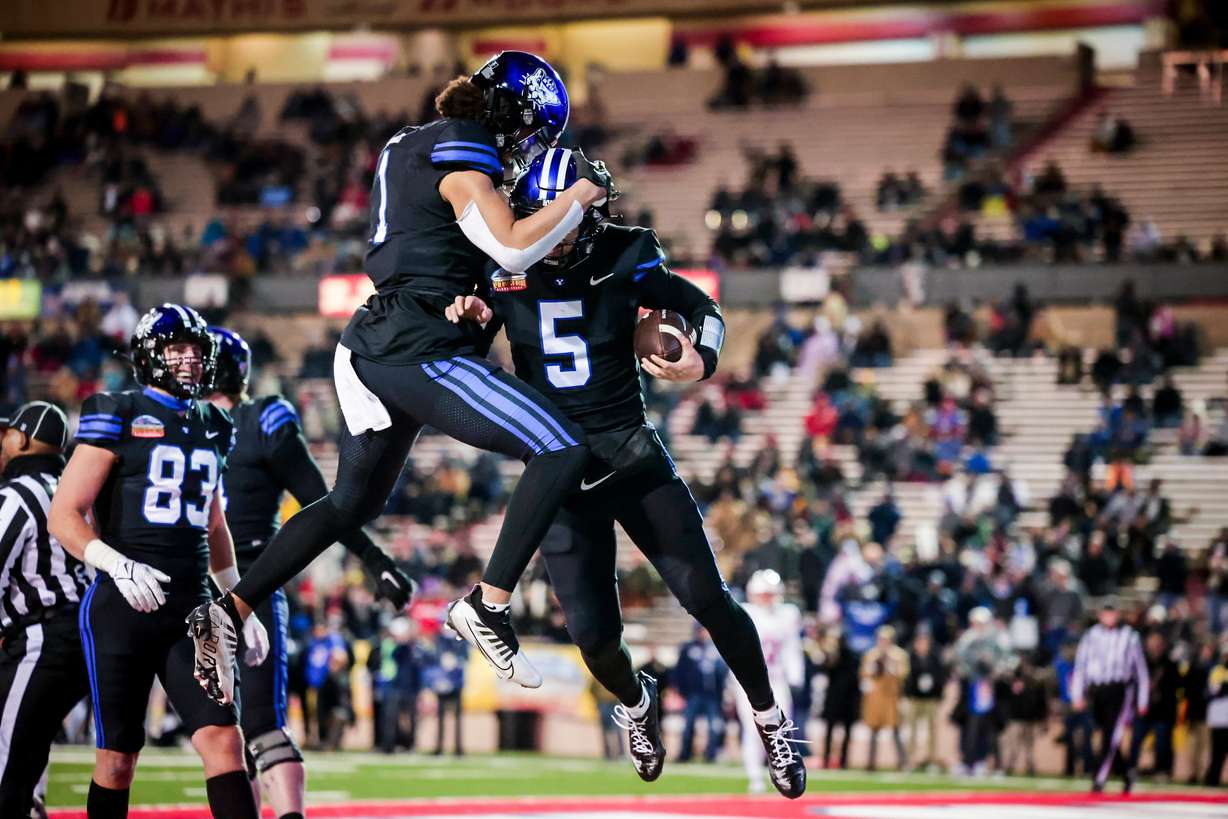 But the third-year freshman from Hawaii doesn't expect to just walk into a QB1 role next spring. Maiava-Peters is prepared to fight for that, too.
"For me, my mentality is still the same: I'm in the back," he said. "I know I'm still going to have to keep fighting in the offseason for the job. There are a lot of people coming in. I've just got to keep my head humble, for sure."
After opening the season 4-1, with the only loss to a ranked Oregon side on the road, BYU entered a historically bad winless October and put a berth in any bowl game in jeopardy.
But the Cougars made several adjustments on defense, including the eventual resignation of former defensive coordinator Ilaisa Tuiaki, plugged whatever holes they could due to injury, and found a way to win again.
The surprise victory at Boise State led to a new streak, one that concluded with a fourth consecutive victory in the Land of Enchantment in one of the more entertaining games of the first weekend of the bowl season.
"This was a tough year for our program," said Sitake, whose team finished with an 8-5 record. "Some changes in things like that. But the faith and the love, all that stuff remains.
"Even though we went through a bad stretch and adversity, I'm just proud of these guys. They stuck together and they worked through it. It just shows the unity and the love that they have on this team."
×
Most recent BYU Football stories