Estimated read time: 13-14 minutes
This archived news story is available only for your personal, non-commercial use. Information in the story may be outdated or superseded by additional information. Reading or replaying the story in its archived form does not constitute a republication of the story.
PROVO — BYU fans, administrators and athletes may forever remember the day Sept. 10, 2021 — and not just because it ushered in another rivalry weekend.
After a decade of push and pull with the Big 12, of wandering in the wilderness of football independence and the West Coast Conference in men's basketball and most other sports, the Cougars have finally found a home within the confines of a Power Five conference.
How much longer the Power Five remains anything but a "Power Two" is a subject for another day. For now, the Cougars have made it.
The conference's board of directors met Friday morning and voted to extend membership invitations to BYU, Cincinnati, Houston and UCF, commissioner Bob Bowlsby said in a statement.
BYU will join in every sport except men's volleyball beginning with the 2023-24 season.
"This is an historic day for BYU Athletics – and for the entire university," said BYU President Kevin J Worthen in a statement. "The BYU mission statement indicates that BYU is a place where 'a commitment to excellence is expected.' We strive to meet that requirement in all we do, including our core academic enterprise. Membership in the Big 12 gives us the opportunity to reinforce that commitment for student-athletes, allowing them to compete at the highest level both on and off the field."
The vote was considered a formality. But according to conference bylaws, an affirmative vote of a supermajority of directors — meaning eight of the 10 currently in the conference — was required.
The vote was unanimous among the Big 12's remaining schools of Kansas, Kansas State, Texas Tech, TCU, Oklahoma State, Baylor, Iowa State and West Virginia.
BYU didn't even need to wait for its appointed time on videoconference. The Cougars are headed to the mostly Texas-based conference, with a news conference called for Friday morning that featured dignitaries including head football coach Kalani Sitake, men's basketball coach Mark Pope, women's basketball coach Jeff Judkins, baseball coach Mike Littlewood, soccer coach Jennifer Rockwood, and a number of boosters such as Domo CEO and co-founder Josh James and Qualtrics co-founder Ryan Smith.
The Cougars are headed to the Big 12 for the 2023-24 academic year, while Cincinnati, Houston and UCF are apt to join as early as 2023 and no later than 2024 — likely due to the American Athletic Conference's policy requiring 27 months' notice and an exit fee to depart the conference.
But after being left out of the process in 2016 when the Big 12 decided not to expand, BYU was ready to pounce at the next available opportunity. When the Big 12 needed BYU more than BYU needed the Big 12, the decision moved swiftly — even if it's been 25 years in the making, in some cases.
"We have said all along that the decisions about where we play, who we play and what conference we compete in are about the student-athletes first and how we can help them achieve excellence," BYU athletic director Tom Holmoe said. "Competing on the Big 12 stage provides more opportunities for our student-athletes. That's what it's all about."
BYU men's volleyball will continue competing in the Mountain Pacific Sports Federation. The Big 12 sponsors every other sport sponsored by BYU, and also sponsors equestrian, rowing and wrestling.
Most of the university's non-revenue sports, including men's and women's basketball, have played in the West Coast Conference for the past decade while BYU football went independent.
"BYU is a better place academically, athletically and spiritually because of our relationship with the West Coast Conference," Worthen said during a Friday morning news conference announcing the move. "We want to thank them for that, and hope that our relationship can continue as we transition to this new affiliation."
That league wished the Cougars success in the next chapter, one certain to be more lucrative and friendly toward its pursuit of a power football program.
"We understand BYU's decision and wish everyone connected with the institution the very best moving forward," WCC commissioner Gloria Nevarez said in a statement. "BYU has been transparent in exploring opportunities to find league affiliation for its football program and has been presented with an opportunity that fits its needs. We will continue to value them as a member of the West Coast Conference through the 2022-23 academic year.
"The WCC has enjoyed unprecedented success in recent years with multiple NCAA Championships, and BYU has been a great part of those achievements. The success of the WCC's student-athletes and ability to win national titles puts the conference in a very strong position across the collegiate athletics landscape. The WCC continues to attract interest in membership and will be deliberate and thorough in evaluating our best path forward to position the conference for continued success."
Holmoe, likewise, thanked the conference where BYU has called home for most of its non-football sports since 2011 for taking in the Cougars at a time the football program went independent and the athletic department left the Mountain West.
"We are truly grateful to the WCC," Holmoe said. "Being a member of the WCC for the past 10 years helped us tremendously. All of our teams developed significantly while we've been a member of the WCC."
WCC bylaws require 24 months' notice from the start of the next available fiscal year to withdraw from conference membership. An earlier exit could be arranged with a fee of anywhere between $500,000 and $1 million — a fee BYU will be more than happy to pay after the conference saved basketball and its non-revenue sports by providing a home during the football independence era.
But in leaving a league with top-ranked Gonzaga, one of the top brands in college basketball, the Cougars gain Kansas, West Virginia, Texas Tech — and a little ol' current national champion in Waco, Texas, in Baylor. All of that should add up to as strong of a basketball conference as any in the country, as well as a football conference that — while it's unlikely to be worth as much as it was when Texas and Oklahoma were full-time members — will be significant upgrade to BYU's current media rights deal with ESPN.
"We're in a very much changing environment," Bowlsby said, focusing on the "deterioration" of the cable bundle and move to streaming in the broadcast world. "But I will say this, and this was a driver for our process: we have attempted to add the very best athlete that we possibly could, in a recruiting environment. That certainly is emblematic of BYU, and the history and success that the university has had and the athletic program. In adding the four members that we have, we will gain as much as we can possibly gain on the football field, we will arguably be the best basketball conference in the country, we will be a force to be reckoned with in a wide variety of Olympic sports."
The biggest benefit, however, is in football, where the program currently led by Sitake took a gamble in 2011 by leaving the Mountain West Conference and departing on an unknown journey in the wilderness of independence.
That gamble paid off with Friday's announcement.
"Our focus is going to be on the game, because that's what we're doing tomorrow. But I needed to express my appreciation to our fanbase, how often they were in Vegas and how awesome they will be tomorrow," Sitake said in a rare appearance on BYUtv the day before a game. "Congratulations; you're in the Big 12. And I'm really grateful that we're going to be in the conference with all the other teams in the department."
What does the announcement change for BYU football? In some ways, no much. the Cougars have already operated at a Power Five level for some time, playing 4-7 teams from power conferences, mostly in the Pac-12, for the past decade.
Friday just solidified BYU's role in the ever-changing landscape of college sports, and comes at a time when the College Football Playoff is preparing to expand to as many as 12 teams.
"I think we've already had a Power Five type of schedule," said Sitake, who recently signed a contract extension through the 2025 season. "Now it's to have that consistency and knowing who we are going to play. But for us, that's down the line; we still have some tough opportunities on our schedule, including tomorrow and next year.
"I'm just glad we have a great athletic director that will help us with the transition."
PK on the Big 12
Like the WCC, the Big 12 will honor BYU's policies specific to the flagship institution of The Church of Jesus Christ of Latter-day Saints, including not playing on Sunday. That was a small price to pay for the Cougars' admittance, Bowlsby said.
"I wouldn't call it a concern; I'd call it a consideration," he explained. "We had very open and frank discussions about it. Everybody has their eyes wide open. We understand that there are scheduling considerations that are going to have to be taken into account.
"But that is something that is baked in when you consider a university like BYU. We'll do what's necessary to respect and honor those requirements, and we got to the point where we didn't feel like it is going to be an issue. We're not likely to be playing football games on Sunday."
With Texas and Oklahoma having already accepted an invitation from the Southeastern Conference to bolt the longtime home of the Sooners and Longhorns, the Big 12 needed to act fast. And in a span of 55 days, they did just that.
From the moment word leaked of the two Big 12 powers casting eyes toward the southeast, the conference moved at warp speed. Most of the officials had already gone through the process in 2016, when the conference ultimately decided not to expand, and a similar crop of interested parties formally submitted applications beginning Monday and Tuesday of this week.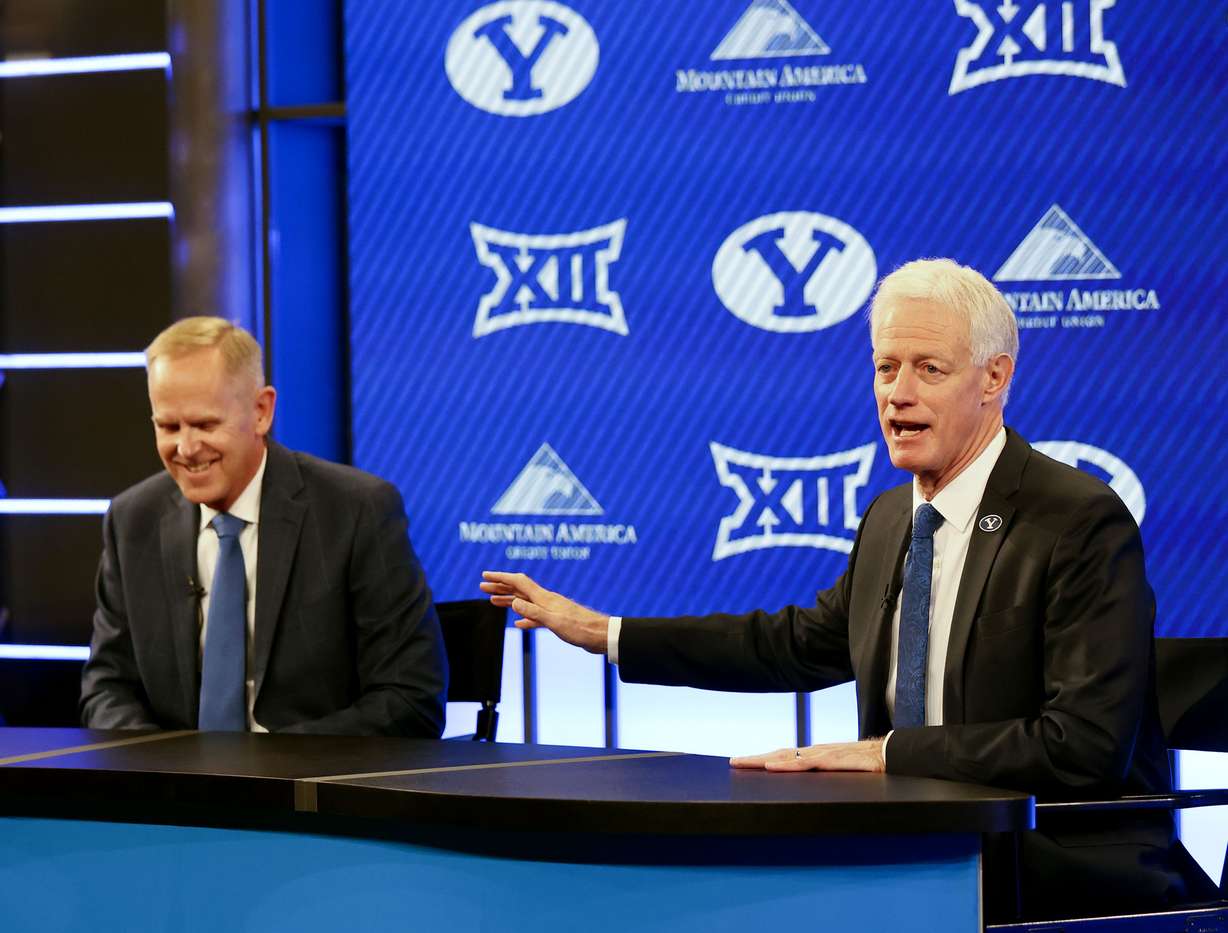 BYU's affiliation with the Big 12 began long, long ago — as far back as 1972, when the Cougars defeated Kansas State 32-9 in the head coaching debut of one LaVell Edwards, whose name now presides over the once-dubbed Cougar Stadium in Provo. Just two years later, BYU faced Oklahoma State in what was arguably the Cougars' top bowl game appearance to that point, a 16-6 loss in the Fiesta Bowl by then No. 17-ranked BYU.
After years of flirtation, the Big 12 finally proposed to BYU. A two-year engagement will follow, and while most religious figures on the Provo campus would prefer to opt out of such an engagement, the circumstances make sense in the current situation.
With everything changing around college athletics — name, image and likeness legislation, a potential expansion of the College Football Playoff, and an overhaul of the NCAA's own governance structure that will be decided by an upcoming "constitutional convention" — the Cougars found a seat at the table all these years later.
"We've been having these conversations for 10 years," Holmoe said. "From the time we went independent, we didn't plan on being independent forever. We carved our path as we responded to the environment around us, and as we took opportunities ourselves."
Like more than a dozen other candidates five years ago, BYU — which has been an FBS independent in football and a member of the West Coast Conference in most other sports — wasn't ready for the Big 12. The university was in the middle of a federal Title IX investigation for its handling of sexual assault cases and under increased scrutiny by a number of LGBTQ+ advocacy groups for the university's Honor Code that explicitly prohibit same-sex relationships.
In the five years since, a lot has changed. BYU wrapped up several investigations with the Department of Education and NCAA, and even welcomed in LGBTQ+ advocates to speak to students, visitors and alumni at annual events like the university's Women's Conference.
And while the university still does not permit same-sex relationships under its Honor Code, the school has updated the code's language, including replacing its previous call to abstain from same-sex relationships with a more generic charge to "live a chaste and virtuous life, including abstaining from any sexual relations outside a marriage between a man and a woman."
By 2021, not even the university's Sunday-play policy could stop the momentum of BYU's engagement with the Big 12.
"We have events right now that are contested on Sunday, and they will have to be modified in order to accommodate BYU," Bowlsby said. "But we're willing to do that, and frankly, BYU is an attractive enough institution that I consider it a very small consolation in having them be a part of our organization."
In the end, the decision was easy and unanimous for the conferences. The Cougars (twice even, one red and one blue), Bearcats and Knights are expected to join an array of Jayhawks, Bears, Cowboys, Wildcats, Mountaineers, Horned Frogs, Cyclones and Red Raiders in bringing the conference back to respectability — if not more.
Even among the new additions, BYU was always seen as the Big 12's top choice for a new addition. The Cougars' national fan base, 63,000-seat football stadium and 19,000-seat basketball arena — not to mention 33,000 students — made it a natural fit with the league, top of the league in some cases, even if geography did not.
But this time, unlike in 2016, not even the 872 miles that separate BYU from its closest Big 12 opponent or outcry from group of LGBTQ+ activist organizations could keep the Cougars away from their new home.
"BYU was No. 1 with a bullet," Yahoo Sports reporter Pete Thamel said. "The other three had some separation between them, but they were kind of clustered there. And then my understanding was there was a pretty big gap after four to the next one.
With the new additions, Texas and Oklahoma are still (officially) scheduled to remain with the league through 2025, when each school's previous grant-of-rights expires. Of course, negotiations and exit fees can be further arranged to depart at another date — but such circumstances are expected to cost the departing schools close to $100 million each, according to several reports.
So for now, the Big 12 will play as 14 for two years before reverting back to the more mathematically appropriate dozen in four years. They may also take another look at expansion — certainly Boise State, South Florida and Memphis will be among the candidates still vying for an invitation to the league.
But again, that's a topic for another day.
For now, the schools are together, happy — or at least putting on a brave face. We already know what at least one sitting Big 12 football coach thinks of the move, and Mike Gundy — the outspoken coach at Oklahoma State, who owns arguably the No. 1 football brand of the "Leftover Eight" schools — gave his stamp of approval earlier in the week.
"The interesting thing is, coast to coast, people see BYU as a Power Five team," Gundy said during a nearly 40-minute press conference Monday before the Cowboys' Week 2 contest against UTEP. "They see that logo — and you would, too — because you've watch them forever. If you see that logo, they don't know they're an independent; they think they're tied into a Power Five conference."
BYU has long had the facilities, resources and much of the cachet of a Power Five program. And on Thursday, the home of the 1984 national championship and 1990 Heisman Trophy winner Ty Detmer earned the distinction to match.
"Congratulations, Cougar Nation," Holmoe said. "It's been a long time coming, and here we are."
×
Photos
Related stories
Most recent BYU Cougars stories