Estimated read time: 6-7 minutes
ALBUQUERQUE, N.M. — SMU coach Rhett Lashlee doesn't necessarily consider himself a college football history guy, but he is a fan of the sport.
And as a fan of the sport, he made sure his players — each of whom weren't born when the Mustangs were briefly in the same Western Athletic Conference as bowl-game opponent BYU — saw highlights from the first meeting between the two schools.
Of course, the 1980 Holiday Bowl makes for a good highlight cut, even for the Mustangs, with spectacular plays from Craig James and Eric Dickerson. Right up until the final five minutes or so, of course, when it became a personalized reel of Jim McMahon, Scott Phillips and Clay Brown in the Cougars' 46-45 win.
But Lashlee's efforts were just an example used to get the Mustangs excited for Saturday's New Mexico Bowl against the Cougars (5:30 p.m. MST, ABC).
"That's what is great about college football and bowl games," Lashlee said during Friday's pre-bowl press conference. "It's a chance to learn the history, and maybe create some history of your own."
The history of the two programs has intersected an intriguing amount, especially for two schools who briefly were in the same conference before BYU helped found the Mountain West. But the 1980 Holiday Bowl — often called the Miracle Bowl by BYU fans and ranked among the greatest bowl comebacks of all time by ESPN, but it's probably called something different than "miracle" by SMU grads — has regularly swung in BYU's favor, with a 3-0 all-time record against the Mustangs.
SMU hopes to change that this weekend in the Mustangs' first bowl game since 2012, despite being bowl eligible for four-straight seasons (SMU's date in the Fenway Bowl was canceled a year ago due to COVID-19 protocols).
"We're just ready to play now," SMU linebacker Jimmy Phillips said. "We've had enough time off now; we're just ready to go out there and play now.
"This game means a lot," Phillips added. "You get a chance to play a team out of state, out of conference, it's always special. We want to win this game, we will win this game. It's just being ready for tomorrow."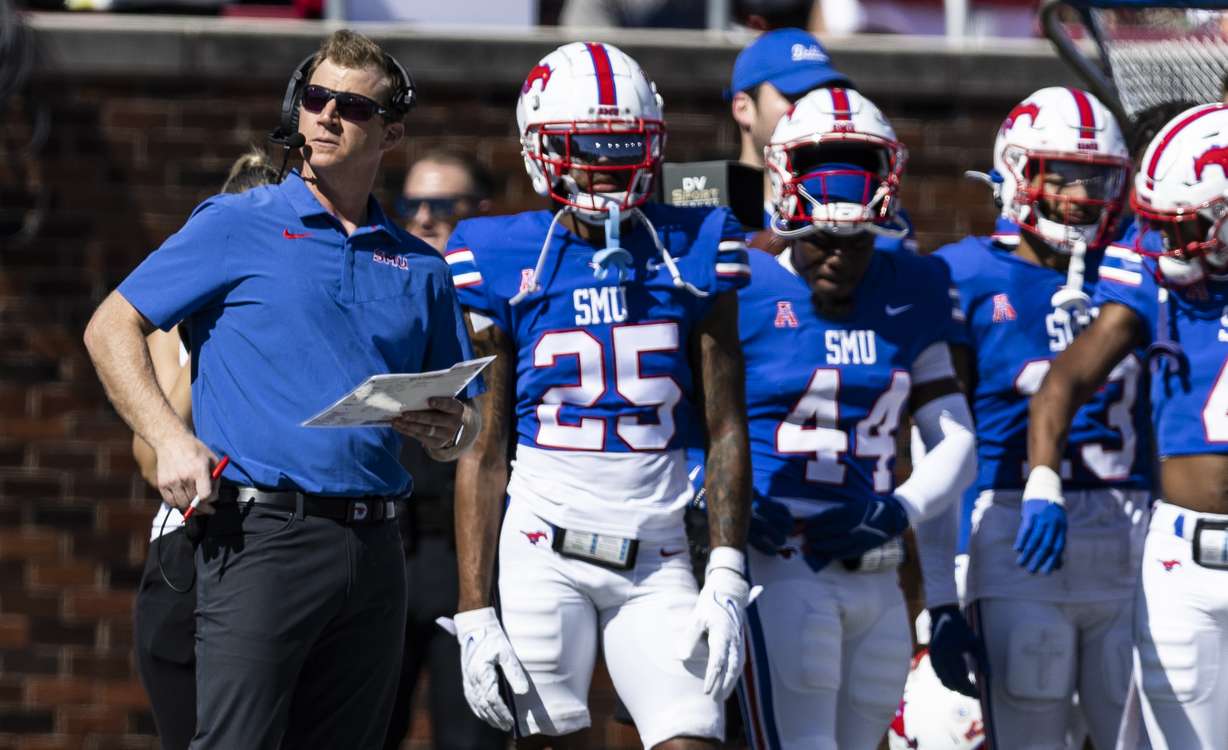 After a regular bowl week that included a game night welcome party, practice and dinner with the opposing team Thursday, visits to a local children's hospital and elementary school, and Friday's joint press conference and luncheon, Saturday's game kickoff can't come soon enough.
Bowl games often come down to motivation, and motivation appears to be on the Mustangs' side. In that regard, the teams with identical 7-5 records face similar motivation.
The Cougars were winless in October before rallying with three wins in November to make a bowl game in head coach Kalani Sitake's seventh season. Similarly, the Mustangs started the year 2-3 before rallying with wins in five of their last seven to clinch a bowl berth for the second time in four bowl-eligible seasons.
"It happened a little bit different, but what you got is two good football teams that played really tough schedules," Lashlee said. "You look at everybody BYU played, they played some really good teams. They had that four-game stretch in the middle of the year where they lost to Notre Dame, Arkansas and Liberty and East Carolina.
"Other than that, they are 7-1, with that one loss being Oregon. They have played good people, they have beaten good people like Baylor in Week 2, and others."
Sitake continued to relay skepticism about Jaren Hall's availability due to injury — he alluded that it would take a miracle for it to happen when he met media Thursday afternoon — during Friday's press conference. The former BYU fullback instead referred to a combination of Cade Fennegan, Sol-Jay Maiava-Peters and Nick Billoups to lead the Cougars into the game.
The seventh-year coach joked that he doesn't even know offensive coordinator Aaron Roderick's decision on the matter; maybe all three will line up in different spots on the first play of the game.
"One of those guys will be out there, maybe all three," he quipped. "But the guys will rally around whoever is playing."
BYU's bowl experience has been lengthier than the Mustangs; the Cougars are in a bowl game for the 17th time in the past 18 seasons, and 40th time in program history.
But for some players, the drought has been immeasurable. Vanderbilt transfer Gabe Jeudy-Lally has never been to a bowl game, and Cal transfer Chris Brooks will make his postseason appearance since rushing for 120 yards in the 2019 Redbox Bowl against Illinois, including the longest run in that bowl's history of 54 yards.
In that regard, Brooks' lone season at BYU has been a successful. For plenty of other reasons, the graduate student in the MPA program at BYU's Marriott School of Business has plenty of good things to say about his time in Provo.
The best way to reward his team would be with a win.
"This year has been a blessing for me," said Brooks, who ran for 725 yards and five touchdowns in 10 games while overcoming a midseason hamstring injury. "It's been a blessing for my life. I think the relationships I've made at BYU and in Utah have molded me into a better person.
"I learned something new almost every day. This has definitely been a lifechanging experience. I think it's been everything I could've hoped for."
Jeudy-Lally called his team's "care factor" high for a shorthanded team that will also be missing backup quarterback Jacob Conover, linebacker Tate Romney and Keenan Pili to the transfer portal, in addition to players like running back Lopini Katoa and potentially wide receiver Puka Nacua for health reasons.
Offensive tackle Blake Freeland will play, despite rumors to the contrary, Sitake said. The Herriman High grad is expected to play in the Senior Bowl next month prior to entering the NFL Draft, though he has another season of eligibility remaining, if he wants it.
So there were be motivation by some players to leave it all on the field in their final game at BYU. Or just, first-ever bowl game, like Jeudy-Lally.
"We could've gone and played in the parking lot and called it a bowl game," said the redshirt-sophomore cornerback, who hasn't decided if he will return to BYU or enter the NFL draft. "It would've been just as exciting to me. Just playing in a 13th bowl game makes me happy."
For BYU, the game also serves as a capstone of the FBS independence era. The Cougars will join the Big 12 on July 1, 2023, making the New Mexico Bowl the final stop on the independent tour.
The same site was the last stop in the Cougars' Mountain West days, that coming with a 52-24 win over UTEP in 2010. That game marked the sixth win of freshman quarterback Jake Heaps' first season in Provo, when he threw for 2,319 yards and 15 touchdowns in reserve of Riley Nelson before eventually transferring to Kansas and Miami.
A backup quarterback-turned-starter leading BYU to a victory in Albuquerque? Maybe history finds a way to repeat itself.
"It's pretty cool that it started the independence era, and we can end independence here as well," Sitake said. "I think for the fans who have been fans that entire time, it's pretty cool.
"Of course, these guys have only been here for four years. So we're going to play the game, have fun, and face an SMU team that is really good, much better than their record shows."
How to watch, stream and listen:
New Mexico Bowl
Saturday, Dec. 17
Kickoff: 5:30 p.m. MT
TV: ABC (Tony Hart, Brock Osweiler, Taylor McGregor)
Streaming: WatchESPN
Radio: BYUradio SiriusXM 143, KSL 1160 AM/102.7 FM (Greg Wrubell, Riley Nelson, Mitchell Juergens)
Series: BYU leads, 3-0
'Miracle' Birth. BYU and SMU are meeting for the fourth time overall and the second time in a bowl game. The two schools met in the historic 1980 Holiday Bowl that featured one the greatest comebacks in college football history by the Cougars in a 46-45 win.
Bowling. BYU is playing in a bowl game for the 6th time under Kalani Sitake in 7 years and the 17th time in the last 18 seasons. BYU's 40 bowl invitations rank tied for No. 20 among college programs — more than storied programs such as UCLA, Notre Dame, Oregon, Iowa and Wisconsin.
Slice of Americana. Since the league was founded in 2013, BYU is 12-5 against teams from the American Athletic Conference. The Cougars are 7-3 under Sitake against the AAC. BYU went 1-1 against the league this year, with a win over South Florida in the season opener.
×
Photos
Most recent BYU Football stories