Estimated read time: 4-5 minutes
ALBUQUERQUE, N.M. — Some 42 years after the 1980 Holiday Bowl, BYU and SMU played out their own version of the Miracle Bowl, but in reverse.
This time, the defense came through for the Cougars.
SMU quarterback Tanner Mordecai found Jordan Kerley for a 12-yard touchdown with eight seconds left in the game, but Jakob Robinson shut down Mordecai's 2-point conversion attempt to help BYU hold on for a 24-23 win over the Mustangs in the New Mexico Bowl late Saturday night at University Stadium.
For the fourth time in as many meetings, and the first since BYU and SMU were briefly conference rivals in the old Western Athletic Conference, the Cougars eked out a win.
"It seems like BYU and SMU have a really fun history in bowl games," BYU coach Kalani Sitake said. "This was a fun one to be a part of."
Sol-Jay Maiava-Peters threw for 47 yards on 7-of-12 passing with an interception, and ran for 96 yards and a touchdown on 14 carries in his first career start. Chris Brooks added 88 yards on 19 carries, including a 22-yard touchdown in the second half that capped a 17-0 run through the middle quarters, and Hinckley Ropati and Parker Kingston supplemented the run game, as well.
BYU (8-5) rolled up 209 of its 256 yards on the ground, but as has been the case all year, nothing has come easy to these Cougars, who played a shorthanded roster with a first-time quarterback in the absence of redshirt junior Jaren Hall.
"Jaren is there to meet with me and all the quarterbacks, giving us pointers about what he does and how he prepares for the games," said Maiava-Peters, the offensive MVP, who found out Thursday night that he would be starting. "For freshmen like me, a young guy coming in, he was just telling me and giving me pointers on the team and how to run the offense. Mostly, he gave me a lot of confidence and told me to be decisive."
Ben Bywater helped fill in the gaps, poured in a team-high 11 tackles and the first-ever pick six in the New Mexico Bowl during the scoring spree.
Mordecai completed 27-of-31 passes for 218 yards, two touchdowns and an interception for SMU (7-6), including a 22-yard strike to Roderick Daniels with 25 seconds to bring the Mustangs into the red zone with 20 seconds remaining.
Daniels caught six passes for 54 yards and a touchdown for the Mustangs, and Tyler Lavine ran for 91 yards and a score to pace SMU's ground game to 171 yards.
Those who expected the kind of offensive fireworks of two teams with top-30 offenses (and defenses in the bottom third in the FBS) would have been sorely disappointed as the New Mexico Bowl flipped with the ferocity of an Albuquerque wind into a defensive slugfest en route to a 10-10 halftime statemate.
The Mustangs piled up 389 yards of offense — or 133 more than BYU, who set a New Mexico Bowl record for fewest yards by a winning team in the 17-year history of the game. Maiava-Peters led the offense with aplomb, one that turned a 10-7 deficit into a 24-10 advantage with three-straight scores, including his first-ever touchdown run.
After Jake Oldroyd's 50th field goal that set a program record for scoring, Bywater scored on a 76-yard pick six midway through the third quarter. Brooks then sprung off a monster block by Houston Heimuli to cap off a nine-play, 82-yard drive over 5:42 to go up 24-10 on a 22-yard touchdown with 1:22 left in the third.
"I don't know if that was the momentum changer," said Bywater, the game's defensive MVP. "But definitely big plays like that and giving our offense the ball back with something like that, it's going to mix it up for SMU. I was grateful that happened."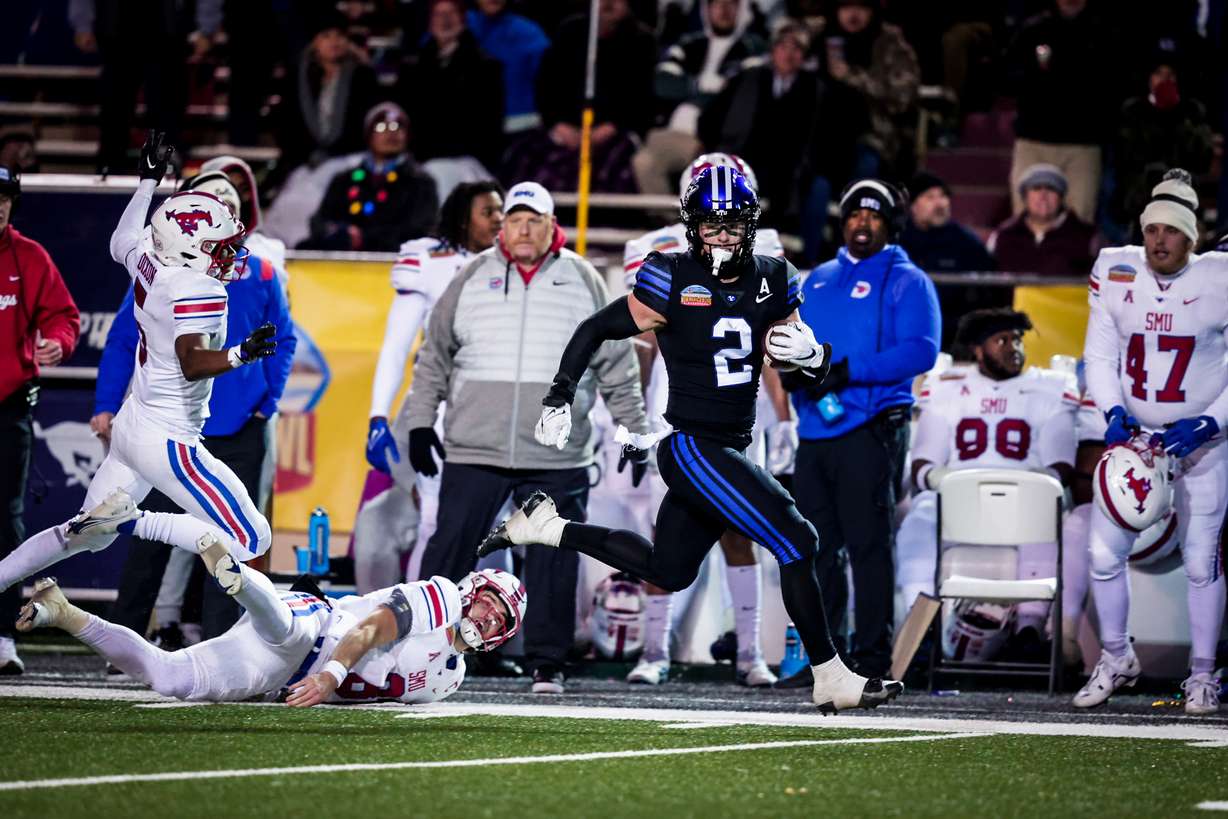 But the Mustangs, who ranked seventh nationally in passing offense and ninth in scoring, didn't go away despite a two-score deficit. As has often been the case during BYU's 2022 campaign, nothing comes easy for these Cougars.
After Ryan Rehkow's fourth punt averaging 58.8 yards per boot, Mordecai had 3:01 and 88 yards in front of him with SMU down 24-17.
The senior from Waco, Texas, sliced the BYU defense like he had sparingly done all night. Mordecai found Lavine, Daniels, Kerley and RJ Maryland to pull the Mustangs to the 34-yard line before coach Rhett Lashlee used his first timeout.
Two plays later, Mordecai found Kerley from 12 yards out in the end zone with 14 seconds on the clock, but SMU wasn't done. Lashlee called timeout to set up a 2-point conversion for the win.
With everything on the line, Sitake called his own timeout. Then, when Lashlee showed a similar formation with three receivers to the left, one right and Mordecai in an empty back field, he called timeout again.
In the end, he told his players to just have fun and try to make a play. Robinson was happy to comply.
"That was a little scary, because they can do so many different things, especially their offense," Sitake said. "So, basically, I just told them to watch out for everything.
"We were just going to let these guys play, just have fun and try to make a play. It worked out in our favor, but I think the way SMU was executing the entire night, we just wanted to make it tough for them."
×
Photos
Most recent BYU Football stories