Estimated read time: 5-6 minutes
PROVO — BYU's final bowl game as an FBS independent will take the Cougars back to the Land of Enchantment, the site of their last bowl game as a member of the Mountain West Conference in 2010.
It will also feature an old conference rival, a glimpse into the program's past, and a Southern Methodist team looking for its first-ever win over BYU.
If Jim McMahon's 21-straight points in the final 2:33 in the 1980 Holiday Bowl revealed anything about the BYU-SMU series, it's this: take the points. Will this year's New Mexico Bowl be any different?
Both offenses should get plenty of work in a game that features two of the top-30 teams in the country competing against two defenses that rank in the bottom third nationally, and the heaviest workout may be the scoreboard operator.
The Mustangs (7-5, 5-3 American) are led by starting quarterback Tanner Mordecai, a 6-foot-3 senior from Waco, Texas, who transferred to Dallas after spending three years Oklahoma.
The former four-star recruit by ESPN is a two-time Davey O'Brien Award semifinalists and semifinalist for the Earl Campbell Tyler Rose Award, and finished the year with 3,306 yards and 31 touchdowns with nine interceptions.
The senior who has already declared for the NFL draft after the season scored an eye-popping 10 touchdowns, including nine passing in a 73-66 win over Houston a month ago, completing 28-of-37 passes for 379 yards and running for 54 yards and a score on eight carries. In five years of football (including a redshirt season in 2018 that included two games), Mordecai has completed 66.6% of his passes for 7,573 yards and 74 touchdowns with 22 interceptions.
"SMU has been so great to me," Mordecai told reporters two weeks ago, when he revealed he would walk on the Mustangs' senior day and declare for the NFL draft. "Last year, I know there's a lot of sour feelings with what happened, but I had a blast. From going from not playing for three years, to coming out last year and letting it rip, I had a fricken blast."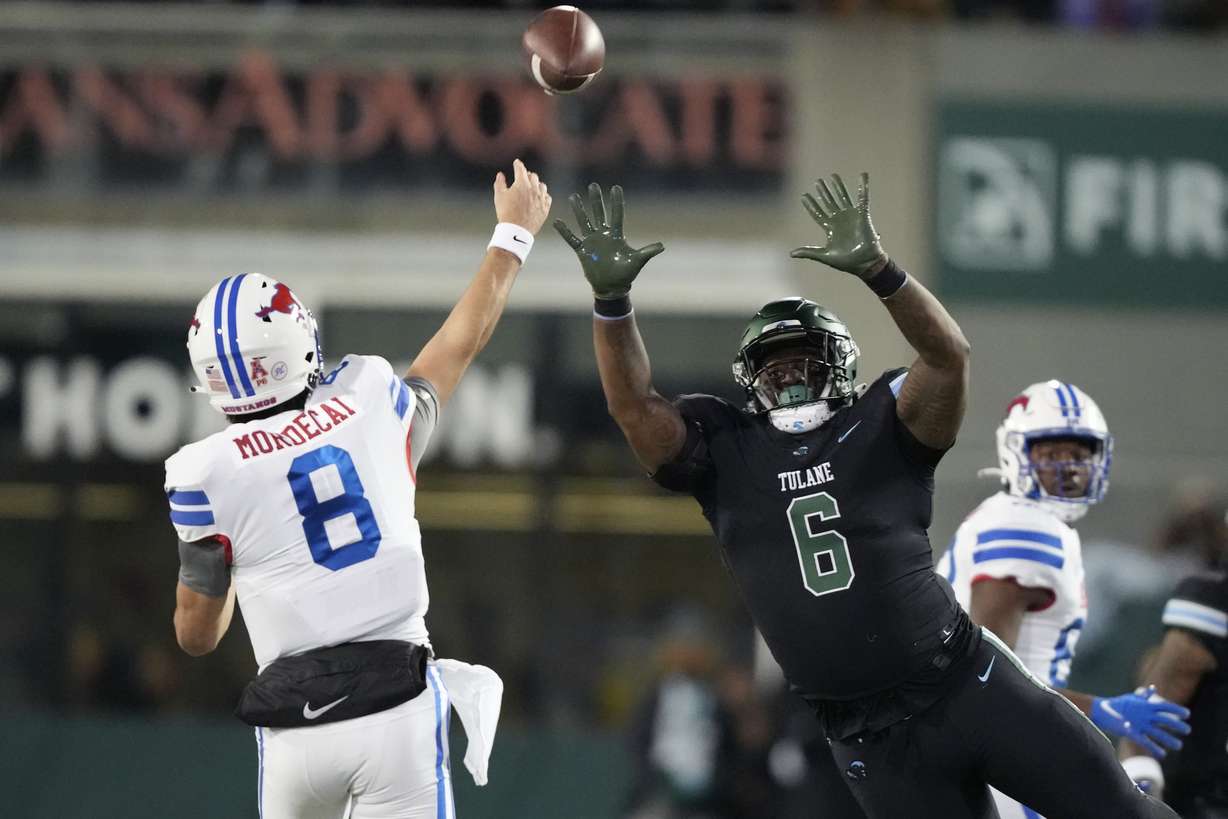 With Mordecai under a center and an offense that features all-conference wide receiver Rashee Rice (1,355 yards, 10 touchdowns) and linemen Justin Osborne and Jaylon Thomas, the Mustangs finished fifth nationally in passing offense with 324.9 yards per game, 11th in scoring offense (38.4 points), 12th in total offense (279.8 yards), 12th in first-down offense (302), 13th in red-zone offense (.914 conversion), eighth in blocked kicks (four) and 10th in fewest penalties per game (4.42).
Of course, that's only half the story. SMU ranks No. 118 nationally in total defense (445.8 yards per game) and 123rd in scoring defense (34.67 points). That's behind BYU, the No. 33 offense and No. 41 scoring offense in the Football Subdivision that rates 93rd in total defense (409.7 yards) and 100th in scoring defense (30.0 points).
"The opportunity to have SMU to the New Mexico Bowl for the first time is a wonderful one, and I am very excited", said New Mexico Bowl executive director Jeff Siembieda in a statement. "The Mustangs bring one of the nation's most explosive offenses into our game and are on a roll, winning four of their last five games. With a passionate fan base and a fantastic team, we can't wait to have SMU showcased in the New Mexico Bowl."
Head coach Rhett Lashlee is in the first season of his second stint at SMU, where he returned to the program he previously led as offensive coordinator and quarterbacks coach after Sonny Dykes left to take over at TCU across the Metroplex.
The 39-year-old former Arkansas quarterback who spent two seasons as Manny Diaz's offensive coordinator at Miami became the first SMU head coach to qualify for a bowl game with a winning season since Bobby Collins in 1982, restoring the Mustangs to levels of respectability.
It's the fourth-straight year of bowl eligibility for SMU, which hasn't accomplished the same feat since 2009-12. The Mustangs qualified thanks to a three-game win streak over Tulsa, Houston and USF to secure the bowl date, their 20th in program history and first in the state of New Mexico.
"Rhett Lashlee is an excellent coach, and he has his team playing very well right now," BYU coach Kalani Sitake said. "Our team is excited for the challenge and for another chance to take the field together. We are grateful for this opportunity to have a great bowl experience for our players."
The two teams were briefly conference rivals, after the old Southwest Conference broke up and SMU joined the WAC in 1996 before BYU co-founded the Mountain West in 1999. The Mustangs joined Conference USA in 2005 before accepting an invitation to join the American Athletic Conference in 2013.
The Mustangs are 0-3 against the Cougars all time, including the first meeting in the 1980 Holiday Bowl. Ask any longtime fan of either school about that game, and they'll remember — for better or for worse. In 2003, ESPN listed it among the top 10 greatest bowl games ever played, the NCAA Football video game series included it as a "College Classic," and Vai Sikahema's 83-yard punt return is considering one of the 50 greatest plays in BYU football history by BYUtv.
The Mustangs led McMahon, Clay Brown and the Cougars 45-25 with four minutes remaining before BYU mounted an incredible comeback at Jack Murphy Stadium in San Diego that many have called the greatest bowl comeback in the history of college football in the Cougars' 46-45 win.
McMahon completed 32 of 49 passes for 446 yards and four touchdowns, including a game-winning Hail Mary to Brown from 41 yards out to share bowl game MVP with SMU's Craig James, one of the Mustangs' two star running backs that game alongside Eric Dickerson.
Will another classic play out Dec. 17 in New Mexico?
Wait and see.
×
Most recent BYU Football stories