Estimated read time: 4-5 minutes
SALT LAKE CITY — "Let me see your hands! Drop the gun. Drop the gun. Drop the gun!" a Salt Lake police officer yells repeatedly at a man holding a shotgun.
Moments later, two officers fire 11 to 12 shots, injuring the gunman and causing him to run back into his house,
On Wednesday, Salt Lake police released body camera videos from several officers who responded to the July 9 incident that culminated in an officer-involved shooting, including the two officers who fired their weapons.
Peter Michael Larsen, 44, was charged in 3rd District Court with two counts of assault on an officer using a deadly weapon, a second-degree felony; arson, a third-degree felony; reckless burning, a class A misdemeanor; plus three counts of interfering with a public servant and three counts of making a threat of violence, class B misdemeanors.
On July 9, Salt Lake firefighters were called to 1421 S. Utahna Drive on a report that Larsen had set the weeds in his yard on fire, according to charging documents.
"Larsen was extremely agitated and told firefighters that he would not speak to anyone. Approximately eight hours later, a neighbor of Larsen called 911 stating that a person, later identified as Larsen, had started the north side of 1423 Utahna Drive on fire and was spraying the fire with water to try to keep it from spreading," the charges state.
Firefighters again responded to Larsen's house and began putting out the fire. But a short time later, they were confronted by Larsen who threatened to release his dog and shoot firefighters if they came onto his property, according to the charges.
Firefighters then called police.
As officers gathered at the residence, they set up a perimeter around the house and called out to Larsen on a patrol car intercom in an attempt to get him to come out and surrender.
Two officers positioned themselves in a neighbor's backyard. One officer with a rifle took cover behind a brick garage or outbuilding, while a second with a handgun stood behind a wood fence. Both officers kept any eye on Larsen's backyard, looking over and through the holes of a wood fence that surrounded his backyard.
About 25 minutes after the officers first arrived on scene, the officer with the rifle is heard on body camera video saying, "Back door's open, back door's open" as Larsen steps out of a trailer in the backyard.
"Let me see you hands! Drop the gun," the officer commands.
Nearly simultaneous, both officers announce that Larsen has a weapon.
"He's got a shotgun," the second officer says.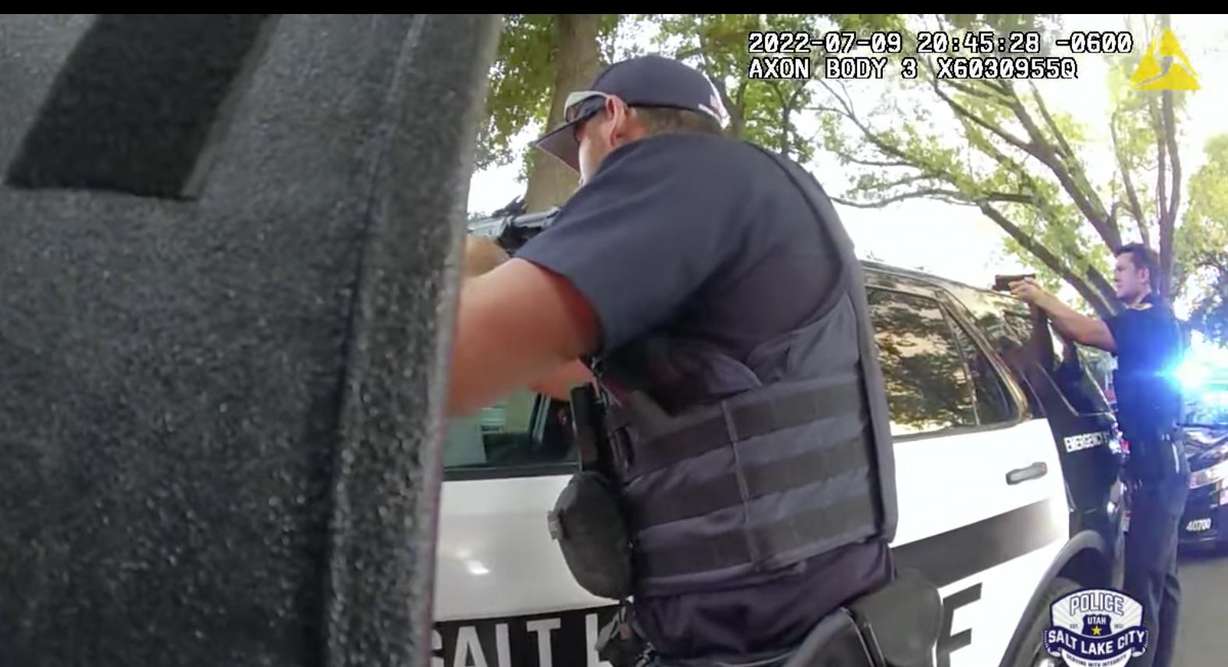 Approximately one minute after officers first saw the door open, shots are fired. The officer with the rifle fired two rounds, followed by two more rounds from the officer with the gun. On video, it then sounds like nine to 10 more shots are fired by the officer with the rifle before he stops and yells, "Drop the gun, let me see your hands."
It was not clear Thursday whether Larsen fired any rounds. He ran back into his house after the officers shot at him.
According to charging documents, "Larsen pointed the shotgun in the direction of two responding police officers who then each fired their weapon, striking Larsen in both hands. Larsen dropped the shotgun and retreated into the house. After several minutes, Larsen surrendered to police and was taken into custody."
Salt Lake police say after the shooting, officers went inside the house to get Larsen, who did not resist. He was taken to a local hospital to be treated for his injuries and later booked into jail.
"He has received emergency care with the projected plan of several more surgeries for repair," a police booking affidavit states.
The officer-involved shooting remained under investigation Thursday. But Salt Lake City Police Chief Mike Brown said he's pleased with his officers' actions that day.
"I am very proud of how our officers responded to this situation. Based on a preliminary review of the body-worn camera footage, our officers acted quickly to protect firefighters, neighbors and fellow officers. They used time and distance to their advantage, but they still found themselves in a situation that quickly intensified," the chief said in a statement.
×
Related stories
Most recent Police & Courts stories