Estimated read time: 4-5 minutes
SALT LAKE CITY — Three talented local cake artists teamed up to compete on — and win — Food Network Canada's "the Big Bake," and their episode can now be viewed in the U.S.
Jennifer Vesper, Emerlie Miller and Mandy Clifford had never competed together before, but their combined talents created an impressive, dynamic 4-foot cake in the shape of a blue-ribbon pig holding carnival tickets and spinning on one leg. Next to the pig was a 5-foot cake in the shape of a popcorn machine that was blowing popcorn made of wafer paper, according to Vesper.
Their masterpiece stood on a 2½-foot platform, requiring the women to use a ladder to decorate parts of the cake, said Vesper, who herself is 5 feet tall.
At the time of filming, in January 2021, the Canadian borders were closed due to the pandemic. Vesper said in order to enter the country, they had to be hired as contract workers so they could be considered "essential workers." The women had to sign an agreement not to participate in anything recreationally and were required to quarantine in their hotel rooms for 14 days following their arrival.
During those two weeks, the women used DoorDash and room service for food and could step out onto their balconies to get a breath of fresh air. Vesper said she spent her time running circles on her tiptoes as quietly as she could to prevent gaining weight before going on TV. She also binge-watched episodes of "the Big Bake" to prepare.
Once on the show, Vesper was in charge of the cake's structure, something she is experienced in as she has formerly built giant, spinning candy ornaments for the Macy's Christmas display windows in Salt Lake.
"One of the compliments that the judges gave me on the show that didn't actually make it on air was they were like, 'That was the fastest we've ever seen a structure go together,'" Vesper said.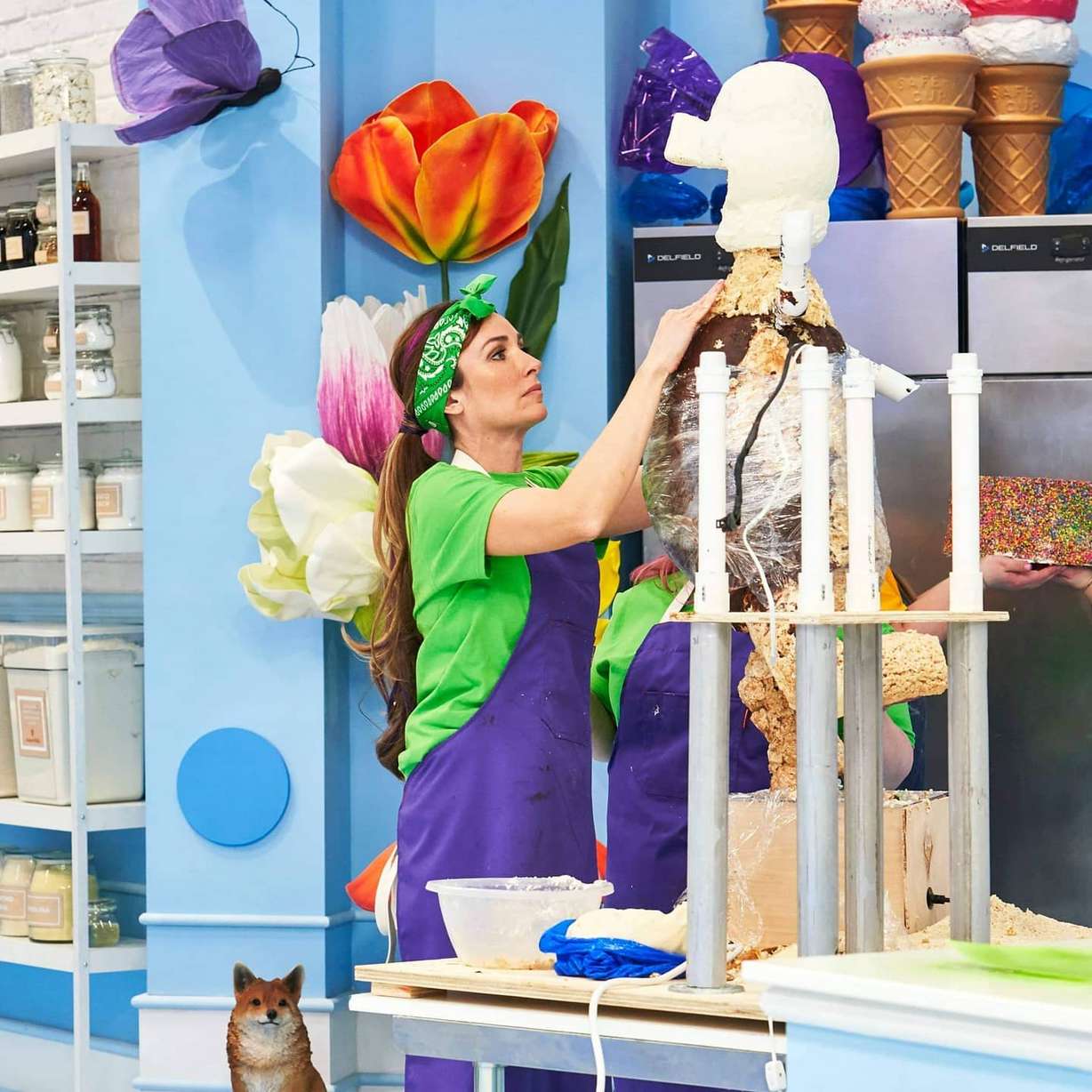 All three women agreed that the most stressful part of the experience was the time limit. They only had five hours to complete the big undertaking. Vesper said it was the hardest she'd worked in her entire life and her legs were shaking from going up and down the ladder and running around the room so much. She added that in spite of that, the judges and the production crew were very kind and created a really carefree environment.
"They made it fun even though it was super ridiculously stressful," she said.
Emerlie Miller said the five-hour limit was incredibly stressful because, between the three of them, they only had 15 man-hours working on two massive cakes that were on a huge display and telling a story.
"I've made tiny, little two-tier cakes that have taken me 12 hours to decorate," Miller said, putting the experience into perspective.
Another stressful part for Miller is that she was the baker on their team, but due to having more than 20 food allergies, she doesn't eat the cakes she bakes and has to trust her instincts that they are turning out well.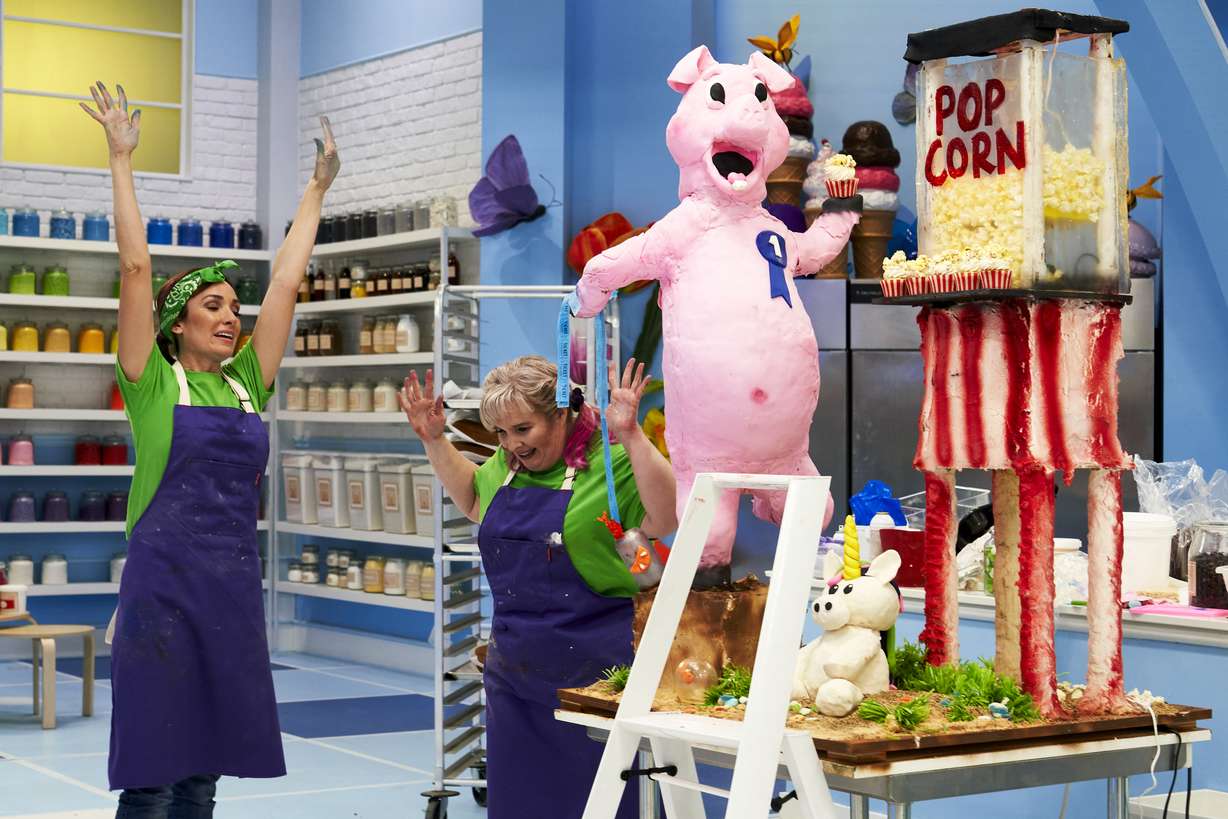 Miller said many of her food allergies didn't develop until her teens and 20s, so she still vaguely recalls what some flavors taste like. Because the name of their episode was "Caketastic Carnival," the flavors she used in their cake included tastes you'd find at a carnival such as chocolate, peanut butter, marshmallow fluff, caramelized banana, maple syrup and pretzel.
"The Big Bake" judge Eddie Jackson told the team it was the best cake he'd ever eaten on the show, Vesper said.
Miller said this is the third Food Network show she's competed on. She loves the energy of competing with other professionals who are passionate about what they do.
"We get to play with sugar," she said.
Mandy Clifford said she has competed on Food Network once before and she loves competitions.
"I mean, it was very challenging; and the time commitment was challenging, as well, but I'm glad I did it," Clifford said. "It was a really fun production and very rewarding."
"Caketastic Carnival," episode five in season two of Food Network Canada's "the Big Bake," aired in Canada in May 2021 and in the U.S. in March 2022. It can now be viewed on Food Network GO with any cable network provider.
×
Photos
Related links
Most recent Utah stories