Estimated read time: 6-7 minutes
This archived news story is available only for your personal, non-commercial use. Information in the story may be outdated or superseded by additional information. Reading or replaying the story in its archived form does not constitute a republication of the story.
SALT LAKE CITY — Utah's population isn't just growing by leaps and bounds percentage-wise, but new data from the U.S. Census Bureau shows Utah's counties are now starting to have the largest numeric growth in the nation.
Utah County, with an estimated increase of 21,843 people, had the 10th largest jump in population from July 1, 2020, to July 1, 2021, among the 3,143 counties in the country, according to a report released by the Census Bureau on Thursday.
"That's a really big deal. Utah is kind of in the middle of the pack in terms of population size, and it is doesn't typically see rankings nationally for numeric growth," said Emily Harris, a senior demographer at the University of Utah Kem C. Gardner Policy Institute.
The bureau's report also found that St. George was the fastest-growing metro area in the U.S. during the same timespan. The Provo-Orem and Logan metro areas also ranked in the top 10 in that category.
What is Utah County's secret?
Utah County led the state in both percentage and numeric growth of population over the span the data was collected. The bureau reported that Utah County gained 13,655 in net migration, or the number of people moving in the county versus moving out. It also gained 8,256 through natural increase, or more babies were born than people died.
Harris explained that most other counties, including Utah, only experience one or the other. But she says it's too soon to know if this report means Utah is now a leader in drawing in droves of people the same way that places like Arizona, California, Florida and Texas do.
For instance, she pointed out most major counties either experienced decreases in net migration or just didn't have as many births as Utah County because Utah County continues to buck national trends in natural growth. All of this combined is why she believes Utah County may have been "artificially" bumped into the top 10 in the country for 2021.
"I think the natural increase component really moved Utah County up in the rankings," she said. "It's not something that I necessarily see — Utah County fitting into those ranks from here on out. For me, it seems like it's just going to be this year but I'm very curious to see ... what Utah County is going to look like in two or three years. There's just so much growth going on there."
The report also notes that nearly three out of four counties in the U.S. experienced natural decreases last year. That's not the case with Utah; the Census Bureau estimates that all but three Utah counties — Carbon, Garfield and San Juan — had natural increases in 2021. Grand, San Juan and Carbon were the only Utah counties with absolute decreases, which factors in natural growth and migration patterns.
Utah also factors into nationwide trends. The bureau released a heat map of population trends per county in the U.S. that shows exactly where people are going. The map shows general growth in the western and southern regions of the country. In fact, all 10 counties at the top of numeric growth from 2020 to 2021 are in those two regions.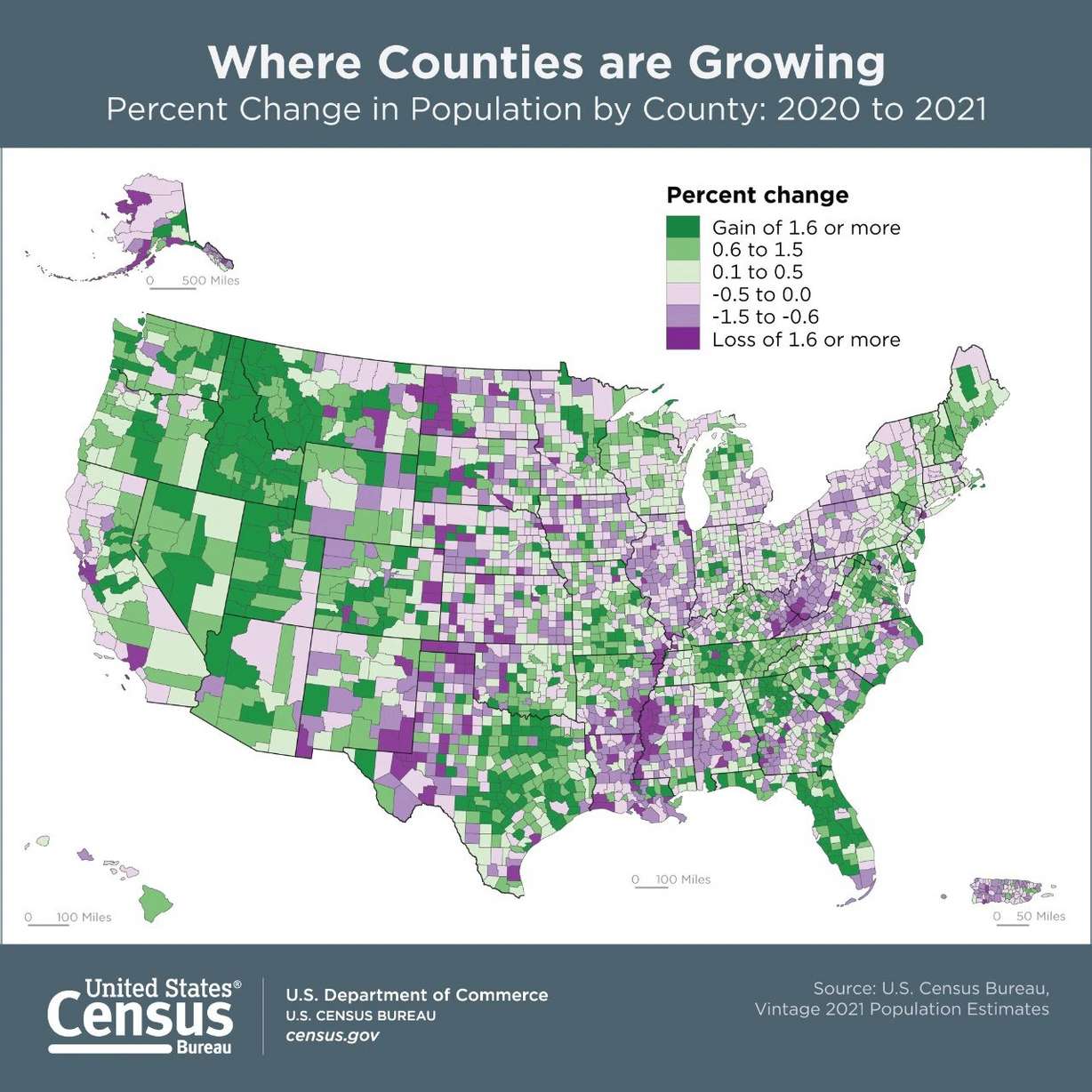 Utah, Idaho, Nevada and Oregon, as well as most of Arizona and Colorado, generally speaking, lead in the highest population percentage gains, as do the eastern half of Texas, northwestern Arkansas, Tennessee, northern Georgia and Florida.
The Midwest and Northeast struggled, including parts of North Dakota that led in the 2020 census. For instance, Williams County in western North Dakota ranked as the second-fastest growing county from 2010 to 2020. But the Census Bureau said it has since lost 6% of its population, the third-largest population decrease from 2020 to 2021 among U.S. counties.
The bureau says all counties in Delaware, Maine, New Hampshire and Rhode Island experienced natural decreases, meaning the number of deaths is exceeding the number of new births in those states.
"The patterns we've observed in domestic migration shifted in 2021," said Dr. Christine Hartley, assistant division chief for estimates and projections in the Census Bureau's population division, in a statement. "Even though over time we've seen a higher number of counties with natural decrease and net international migration continuing to decline, in the past year, the contribution of domestic migration counteracted these trends so there were actually more counties growing than losing population."
St. George leads metro areas
At the same time, three Utah metro areas landed in the top 10 fastest-growing communities when taking into account percentage increases.
St. George led all U.S. metro areas in percentage growth last year. With a gain of a little over 9,300 people in the same timespan, the area's population grew by 5.1%, besting Coeur d'Alene, Idaho, which grew by 4.1%.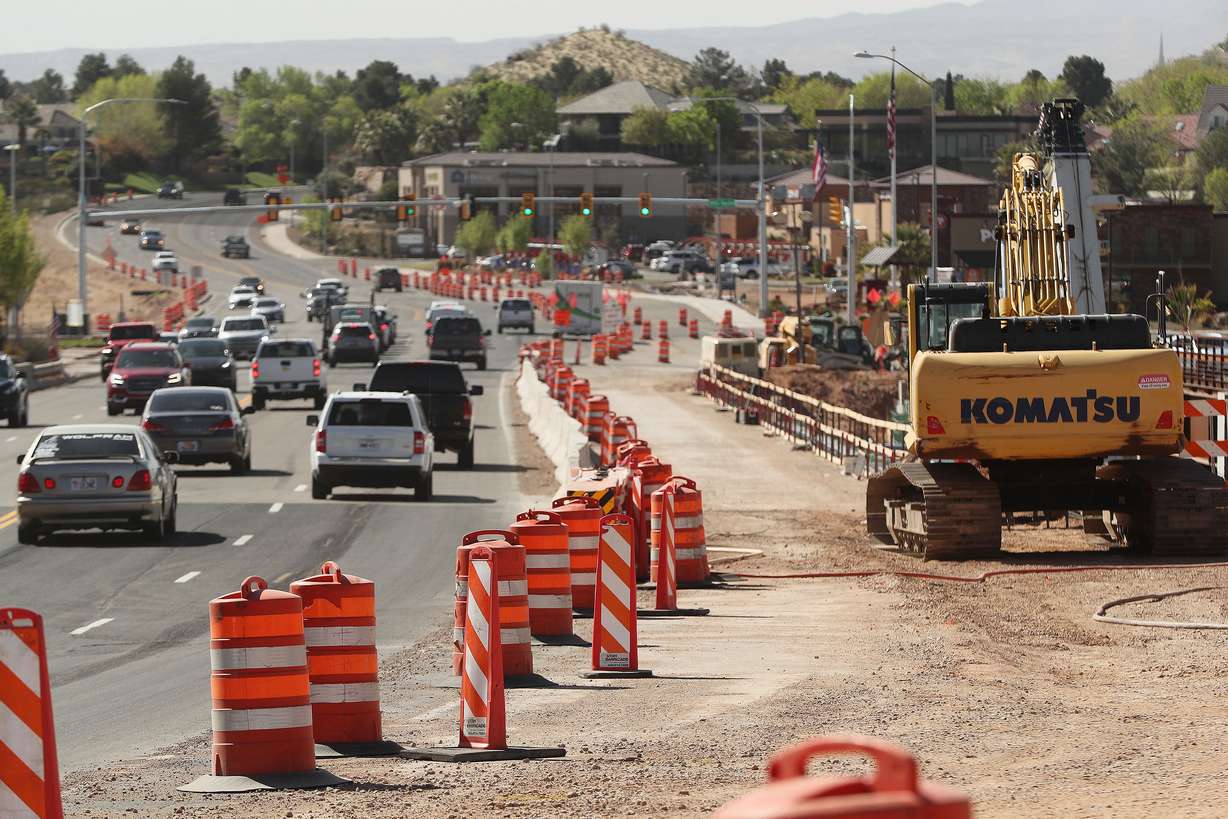 The Provo-Orem metro area within Utah County grew by 3.3%, ranking 8th in growth, while the Logan metro area in northern Utah and southern Idaho ranked 10th with a percentage growth of 2.9%.
These are less surprising findings than numeric growth because the metro areas have continuously increased at high rates as people move in. Utah also led the country in percentage increase growth between the 2010 and 2020 censuses.
What happened to Salt Lake County?
Perhaps the most surprising figure to come of out Thursday's report is that the bureau estimates Utah's largest county, Salt Lake County, only grew by 185 people from July 1, 2020, to July 1, 2021, ranking as the fourth-lowest growth rate among the state's 29 counties.
The reason this is surprising is the figure vastly differs from an analysis published by the Gardner Policy Institute in December, which estimates the county grew by 9,938 people from July 1, 2020, to July 1, 2021. The same report estimated Utah County rose by 19,367 people, only about 2,500 off from the Census Bureau's numbers.
The Census Bureau cites a 6,759 decrease in out-migration for the stagnant growth, meaning more people moved out of Salt Lake County than into it. That figure wiped out the county's natural increase of 6,799 people, which was second to only Utah County in the state.
---
I see this more as a blip, especially with all the building permits and housing growth that's going on in the county right now.
–Emily Harris, Kem C. Gardner Policy Institute demographer
---
Harris has a pair of theories for what happened here. One theory is it's pointing to a trend emerging in the nation. Not only are people moving out west and to the south, but they are also moving to so-called micro areas and medium-sized counties, especially Utah and Washington counties. Large metro areas didn't experience as much growth, so Salt Lake County's slow growth may fit that narrative.
But it's also possible the COVID-19 pandemic played a factor in the data. The Gardner Policy Institute and the Census Bureau do collect information differently. The bureau relies heavily on IRS migration data, while the institute uses a mixture of building permits, school enrollment, The Church of Jesus Christ of Latter-day Saints membership records, and some IRS exemption data to compile their estimates.
The pandemic may have disrupted some or more methodologies because it created "unusual" travel and living patterns that lingered into July 2021. This is why Harris doesn't really see the report as establishing a trend — although she said the institute will track this more closely in the coming years.
"I see this more as a blip," she said, "Especially with all the building permits and housing growth that's going on in the county right now."
×
Related stories
Most recent Utah stories