Estimated read time: 5-6 minutes
This archived news story is available only for your personal, non-commercial use. Information in the story may be outdated or superseded by additional information. Reading or replaying the story in its archived form does not constitute a republication of the story.
BLUFFDALE — A local metal detectorist has utilized his love of history and sharp seeking skills to locate and return lost rings to worried Utahns around the Salt Lake Valley and beyond.
Michael Van Tassell said he dabbled in metal detecting as a kid, but his passion was solidified in 2010 when he was freshly graduated from college and looking for a new hobby. For the last 12 years, he has collected coins, rings and historical items as he's detected around parks and other public places.
During his metal detecting over the years, Van Tassel has come across people searching for things they had lost.
"I was always the guy who had the metal detector, so I would go out and find it and return those … lost items," he said.
Van Tassell became heroic the night of Jan. 24 when Rachel Brubaker, a woman visiting Utah from Jacksonville, Florida, lost the ring her fiance, Lance Springfield, had given her just hours before.
Brubaker and Springfield were on a snowboarding trip with some friends in Park City and decided to spend some time at Antelope Island State Park on their last full day in Utah. It was there that Springfield popped the question with a beautiful ring custom designed by himself, friends and family.
The ring was about one size too big, but Brubaker still wanted to wear it for the rest of the evening. They were enjoying their night at the Midway ice castles when Brubaker noticed the ring was no longer on her hand, even though she'd purposely worn gloves to keep from losing it.
"She was so distraught, and it was the first time I have ever seen her cry," Springfield said.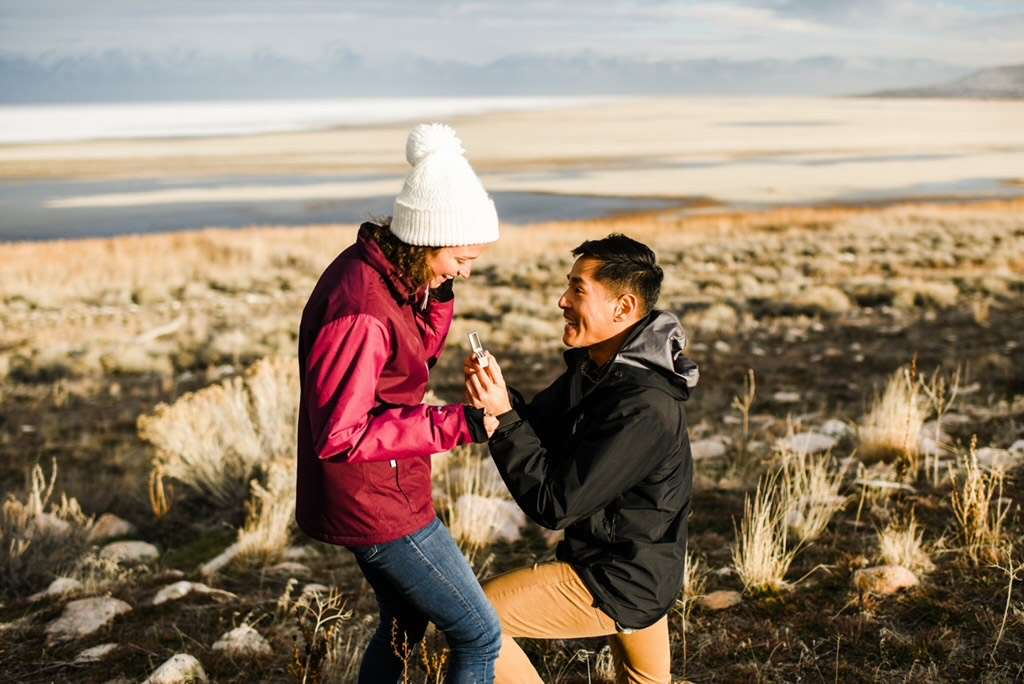 Not long after discovering the ring was missing, dozens of people began helping the couple dig through snow to try to find it, using the flashlights on their phones in an attempt to illuminate a miracle.
The ice castles staff provided rakes and shovels and were trying to help, as well, but they were on a time crunch. That night, staff members were planning to wash the ice castles out to refreeze them. Plus, the Florida couple was headed home the next day.
"I was really beginning to feel very hopeless," Brubaker said.
As they were searching for metal detectors online, a popup ad for The Ring Finders came up. It's an online directory of metal detectorists all around the world who can find people's lost jewelry, and Van Tassell had created a profile just a few months ago.
Brubaker and Springfield didn't really think they'd find success that way, but to their surprise, Van Tassell texted them back and came to their rescue.
While Brubaker continued searching for the ring in one area of the ice castles, Van Tassell located it in another. Without Brubaker knowing, Van Tassell found and gave the ring to Springfield, who was then able to propose to Brubaker for the second time that day, revealing the located ring.
"I think I melted," Brubaker said.
She was so happy, she even invited Van Tassell to their wedding.
"Michael, he sprung into action when time was of the essence," Springfield said.
To date, Van Tassell estimates he's found and returned more than $60,000 worth of precious jewelry.
One particularly memorable find occurred when some old Provo homes were being bulldozed to make room for a new apartment complex. Van Tassell asked the construction workers if he could look around before the properties were destroyed and came across a high school class ring from 1980.
The man whom the class ring belonged to had lost it in his grandmother's front yard more than 30 years earlier and was living in Las Vegas when Van Tassell found it. With the help of the tennis emblem on the side of the ring, the initials engraved in it and an old yearbook, Van Tassell was able to determine who the owner was and return the long-lost ring.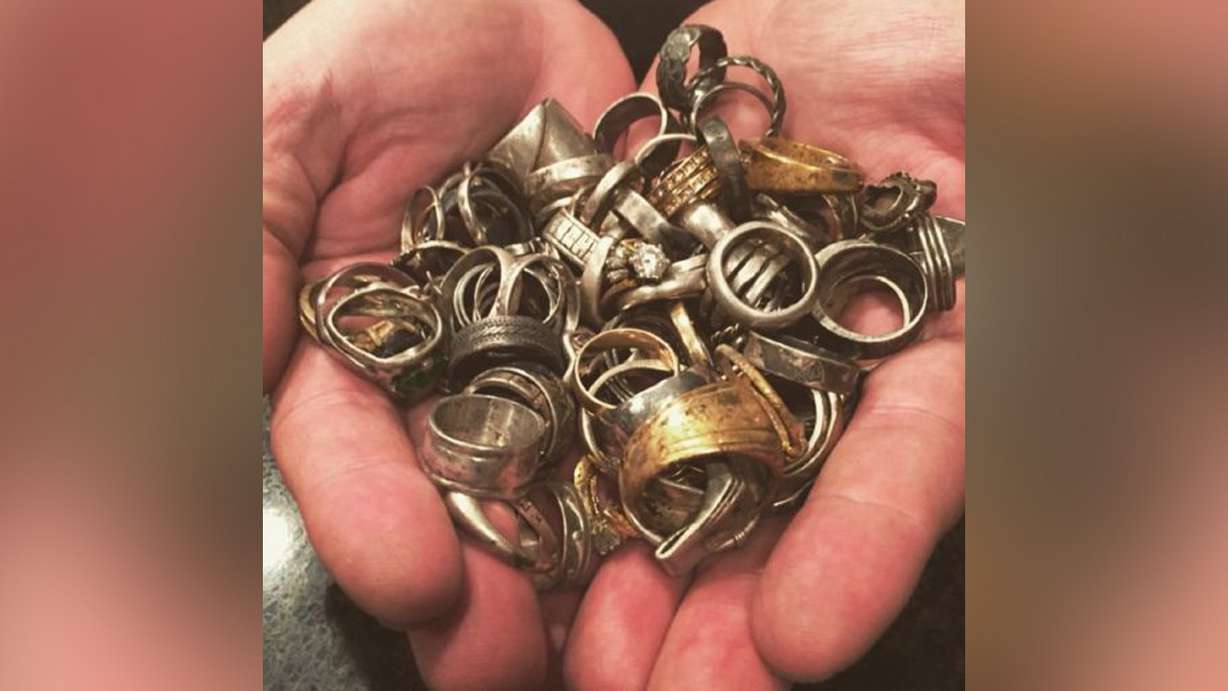 "I've always tried to return rings as much as I can," he said. "As of today, I probably have some 300 rings that don't have any engravings on it, or just little token rings or so forth that I've found over the years, and unfortunately have no way of returning them. … A lot of times that kinda just goes into the personal collection here."
In addition to the find he made for Brubaker and Springfield, Van Tassell has been called on several times to find lost rings thanks to his profile on The Ring Finders website, especially in the last couple of months since the snow has started to fall.
"I don't have any set prices or anything like that; it's all reward-based," Van Tassell said. He has about an 80% recovery rate, but he doesn't charge people for his time if he can't find their rings.
Some people try renting a metal detector and searching for their lost items themselves, but he said they often get confused and can't determine what the different sounds mean that the metal detector is making. It has taken Van Tassell anywhere from 15 minutes to several hours to find the lost rings.
"They're just elated, they're so happy," Van Tassell said of people's reactions when he finds their rings. "It's obviously kind of a unique hobby. Not a ton of people do it, so I'm just happy that we're able to kind of use the set of skills I took up over the years to really hone in and find those lost items."
×
Photos
Most recent Utah stories